Ben Adams Architects has transformed an anonymous office building at the northern end of Tottenham Court Road with a series of subtle interventions.
Architect
Ben Adams Architects
Location
Tottenham Court Road, London
Completed
July 2011
The £7 million project for Derwent London comprises a ground floor of retail units and office reception (490sq m), four floors of open-plan offices (3,834sq m) and two floors of residential accommodation (1,766sq m).
The project sought to lighten the building exterior, replacing heavy framed windows with frameless lightweight units and rejuvenating the tired redbrick facade with a coat of black masonry paint. Accenting this façade treatment is the replacement of the existing copper mansards with graphite grey zinc panels that provide a crisp cap to the top two residential floors.
The reception floor is finished with a bespoke terrazzo mix by Keystone and bespoke lacquered panels by Page Lacquer. The existing lift cars were retained and extensively refurbished internally using Corian panels routed out from the rear and backlit to respond interactively with the lift controls at each floor level.
Internally, the building's office floors have been taken back to their structural frame, improving floor to ceiling heights and exposing the raw concrete of the building structure to give a more industrial character. This character is enhanced by an exposed, rigorously controlled, services installation, creating visual interest in what would typically be a generic open plan space.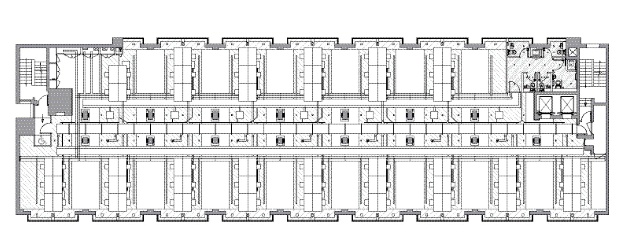 Bringing the daylight in
The existing floorplates were dark and dingy — around 14m deep, with floor-to-ceiling heights as low as 2.4m in a number of places.
Removing the existing suspended ceilings and maximising the ratio of glass to window frame with replacement Schüco windows crucially increased the amount of natural light available on the office floors.
The new windows removed the bulky frames that dominated their corners and replaced them with a glass to glass joint.
Similarly all extraneous masonry was cut back internally to maximize the impact of unobstructed natural daylight deep into the building plan.
Services were also zoned toward the centre of the plan, maximising floor-to-ceiling height adjacent to windows where desks and other workspaces would typically be located.
PROJECT TEAM
Architect Ben Adams, Client Derwent London, Structural engineer Heyne Tillett Steel, M&E engineer Arup, QS Davis Langdon, Contractor John Sisk & Son, Project manager Quantem