Norwegian architect Reiulf Ramstad's concrete and steel mountain paths orchestrate stunning views of Norway's mountains
Project
Trollstigen National Tourist Route
Architect
Reiulf Ramstad Arkitekter
Location
Romsdalen, Norway
Completed
June 2012
In 2004, following an architectural competition held by the Norwegian transport department, 18 practices were appointed to work with 18 towns to improve tourism in the remarkable west coast of Norway, a barely accessible landscape of dramatic fjords and spectacular mountain views.
Within this framework Reiulf Ramstad Architects was selected to provide designs for the Geiranger Fjord. Construction began in 2005 and the project was officially opened this summer.
The Trollstigen, or "Troll Ladder", is a winding mountain pass that was constructed in 1936 to provide vehicular access. It partially opened up the area to tourists and the region has become one of Norway's most visited attractions. During the short summer months RRA's proposals will provide a continuation of this pass, allowing pedestrians into previously inaccessible parts of the landscape.

SITEPLAN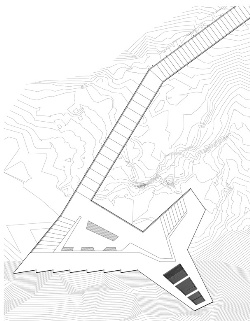 PLATFORM PLAN
The architect has designed walkways that scale and criss-cross the rocky terrain, linking a series of related but differentiated lookout points that orchestrate the stunning views. In addition, tourist facilities are housed in two new buildings: one a glass and steel visitors' centre, accommodating a café and information point; the other a shop and service facility that doubles as a flood barrier in spring when melting snow swells the local river.
The paths are conceived as delicate threads within the enveloping natural landscape — their lightness a counterpoint to the enormity of the surroundings. The lookouts punctuate this route, hanging over cliff edges to bring one into perilous intimacy with the mountains and glacial valleys.
A large part of the architectural challenge lay in achieving a simple and elegant construction respectful to the context in an acutely harsh environment.
Flooding is common, requiring a robust approach to detailing, while snowfall can reach 7m, putting the structures under extreme loads. In addition, the combination of limited access and extreme weather conditions meant that the majority of the construction materials had to be brought to site by helicopter.At the lookout points the concrete comes to resemble rocky outcrops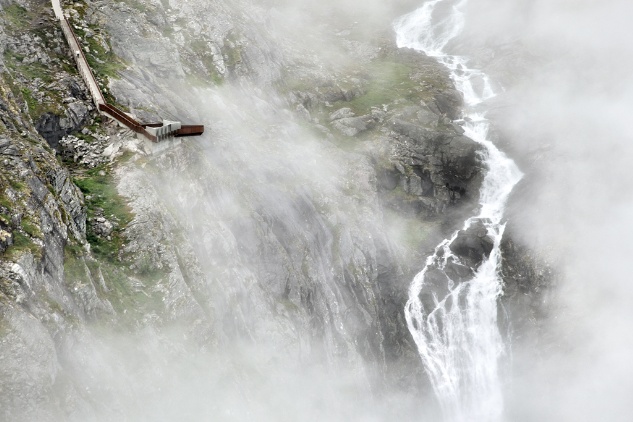 Source: www.diephotodesigner.de
To achieve these goals, tough, resistant materials that will age naturally have been used throughout — predominantly in-situ concrete and Cor-ten steel. The concrete is used primarily for the paths, its soft tones blending with the stone when seen from afar.
At the lookout points the concrete comes to resemble rocky outcrops, sympathetic extensions of the existing geology. Up close, it becomes apparent that different types of formwork have been used and that a variety of concrete finishes have been achieved, including hammering, trowelling, polishing and brooming, allowing the material to engage with local site particularities.
In contrast the Cor-ten is used more emphatically, forming the balustrades to the paths — whose presence, or lack of one, articulates one's sense of protection and exposure — and expressing daring while structuring the dramatic cantilevered lookout points themselves, providing visibly man-made elements that counterpoint the rock-like quality of the concrete.

PLATFORM SECTION
PROJECT TEAM
Architect and landcaping Reiulf Ramstad Arkitekter
Client Norwegian public roads administration
Structural engineer Dr Techn Kristoffer Apeland
Main contractor Christie & Opsahl