The structural challenge behind Tacita Dean's Film installation
Tacita Dean's latest visual artwork on show at the Tate Modern uses a vast screen engineered by Ramboll that uses polystyrene in an innovative way.
Bearing down and dwarfing visitors at the far end of Tate Modern's turbine hall stands a vast monolithic screen onto which visual artist Tacita Dean's latest piece of art is projected. The piece entitled Film is a visual poem and tribute to the nearly lost art of analogue film making.
At 13m high, 7.5m wide and only 1.2m thick, clearly there was a structural challenge to build the screen which echoes the Monolith from the film 2001: A Space Odyssey;  it is the structural equivalent of balancing a piece of card upright on a table.
The slenderness of the screen presented a significant challenge for engineers at Ramboll who were to deliver a low cost solution on a very tight programme; their solution is found with a unique use of polystyrene.
A typical approach to the problem would involve the use of steelwork clad in an appropriate material. However this would not provide a solution that was affordable nor within programme due to the lead-in times of fabricated steelwork.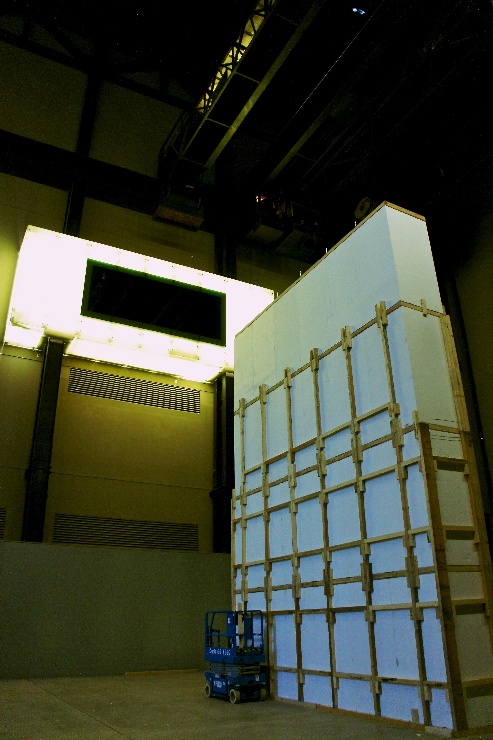 Source: Oliver Neve
Instead, polystyrene clamped with steel tension rods forms the basis of the structure at half the cost and within programme. The polystyrene itself is not the normal polystyrene found in packaging boxes, but rather the much stronger structural grade that is typically used as void infill beneath roads. These large blocks of polystyrene at over a metre square by nearly 2.5m long help to provide the form of the Monolith enabling it to be appropriately clad.
The size of the screen meant that the structure was susceptible to large horizontal loads from internal pressures within the hall. Consequently the Monolith resists horizontal loads with the polystyrene in compression and steel rods in tension. Timber battens were then fixed to the polystyrene Monolith to enable plywood cladding to be fixed, forming a smooth finished surface on to which images are projected.
This novel engineering thinking provides a solution that is simple but elegant and is part of the hidden story behind the Film and took only two weeks to assemble.
The exhibition is open at Tate Modern, London until March 11 2012.
Postscript:
Oliver Neve is a structural engineer at Ramboll.