Sulgrave Gardens by Cartwright Pickard
This £5.5m scheme will be the first mixed-tenure PassivHaus development in London and the architect's first attempt at this type of sustainable design
Architect Cartwright Pickard
Location Sulgrave Road, Hammersmith W6
Completion date 2013
Best known for its pioneering work in off-site construction, Cartwright Pickard Architects has now turned its attention to PassivHaus development. The practice's £5.5 million scheme for Octavia Housing will be the first PassivHaus mixed-tenure development in London. The project is Cartwright Pickard's first foray into designing PassivHaus buildings and the practice also had to face the added challenge of a particularly complex site.
The 0.246ha plot – formerly occupied by a derelict 1950s residential block – lies just west of Shepherd's Bush Road and south of Shepherd's Bush Common. It is characterised by a significant change of level across its extent and an awkward footprint.
The scheme is wedged between two conservation areas – Shepherd's Bush to the north and Melrose to the south. The new buildings have to respond to these constraints and the diverse urban surroundings in terms of materials, height and massing.
The complex consists of four elements: block A, a terrace of six three-bedroom houses of three storeys facing the Victorian terraced Sulgrave Road; block B, a five-storey apartment block containing 12 flats; block C, another five-storey block with eight flats and block D, a terrace of four two-bed mews houses with roof terraces incorporated into the top floor.
In all, 30 homes will be provided, with all the blocks designed to PassivHaus standards, although only blocks A and B will be Passiv-Haus certified. To achieve these standards, the buildings will incorporate such key elements as: a structural insulated panel system in combination with external insulation; high-performance triple-glazed
windows and a whole-house ventilation system.
Director James Pickard says designing a PassivHaus development for the first time has involved a huge amount of extra work. "We've put in twice the number of hours on this project when compared to more conventional schemes. Just don't underestimate PassivHaus," he cautions.
"PassivHaus is adding about 8% to the overall construction cost of this project," he adds. But despite the challenges, Pickard believes PassivHaus will take off in Britain. "In time we may have a UK hybrid version of PassivHaus that better reflects our climate," he says.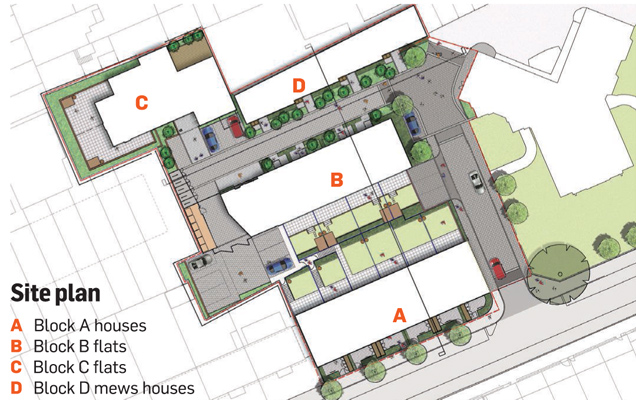 Wall construction
The three-storey houses (blocks A and D) will use Kingspan's TEK Structural Insulated Panels for the external building structure in combination with internal timber framing elements.
The five-storey apartments (blocks B and C) will use SIPs bracketed off a reinforced concrete frame.
A concrete frame will be used for the apartment blocks because it allows more structural flexibility than a timber or steel frame, simplifies achieving a high level of airtightness between units and is cost effective.
The top storey of block B, which is set back, will use the SIPs system for its structure. The houses' pitched roofs will also use the system, while timber joists will be used for flat-roof structural elements.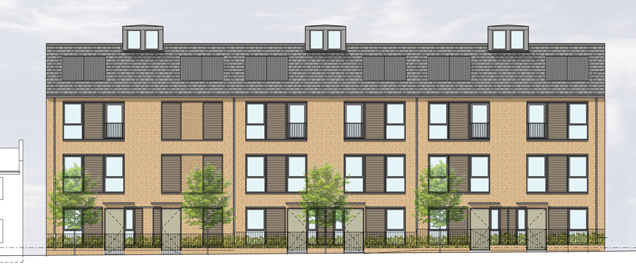 Cartwright Pickard decided on a SIPs system for several reasons. First, the very high airtightness requirements are more easily achieved with a prefabricated external wall system. Second, the high U-value and minimising of cold bridges is very challenging and difficult to achieve in any other way while maintaining an efficient external wall zone, and finally, other systems were either more expensive or lacked the same level of performance predictability.
The system used will be assembled in the factory into bespoke bay-sized panels, connected with a tongue-and-groove jointing panel, which are nailed, sealed and taped and then delivered to site.
The wall buildup of the apartment blocks from the inside out will comprise: 30mm plasterboard; 25mm batten cavity; vapour control layer and then the SIPs system which includes a layer of 15mm structural grade oriented strand board, 112mm rigid insulant and another layer of 15mm structural grade OSB.
On the outside of the SIPs, a breathable membrane will be laid and, unusually for this project, 90mm of phenolic insulation will be fixed, followed by a 50mm drained and ventilated cavity. All the buildings will be clad with 102mm thick yellow London stock brick manually laid on site in combination with areas of aluminium rainscreen.
The SIPs will be delivered to the site with window openings preformed within the panel and the timber-framed triple-glazed windows will be sealed with tape to minimise air leakage. The phenolic insulation will be wrapped around the outside to eliminate thermal bridging.
The U-value of the wall and roof construction for all the blocks will aim to achieve 0.1W/m2K. The air change rate required by PassivHaus is 0.6 air changes an hour at
50 pascals, so the finished flat/house must not leak more air than 0.6 times the house volume per hour. The architects will aim for a higher level of airtightness.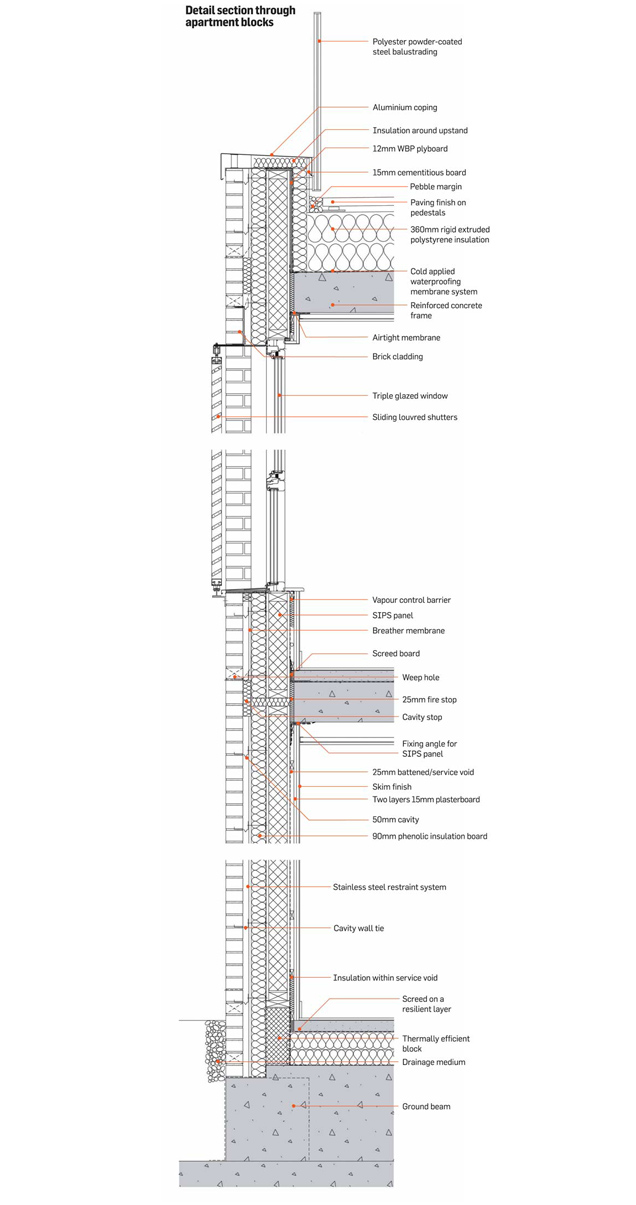 Meeting energy-efficiency standards
All the buildings will feature external louvred sliding shutters to the windows on the south and west facing elevations. These will help to control solar gain in summer and will be manually pulled across on runners at the top and bottom. The material will either be timber or aluminium.
A mechanical heat recovery ventilation system will be installed in each unit, providing fresh air and extract ventilation to the flats and houses without the need to open windows. This system only needs a small energy-efficient fan to run it and up to 93% of the heat from the outgoing air can be recovered and used to pre-heat incoming air.
Small radiators in the living space and bathroom of each unit can be used to provide top-up heating when external temperatures are very low.
Openable windows can be used for additional ventilation during warmer months and all but two units are dual aspect to allow cross-ventilation.
Hot water for household use and heating will be provided by the combination gas boilers in each unit. Each house will have both solar thermal and photovoltaic panels while the apartments will have photovoltaic panels on the upper roof terraces.
PROJECT TEAM
Architect Cartwright Pickard Architects, Client Octavia Housing, Services and environmental engineer Atelier 10, Structural engineer Campbell Reith Consulting Engineers, Cost consultant MDA Consulting, Landscape architect Grontmij, Constructor Durkan