Stacking Green, Vietnam by Vo Trong Nghia Architects
Two walls of this house on one of Ho Chi Minh City's busiest streets are composed entirely of cantilevered concrete planters
Click here to see the full Concrete Quarterly supplement >>
This house, named "Stacking Green", offers a leafy refuge from the chaos of Ho Chi Minh City, the most densely populated city in the world.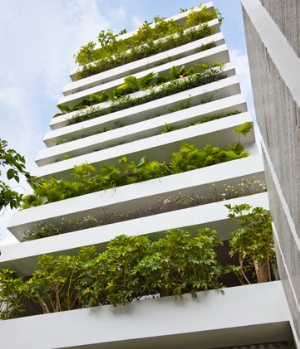 Source: Decon Photo Studio
Architect Vo Trong Nghia has taken its inspiration from the local residents' fondness for pottedplants. Indeed, in many parts of the city the proliferation of potted plants in doorways, on balconies and on rooftops means that many of Ho Chi Minh City's most populated streets are also the most verdant.
This tall, narrow home has been created on a typical Vietnamese "tube plot" measuring 4m wide and 20m deep. The structure is a reinforced concrete frame, with the front and back facades consisting of layers of concrete planters cantilevered from the side walls. The distance between the planters ranges from 250mm to 400mm in order to accommodate different plant heights. The effect is of a living green wall of tropical plants, softening the rectangular edges. Cross breezes through the facades cool theinternal spaces, further assisted by the shading provided by the plants.
Source: Decon Photo Studio
Internally, there are few partition walls, and the fluid spaces mean that a view of the green facades is offered from every corner of the house. The internal layout is typical of the city's homes.
On the ground floor there is a bedroom, a pantry and an exit to a courtyard. The first floor has the living room and kitchen. On the second floor is a further bedroom and bathroom. An office is located on the third floor, together with a worship room and roof terrace garden. The cool bareness of the reinforced concrete stairs connecting each of the floors contrasts with dark wood floors and the internal granite walls, which are composed of tightly stacked 2cm stones.
The green facade and rooftop garden, made possible by the strength and robustness of concrete, protect the occupants from direct sunlight, street noise and pollution. Natural ventilation saves energy and the aesthetic is uplifting. This project may be a single house in Ho Chi Minh City, but the principles are universal.