Inspired by the elements, White Arkitekter's cultural centre hopes to revitalise the historic pier's fortunes
Project Southend Pier cultural centre
Architect White Arkitekter & Sprunt
Location Southend-on-Sea, Essex
Completed August 2012
Scandinavian practice White Arkitekter, working with UK-based architect Sprunt, has completed a new cultural centre for Southend Pier, designed to appear to be "sculpted by wind and wave".
It is the first structure to be added to the pier head since 2000, when a lifeboat station was built, and it is hoped that it will revitalise the historic pier's fortunes following the fire that devastated it in 2005.
Sited at the end of the 1.3 mile-long Victorian walkway, the twisted form houses a large multi-purpose events space, which will be used for art exhibitions, theatre and music performances and private events such as weddings.
The result of an international competition in 2009, the design features full-height glazing, rising up to 9m, while the south-facing entrance facade is set back beneath the roof, forming a sheltered entrance and cafe terrace from which to enjoy views out onto the water.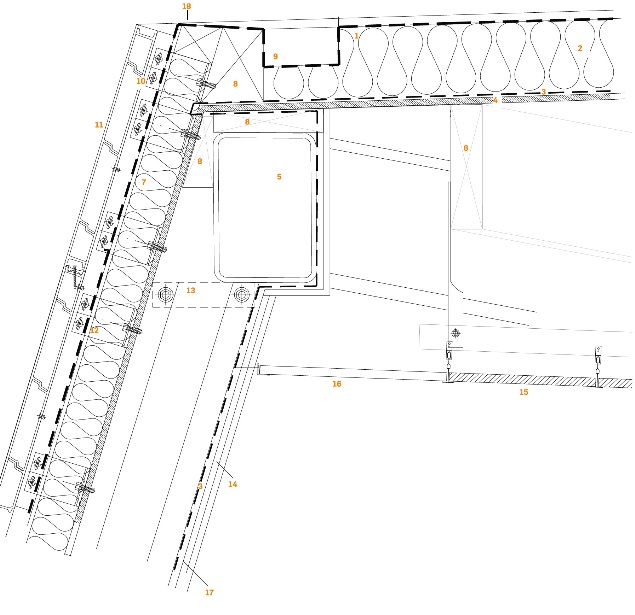 Modelling and fabrication
The twisting hyperbolic paraboloid roof form was digitally modelled in 3D using Catia, software more commonly used in the design of planes and cars. A system of supporting trusses gives the building the stiffness it needs to spread its weight evenly over the pier's 100-year old cast iron piles, while the complex modular arrangement of triangular frames makes efficient use of material.
Because of the challenging conditions at the site, contractor Kier fabricated the building off site at Tilbury Docks and craned it into place in one piece. The 170-tonne steel frame structure was transported from the docks on a barge along the Thames Estuary and craned in at high tide using a 400-tonne marine sheer leg crane.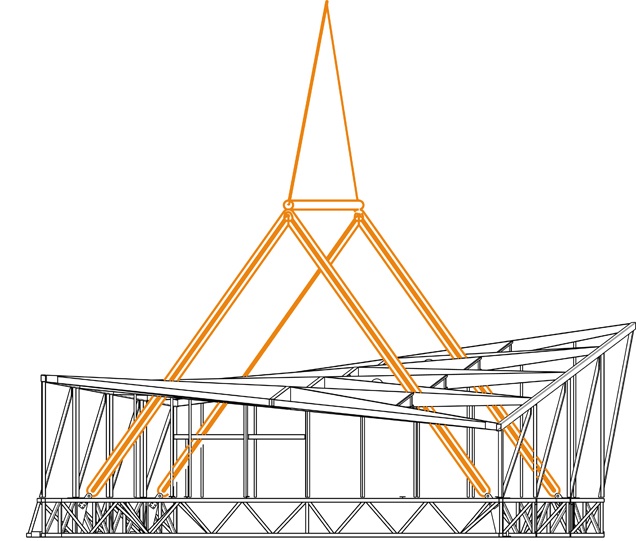 Roof construction
The intention was to create a waterproof, airtight and thermally insulated envelope all around the building, to protect it from the aggressive marine environment.
The roof and wall build-up is, in principle, a traditional warm roof construction, built of insulated marine plywood decking, covered with a waterproof membrane and mounted onto the timber joists and steel sections. To achieve a consistent external waterproof layer, a sprayed polyurea membrane was applied directly onto the high performance thermal insulation.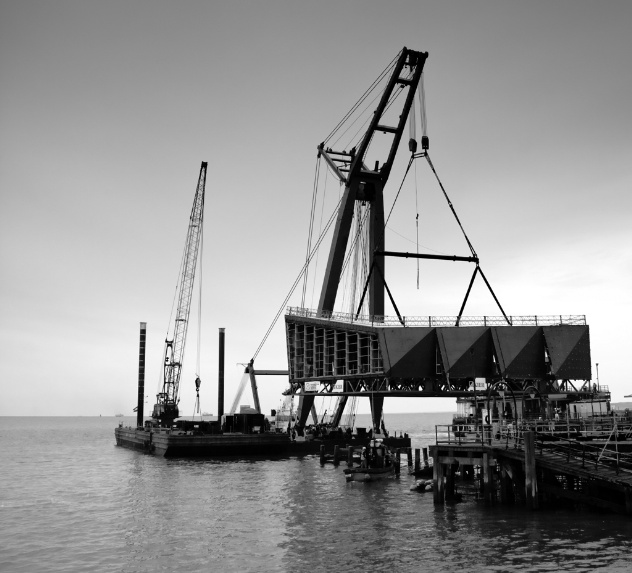 Source: Tim Lucas
The walls are clad with glass-reinforced plastic (GRP) panels, while the roof is treated with a non-slip textured topcoat, which is colour-matched to the GRP, giving the impression that the building is one solid entity. The sprayed membrane was also applied to the walls and the protruding wall cladding brackets to create a continuous waterproof seal. The roof gutters are concealed by being cut into the roof insulation and sprayed over, while the downpipes are hidden behind the cladding, keeping the building shape completely clear.
Flood proofing strategies include raising the building 1.5m from the deck of the pier. Reclaimed decking from underneath the building provides a datum at the base of the building and a ramped timber walkway made of the same FSC-certified tropical wood provides access.
PROJECT TEAM
Client Southend-on-Sea Borough Council, Architect White Arkitekter, Executive architect Sprunt, Structural engineer Price & Myers, Services engineers Atelier Ten and DGR Mechanical Services, Building contractor Kier Construction, Quantity surveyor Sweett Group, Acoustic consultant SRL Technical Services, Planning consultant Turley Associates, Environmental consultant Aecom, Marine consultant HR Wallingford