Exaggerated bow-string truss brings brings structural delight
Architect Scabal
Location Enfield
Completed 2011
Scabal has completed a 1,800sq m extension to the St John and St James CE Primary School in Enfield, north London, with paired classrooms arranged in a loop to define a central triangular courtyard next to a 1970s building.
This atrium space provides light to the back of the deep new classrooms and shared access on two floors, forming a new internal play-space in its own right.
It is roofed with a structure that hovers high above the atrium floor as well as coming right down into the space: the flat plane floats on clerestory windows, but the structural bows come down low enough to feel touchable by children on the first-floor gallery.
The large triangular plane is cut into smaller triangles made from large bowstring trusses and then again into smaller triangles made from smaller bowstring trusses, with even smaller triangular and rhomboid roof lights scattered unevenly around.
Truss structure
The bowstring trusses consist of a thin steel plate sandwiched by two grade C24 planed Douglas fir timbers forming a flitch beam top chord, a factory-painted mild steel CHS post at mid-point, and diagonal chords consisting of stainless steel rods with fork and pin connections.
The posts are exaggerated in length, way beyond their minimal structural requirement, to bring them right down into the space to around eye level.
Stainless-steel cables, with stainless-steel swage and turnbuckle connections flying around apparently arbitrarily, are clamped to the base of the post perpendicular to the rods to provide lateral restraint for the truss.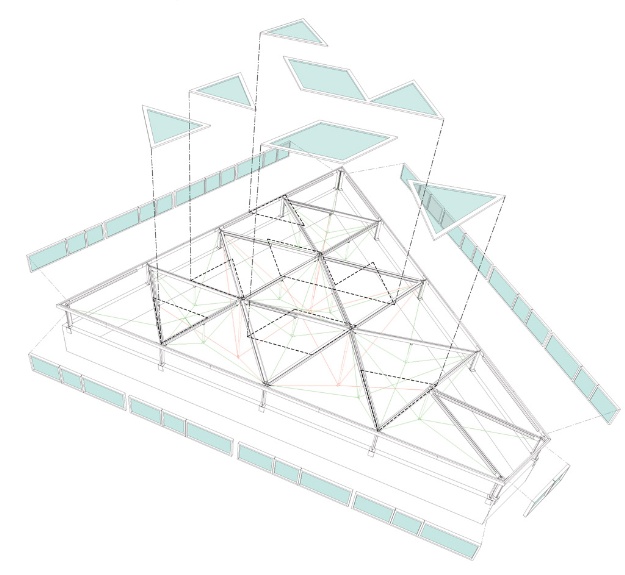 The whole roof is lifted off the atrium walls to give all-round clerestory lighting, supported by cantilevered flitch columns between windows absorbed into the glazing bars.
The joint between the vertical and horizontal flitches is a convex-concave bearing connection, which allows bowstrings to deflect under dead and imposed loads without inducing bending in the columns that provide lateral restraint and stability to the bowstring atrium roof.
Secondary and tertiary joists filling in the triangles are all grade C24 Douglas fir, with 18mm marine WBP plywood roof deck working compositely with the joists for large spans. The visible ceiling timbers are Douglas fir slats 25x50mm with a 15mm gap to each triangle and within roof light reveals. The slats cover and reveal black Pyrosorb 50mm insulation behind for acoustic absorption to the whole atrium space.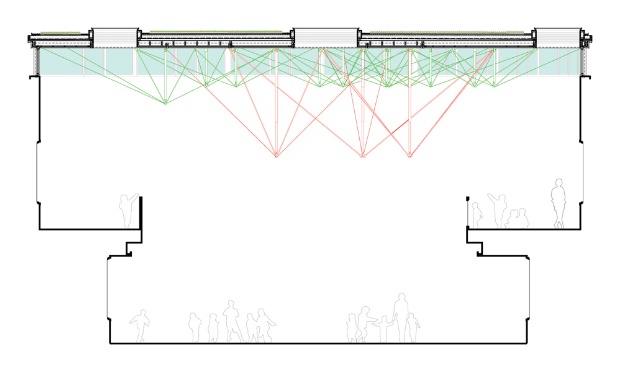 PROJECT TEAM
Client Governors of St John and St James and the London Diocesan Board for Schools
Architect Scabal
Structural engineer Rodrigues Associates
Contractor Rydon Construction
Carpentry sub-contractor Carpentry HKH
Metalwork DC Welding