Q & A with Arup cladding expert Mikkel Kragh
Architects' obsession with glazed facades is coming to an end and the future of buildings will look very different, says Arup's Mikkel Kragh.
Mikkel Kragh is an associate at Arup and since 2009 has led the facade engineering team at the engineer's Milan office. Born
in Copenhagen, he worked for cladding manufacturer Permasteelisa before joining Arup in 2002. He is also chairman of the Society of Facade Engineering, a senior visiting research fellow at Bath University and a visiting professor at Politecnico di Milano.
You have said that this could be the decade of the facade engineer – what did you mean by that?
The building envelope represents 25% of construction costs. It is fundamental in terms of building performance, it is the image of the building and there is tremendous need for co-ordination and integration to avoid costly failures and shortcomings. The focus on value for money, combined with environmental performance as a driver, is putting new emphasis on the role of the facade engineer as an integrator.
What are the key issues facing facade design?
Architects need to be aware of two main issues: first, adapting existing buildings to deal with a changing climate; and, second, enhancing performance to mitigate climate change. With retrofit and new-build we need to consider performance not just in terms of energy consumption but also embodied carbon. 
Are we going to see fewer commercial buildings with floor-to-ceiling glass?
I was part of a glass debate a few years ago and it was considered that the market was driving the floor-to-ceiling aesthetic. Letting agents claimed they couldn't attract tenants without large amounts of glass. We felt we should educate the market.
It's not necessary to feature fully glazed buildings – non-transparent facades can be just as exciting. However, we are not there yet. The market appears to expect transparent buildings. It's almost a default expectation and is not the right starting point. In the future we will see an increased emphasis on materiality – glass is a wonderful material but it could be used differently.
We are doing research into composite facades [glass fibre reinforced polymers] and we should be considering low carbon options and designs for disassembly and the reuse of materials.
In our research into timber as a structural material in high-rise buildings, we predict that timber will be used as a low-carbon structural material that will be integrated with the cladding, and we will see a return to more traditional ways of construction.
Is energy-efficiency becoming more important than a facade's appearance?
It depends on who you are talking to. As someone once said: "Good architecture must be sustainable but not all sustainable architecture is good architecture."
There are architects who go further than the building regulation requirements, but the typical scenario is an architect asking: "How much glass can we get?" This is obviously the wrong question as it's aiming for the lowest acceptable performance of the facade and this is really sad.
It is hard to fall out of love with Mies's glass box, but I predict that materials and materiality will drive a new trend after having indulged in so-called "transparency" for the last few decades.
What buildings have you worked on with facades that we could learn from?
With Ropemaker Place [designed by Arup Associates] we designed a facade that fulfilled three scenarios: it complied with building regulations, it followed the client's brief, and the team wanted to design a sustainable building for a low-energy tenant – it was brilliant!
I also worked on the Danish Pavilion for the Shanghai Expo 2010 with Danish architect BIG. We proposed not having air-conditioning in the pavilion, which fundamentally changed everyone's expectations for a summer Expo in Shanghai. Instead we naturally ventilated the building. The pavilion was made from a perforated steel envelope and featured large openings at ground and roof level. It was a beautifully integrated building and attracted 5.5 million visitors.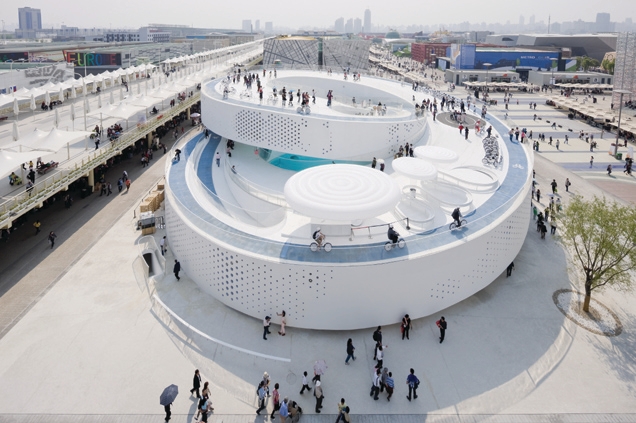 What new facade materials are you researching?
We've been working on composite materials [glass fibre reinforced polymers] and what these new materials can do in high performance facade systems. We are also looking at low-cost, transparent, building-integrated photovoltaics, which is the Holy Grail. We are focusing on bringing down the cost of PVs and we are at the early stages of developing this. The technology won't be on the market for another few years and we are yet to see if these PV coatings are aesthetically acceptable.
I'm also involved with companies such as Formtexx to create cost-effective free-form envelopes that enable architects to work more freely with form.
Has there been an improvement in collaboration between the disciplines of architecture, structures and services to achieve a well-integrated facade?
There is always room for improvement, but it has got better. Clients are more aware now and we can save them money and trouble if they possess a good business sense and want facades that not only comply with the regulations, but deliver over and above this level to provide high performance and low environmental impact.
Why do you believe the term facade engineering should be changed to building envelope engineering?
A lot of people associate facade engineering with hi-tech steel and glass but it is much more than that. Facade engineering also deals with, for example, roofs, conventional brickwork, stone and composites and is a very broad field. However, I fear the name won't change as people have invested a lot of time and energy putting facade engineering on the map.
Are the Part L building regulations relating to facade design stringent enough?
Personally, I think some curtain walling systems will struggle to comply with a strict interpretation of the regulations. Coming up with solutions and understanding the subtleties required is not that trivial anymore.
We will see new systems coming in and less transparent facades, but I do believe we can go further. The end game is that buildings should be energy efficient. How we get there is a political decision and a compromise between industry professionals and a need to reduce carbon emissions.
What is your favourite facade?
This is not an easy question as there are many modern examples, but I will mention an historical example instead, which is Gropius's Bauhaus in Dessau.
It's an unbelievably modern and elegant building for its time especially when you take into account that it was built in 1925. The facade wouldn't perform to today's standards, so it has problems, but I would like to take inspiration from it for developing facade design that, as they say, does what it says on the tin – it's very simple, does the job and is outstanding.
Kragh's work in facades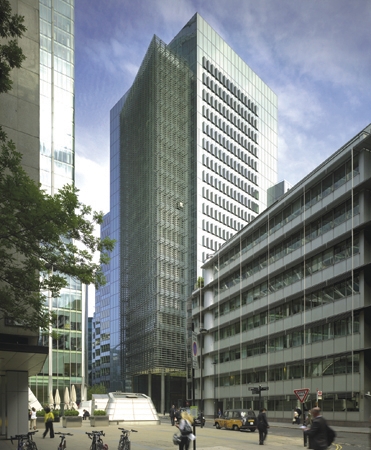 Source: Christian Richters
Ropemaker Place
Arup Associates
Completed in 2010, Arup's 81,200sq m office building in the City of London incorporates projecting glass panels that reduce peak cooling demand by up to 27% compared to a flat facade. The pattern of the tilted windows prevents the facade from becoming monolithic and it is further animated by the use of optical lenses which reflect light differently depending on the time of day.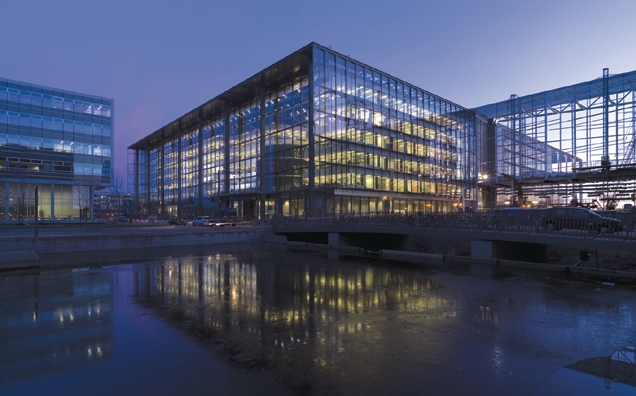 Media House
Dissing & Weitling Architecture
Built in 2006, this building in Copenhagen is home to Denmark's national TV and radio news organisation. Its large, transparent facade opens towards the urban space, allowing direct views into the atrium, while the extensive use of glass makes it possible to take advantage of daylight and reduce use of artificial lighting. The building, which features a double facade, groundwater cooling and natural ventilation, was awarded the 2006 Solar Prize by the City of Copenhagen.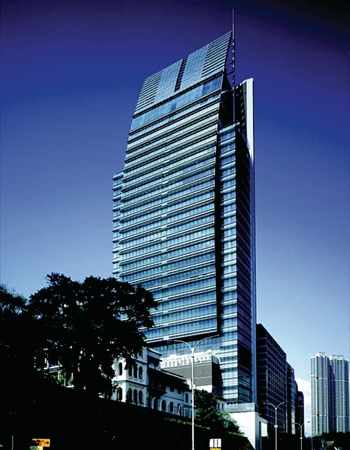 One Peking Road
Rocco Design Architects
This 26-storey office building was a pioneer in sustainable design for Hong Kong in 2003. The external envelope is a triple-glazed curtain-walling system that uses low-E clear glass with a ventilated cavity which results in high light transmission but low thermal transfer values. Aluminium sunshades double up as light reflectors and form an integral part of the south facade curtain wall system.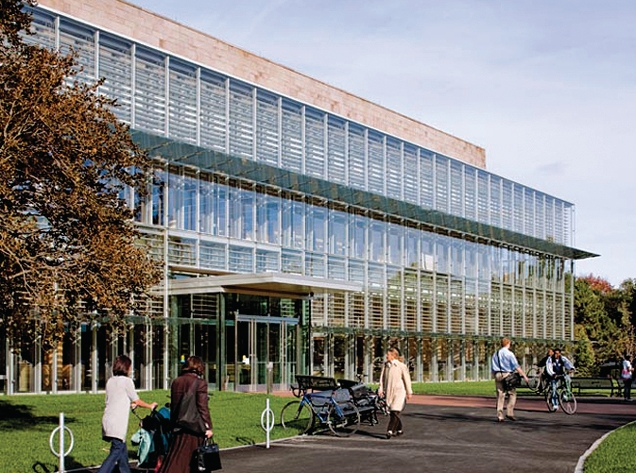 Cambridge Public Library
William Rawn Associates
The public library in Cambridge, Massachusetts, which opened in 2009, is a striking glass building of 7,000sq m attached to an existing historic 1887 landmark by Van Brunt & Howe. The main facade is the first US example of a building that incorporates all key ingredients of advanced European double-skin curtain-wall tech-nology. The building is LEED Silver certified.