Architect's gatehouse for historic building in the Dutch city completes
Architect Wilford Schupp Architekten
Location The Hague
Completed May 2012
Wilford Schupp Architekten has completed a gatehouse building for the historic Peace Palace in The Hague.
Mirroring the form and material of the practice's recently completed Library and Academy Hall, the visitor centre completes a trilogy of building elements that use red brick and slate-grey metal to respect the status of the palace and provide an individual identity for the future.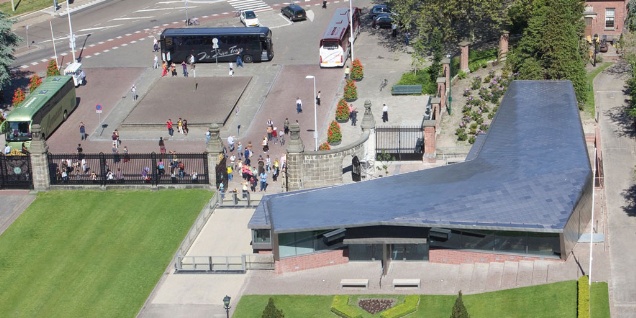 Source: Peter de Ruig
The building fulfils three primary functions: a security check zone for officials, visitors and vehicles entering and leaving Carnegie Square; an exhibition gallery explaining the history and activities of the Peace Palace; and an assembly point and souvenir shop for tourist groups.
Gallery exhibits are displayed along a shallow ramp leading around a central exhibition wall from the entrance foyer to the raised observation area, which provides commanding views of the palace and gardens.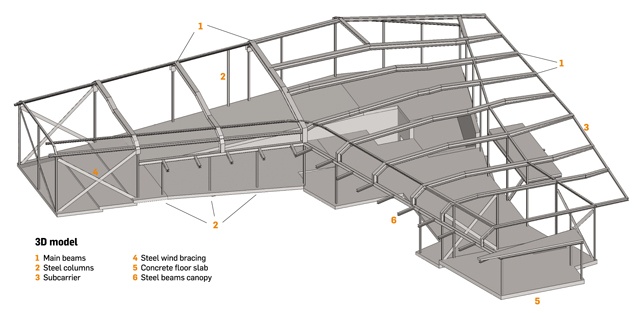 The building form and fenestration are focused towards the palace, with transparent entrance areas to allow views through from both sides and provide an enticing hint to visitors of the activities within. The gallery is more enclosed to provide optimum conditions for exhibitions and audio-visual presentations.
The soft-curved titanium roof has a modulated profile to enclose and unify the variety of spaces it contains and to emphasise its focus to the Peace Palace. The open west facade also clearly indicates the exit route for officials and visitors. The roof embraces the brick base that matches the historic entrance wall, while terrace areas around the building echo the traditional paving materials and patterns of the adjacent square.
Roof construction
Material
The roof is clad in 5mm-thick panels of pure titanium (grade 1), whose surface is blasted with iron-free, sharp-edged grit — that is, high-grade corundum or casted chromium alloy. This provides a matt finish with low reflectivity.
Layout
A shingle layout plan was prepared and applied to the 3D model to show the size and location of each individual shingle.
The shingles, which measure 400 x 400mm along the edges, have been laid out to form one homogenous surface with the minimum possible number of terminations.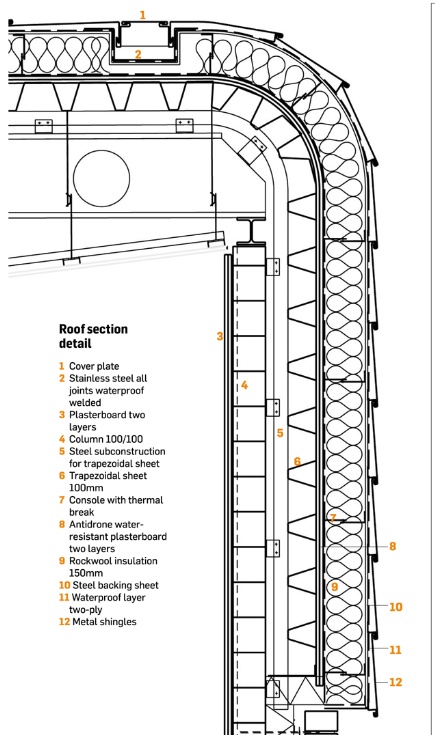 Build-up
The primary steel structure does not follow the roof shape but is formed in segments to an approximate profile.
A substructure of galvanised steel sections provides the final lines and support for the trapezoidal metal decking.
The size and profile of these sections were determined from structural and building-envelope 3D models.
Drainage
The gutters are formed from 6mm-thick austenitic stainless steel with welded joints. Expansion is accommodated in accordance with the relevant guidelines by incorporating flexible neoprene elements.
PROJECT TEAM
Client Carnegie Foundation
Architects (Germany) WSA, (UK) MWA
Building installation planner Maat
Quantity surveyor Caltek
Structural engineer IMd
Project managers Bremco and LSa
Interior designer Jowa