HTA's athletes' village in Dorset mixes traditional materials with an up-to-date approach to energy generation
Architect HTA Architects
Location Portland Peninsula, Dorset
Completed February 2012
While Stratford's athletes' village was designed as a series of high-density perimeter blocks on the continental model (Buildings January 27), HTA Architects has recently completed an altogether different kind of village for the 2012 Olympic sailing events.
Set on a 2ha site on the Portland Peninsula near Weymouth, in Dorset, the £10 million project comprises 69 houses and 8 maisonettes, arranged as terraced streets and detached family houses, at a villagey density of 39 dw/ha — compared to Stratford's decidedly urban 187 dw/ha.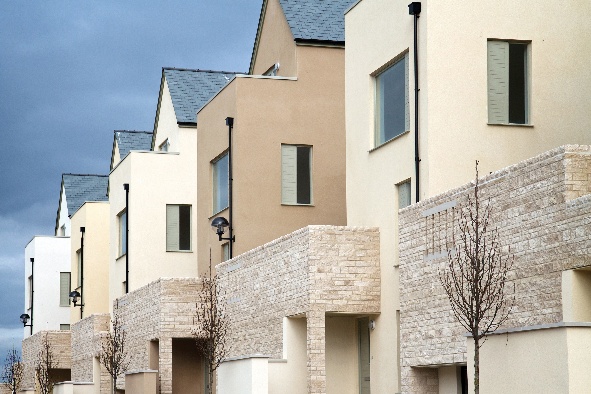 Developed by ZeroC, the company behind much of Poundbury, the buildings employ a traditional palette of materials, simple gabled forms finished in cream render and Portland stone. Winding steps cut into the landscape and are incorporated into the structures of the new buildings to mediate across the sloping site, following the form of nearby seaside towns. A carpet of stone weaves through the site connecting buildings to boundary walls, planters and steps in a robust continuous plinth.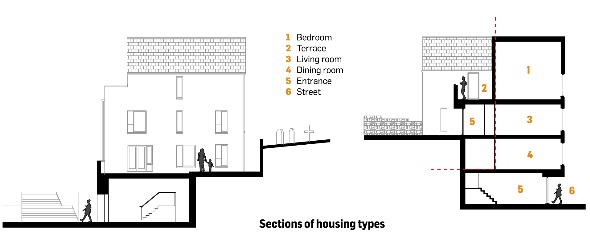 The site is made up of eight basic typologies which are varied in response to their context. The predominant house type is a two storey, two-bedroom home that HTA has developed over a number of previous projects. The fundamental organisation of the home maximises space, daylight and flexibility through an open-plan front-to-back living, dining and kitchen space. The larger houses share the basic organisational principles of a central stair and narrow plan form to maximise views and aspect to both sides.
After the games, the flats will be sold and rented as the mixed-tenure Officers' Field development, with 70% private sale, 11% shared equity and 19% socially rented.
Renewable energy sources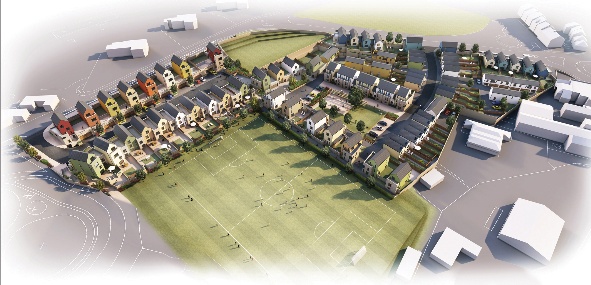 All of the homes are delivered to Code for Sustainable Homes Level 4 and the project aims to generate at least half of its energy from renewable sources.
The larger houses feature high-efficiency wood pellet heating and hot-water systems, housed in distinctive wooden storage boxes integrated into many of the frontages.
Smaller homes share communal biomass boiler systems which are disguised in two of the mews garages.
Many of the homes also feature rainwater harvesting, photovoltaic panels and daylight channelling "sun pipes" to reduce energy consumption.
Interior features include water-saving fittings, the option for rainwater harvesting and smart energy meters.
There are also plans for an electric car club that will be incorporated on site when the development is occupied to discourage second-car usage.
PROJECT TEAM
Client ZeroC, Contractor Acheson Construction, Architect HTA, Landscape architect HTA Landscape Design Engineer TWP Consulting Structural & Civil Engineers