Oasis Children's Venture by Matt Atkins and Ben Barfield Marks
A playspace and office by architecture students is an exercise in reuse and resourcefulness
Project Oasis Children's Venture
Designers Matt Atkins and Ben Barfield Marks
Location Stockwell, south London
Completed July 2012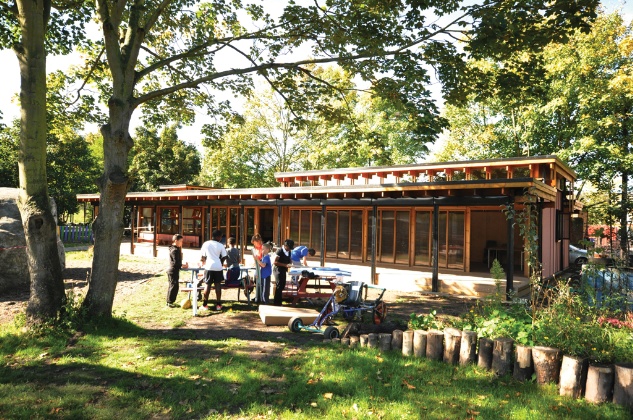 Architecture students Matt Atkins and Ben Barfield Marks have combined their studies at London Metropolitan University with providing a new playspace and office for the Oasis Children's Venture in Stockwell, south London, through an impressive exercise in reuse and resourcefulness.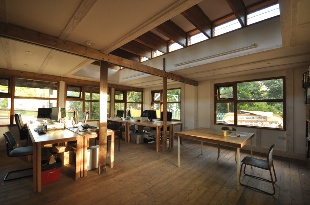 Working closely with the voluntary sector organisation Oasis, a children's charity, the two students led a team of volunteers in carefully dismantling the office of the Coin Street Community Builders on London's South Bank, behind the National Theatre and reconfiguring the pieces a few postcodes away.
Barfield Marks and Atkins had volunteered their time and were working with the charity to develop a design that could best use the lightweight, timber frame to suit its brief.
This had grown during the project from a basic need for office and storage to include a flexible children's space opening out towards the garden.
The costs of the new building were minimal. The site was already owned by Oasis, the workforce was largely volunteers and materials were either reclaimed or donated, while recycling components reduced the structure's embodied energy.
That the pair were able to combine the design and building works with their studies was thanks to the almost unique structure of the Free Unit at London Met, where the practical project could become the centrepiece of a larger academic discourse — a framework that head of school and unit leader Robert Mull describes as "the first stage of practice rather than the last stage of education".

Disassembly and reconfiguration
The Coin Street building on the South Bank had been built in 1988 to the Segal method, and was scheduled for demolition. Two weeks before works began, the construction materials were donated to Oasis — leading to a busy fortnight of salvage.
The modular, dry-trade construction and bolt-together fixings that characterise the Segal method proved pivotal to the success of the project. As well enabling easier construction of the original building, these allowed the structure to be successfully dismantled and its elements rearranged as a new design and assembled by a largely volunteer workforce.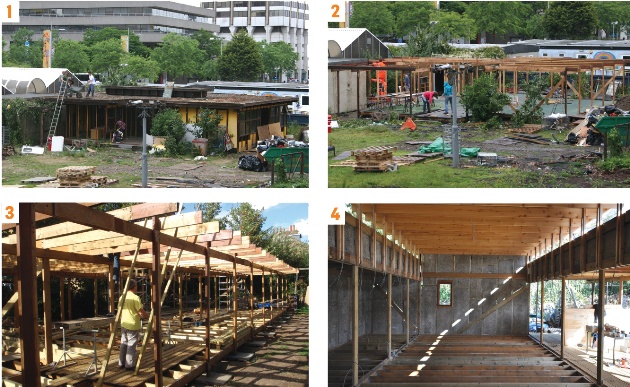 Thermal upgrading of the fabric, incorporating double glazing and additional insulation, has exceeded current building regulations without detriment to the building's appearance; while very much a new design, its origins with Walter Segal are still clearly apparent.
In part, this satisfying balance is maintained by the introduction of new details such as the lapped Eternit wall cladding, which accommodates site tolerances and unskilled labour.
However, there is also an acceptance and enjoyment of the fabric's existing character — such as the veranda soffit timbers, which display a variety of finishes dependent on their previous uses and treatments.
The two architecture students have taken care not to introduce wet trades or new types of fixings, intelligently anticipating that the structure may yet have other lives ahead of it.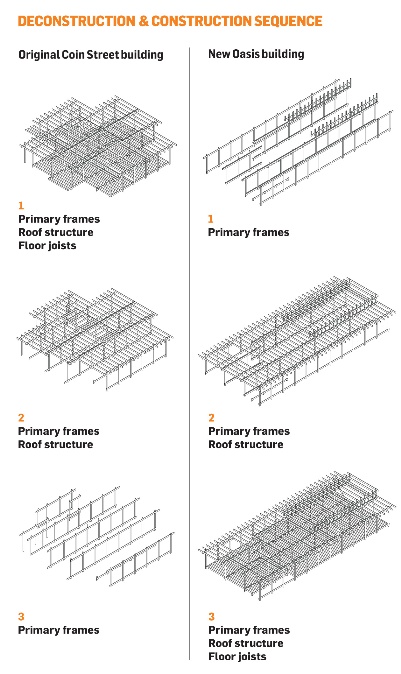 PROJECT TEAM
Designers Ben Barfield Marks and Matt Atkins
Client Oasis Children's Venture
Structural engineer Thomas Roberts
Services engineer Loren Butt
Postscript:
The original office building for Coin Street Community Builders was designed by Architype in 1988 and built by self-builders from the original Lewisham Self Build schemes. Prior to its re-incarnation Architype assisted Matt and Ben by providing access to the original drawings and construction details