Oak Meadow Primary School by Architype
Passivhaus technology is creating an efficient, well-ventilated learning environment at Oak Meadow Primary School in Wolverhampton.
Architect Architype
Location Lichfield Road, Wolverhampton
Completion date September 2011
When the UK's first Passivhaus primary school is complete, it won't be just the environment that benefits. An added bonus is that schoolchildren's concentration levels will be better as a result of the design.
Overheated and stuffy classrooms are often cited as key contributors to children's drowsiness and lack of focus. But in Architype's Passivhaus Oak Meadow Primary School on the outskirts of Wolverhampton, the provision of a heat-recovery ventilation system will hopefully lead to happier and more alert children.
The system will pump in fresh air during winter, while high-level vents allow for night and day ventilation during summer, ensuring improved indoor air quality all year round.
Architype has been immersed in sustainable thinking and practice for 25 years. In 2009 it completed the UK's first Breeam "excellent" primary school, St Luke's, also in Wolverhampton, which last year won the RIBA's Sorrell Schools Award.
Architype's director Jonathan Hines says that the experience of designing St Luke's "gave us the confidence to take the next school we did to Passivhaus standard".
"Passivhaus drives design to achieve efficient buildings that simply consume less energy," he says. "This aligns with our own long standing approach."
The £5.2 million Oak Meadow project is one of two Passivhaus primary schools designed by the practice being built a few miles from each other — the other is Bushbury Hill. The schools replace outdated buildings which will be demolished once the new schools are occupied.
Oak Meadow is a two-storey timber-framed building with a 2,300sq m floor area. It incorporates high levels of insulation, timber-framed triple-glazed windows, and is clad with British-grown Douglas fir boards.
Most of its 16 classrooms on both floors are located on the south elevation where solar shading can be provided, while the hall, kitchen and administrative areas, together with the main entrance, are on the north. Space hungry corridors have been avoided and instead, classrooms lead off multi-use areas where children can do group activities.
Hines admits that achieving Passivhaus has been demanding. "It has required an integrated approach and a relentless and rigorous attention to detail at every stage of design and construction," he says.
"By rationalising building form and simplifying detailing and systems, Passivhaus is achieved within the standard available budget."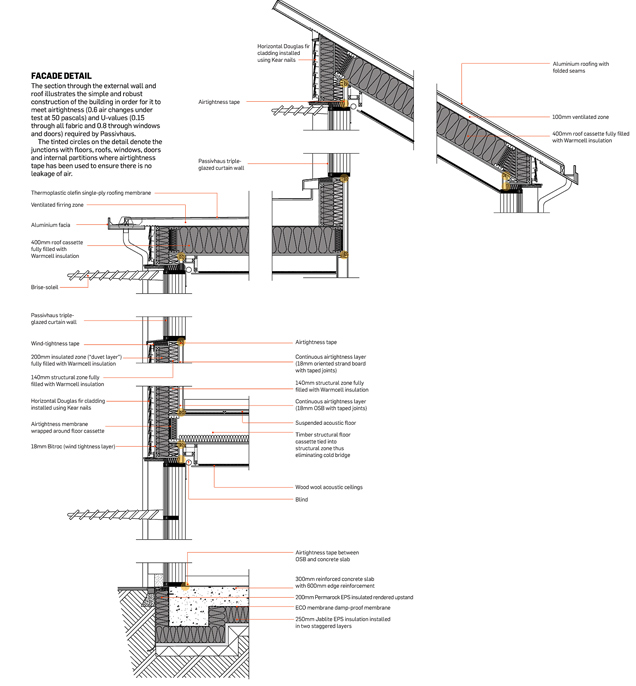 Passivhaus techniques used
Thermal envelope
Thermal bridging is eliminated by placing the building on a concrete raft which "floats" on continuous expanded polystyrene insulation. A two-layer external wall is developed, composed of an insulated load-bearing timber stud wall wrapped with an additional layer of insulation behind the timber cladding.
Dubbed the "duvet zone" this 200mm-thick layer is filled with Warmcell insulation, a fully recycled product that allows the walls to breathe, allowing moisture vapour to escape from the walls while stopping any ingress of moisture from the cladding cavity.
The layer is hung from a 140mm structural zone (typically 40% timber) using a Larson truss which minimises thermal bridging. Using timber means the thermal bridge from inside to outside is reduced both in the frequency of occurrence and the thermal conductivity of the material itself.
The tongue and groove bitumen-impregnated softboard eliminates air movement in the zone.
Windows are timber/ aluminium composite thermally broken from inside to out to avoid thermal bridging and the glazing is triple-glazed and argon-filled with insulated spacers.
Window design is optimised to allow for day and night cooling. Using larger glazed areas and opening lights and fewer mullions minimised the additional cost of achieving 0.8 U-value.
Airtightness
Rigorous attention to air tightness at every junction had to be achieved on site. Oriented strand board with taped joints was used to provide a robust airtightness layer. This layer is protected once the building is in use by the inclusion of a service zone inside the walls. Architype worked hard to eliminate penetrations of this – post, beams and portal frames all stand within this line. Careful attention has been given to all junctions with floors, roofs, windows, doors and internal partitions.
Timber construction
Architype has been using timber frame construction for 25 years. Timber is its preferred construction material, being both lightweight and eco-friendly. It absorbs CO2, can be used with little or no processing – the practice always uses untreated timber – and it can be sourced locally: the Douglas fir cladding is from Wales.
Passivhaus strategy

Left: summer ventilation; Right: winter ventilation
Summer ventilation
Solar gain is controlled using brise-soleil and the highly insulated building fabric.
Summer ventilation is controlled by users who can open windows and insulated timber shutters behind external louvres.
Cross ventilation into the shared hub space via attenuated air paths is drawn by stack effect through actuator-controlled high level openings.
This also provides night purge cooling.
Winter ventilation
The building is airtight with highly insulated facades and triple-glazed windows. Classrooms are supplied with constant fresh air warmed via the heat exchanger by extract air, with CO2 monitoring.
Heating is largely solar and from the body heat of the occupants, supplemented by an efficient gas-fired condensing boiler and quick response, low-temperature radiators.
What is Passivhaus?
Passivhaus has a number of basic compliance requirements - U-values of 0.15 through all fabric and 0.8 through windows and doors, air tightness of 0.6 air changes under test at 50 pascals, elimination of thermal bridging through building fabric, and integration of mechanical heat recovery ventilation.
Critically, building form, orientation, fabric and detail must be modelled using the Passivhaus planning package to test and prove compliance with the demanding thermal energy target of 15kWh/sq m/year – an energy reduction of around 80% compared to UK standards.


Architect Jonathan Hines on post-occupancy monitoring
Architype is nearing the end of a two-year programme of post-occupancy building performance evaluation in partnership with Oxford Brookes University, funded jointly by Architype and the government through a Knowledge Transfer Partnership.
A full-time research associate, Lisa Pasquale, is employed to monitor the energy and water consumption, temperature, humidity and CO2 levels of 10 of Architype's recently completed buildings, alongside in-depth user feedback. Even before the research is complete, feedback is proving invaluable and being actively used to improve practice, and improve the design and performance of Architype's future projects.
The way controls are designed, together with users' knowledge and motivation has a dramatic impact on energy consumption. At Oak Meadow Primary School, Pasquale has worked closely with the design team to develop effective and intuitive controls for heating, lighting and ventilation that match the simple rationale of Passivhaus, designed to enable users to understand, and then achieve, the predicted energy performance.
Architype is piloting Soft Landings - a national initiative that encourages designing building systems in consultation with clients, and giving additional support to users during the first two years of occupancy.
At Oak Meadow, this is already ensuring that the staff and children fully understand their Passivhaus building, and will be supported and empowered to optimise its performance. Architype now provides building performance evaluation and Soft Landings as part of its standard service to clients on all projects.
Jonathan Hines is a director at Architype.
Project team
Architect Architype, Client Wolverhampton City Council, Passivhaus consultant Elemental Solutions, QS Smith Thomas Consult, M&E engineer E3, Structural engineer Price & Myers, Acoustic consultant Ion Acoustics, Passivhaus accreditation WARM: Low Energy Building Practice, Contractor Thomas Vale Construction, Landscape architect Coe Design Landscape, Timber frame sub-contractor Cygnum, Window/curtain-walling subcontractor AM Profiles, Airtightness tapes Ecological Building Systems (Pro Clima)