White buildings covered in coloured dots in south-east London are in fact cleverly designed temporary structures for the Games
Project
London 2012 Olympic shooting venue
Architect
Magma Architecture
Location
Royal Artillery Barracks, Woolwich
Completed
2012
Berlin-based Magma Architecture has designed a series of lightweight temporary structures for the London 2012 Olympic Shooting Venue in Woolwich, south-east London, on the the grounds of the historic Royal Artillery Barracks.
Accommodating the 10m, 25m and 50m shooting events, the three buildings are articulated with a crisp, white double curved membrane facade, studded with vibrantly colored openings. As well as animating the façade these dots operate as tensioning nodes, ventilation openings and doorways at ground level.
Each membrane-covered seating block is divided from the field of play by the firing line where the athletes line up for the competition. Each field of play is surrounded by plywood clad walls mounted on a steel frame. Internally the timber surfaces remain visible, on the exterior they are painted white. Together with the walls, timber-clad baffles designed according to ballistic requirements shield visitors from ricochets from the firearms.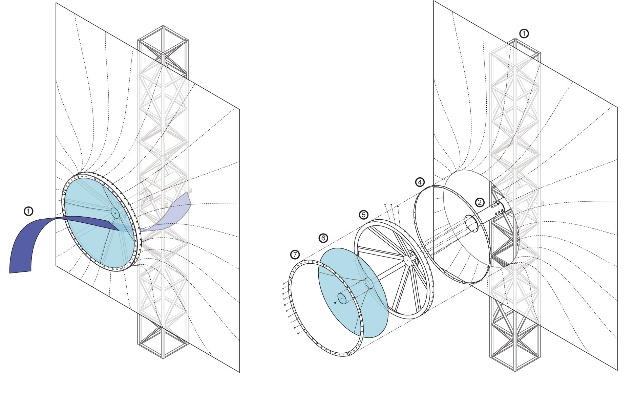 PVC cladding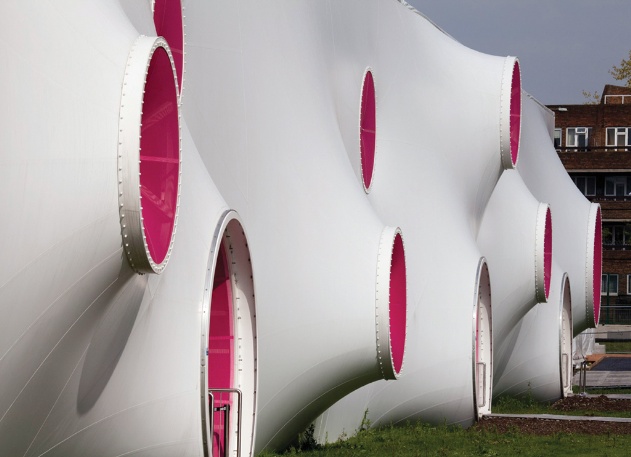 Source: J.L Diehl
18,000sq m of phthalate-free PVC membrane covers the modular frames. PVC was selected for its tensile strength, thermal performance, translucency and environmental properties, being 100% recyclable. Steel rings braced against the frame push and pull the outer skin, tensioning it to prevent fluttering in wind and ensuring there are no flat planes where water can collect. The steel rings also provide openings in the walls and roof for ventilation and doorways at ground level.
The buildings are naturally ventilated with the introduction of a second inner membrane - the 2m-wide void between the inner and outer fabric skins provides an insulation layer and initiates an airflow, with warm air rising and exiting through the high level ventilation extracts and cooler fresh air being drawn in at low level.
Daylight penetrating though the fabric limits the need for artificial lighting.
After the Games, the fabric, tensioning rings and connectors will be transported to new event locations. Two of the three mobile seating enclosures are set to be relocated in Glasgow for the 2014 Commonwealth Games, while principal frame elements will be returned to the hire firm and steel pile foundations will be pulled out of the ground.
As the architect puts it: "There is no waste and the venue won't leave a trace."
Modular frame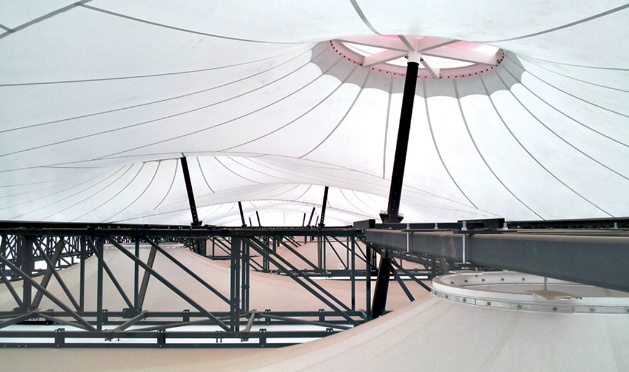 Source: Magma Architecture
The venue's modular frame is built up using a kit of standardised, lightweight steel trusses that are widely available for rent from temporary works firms.
The trusses are joined using bespoke connection pieces to create large, column-free spaces for optimum sightlines. Every joint has been designed so it can be reassembled - throughout, no composite materials or adhesives have been used.

PROJECT TEAM
Architect Magma Architecture, Client Olympic Delivery Authority, Lead consultant Mott MacDonald, Masterplan/ballistics/CDM coordinator Entec, Main contractor John Sisk & Son, Acoustics RPS, Structural/services/fire/lighting Mott MacDonald, Signage/access DLA,Temporary construction ES Global, Fabric structure Base Structures, Seating blocks and overlay Locog