A rich language of materials transforms a derelict textile factory
Architect
Cannata & Fernandes Architects
Location
Veiga de Creixomil, Portugal
Completed
2012

South-west of the historic Portuguese city of Guimarães, in the Veiga de Creixomil region, Cannata & Fernandes Architects has completed the transformation of a derelict textile factory into a cultural centre and observatory of the local landscape.
The Landscape Laboratory is located within a sensitive context classified as a national ecological reserve, although the immediate surroundings are notable for the proximity of a nearby motorway. The existing factory was sited alongside a small river, its plan and main elevation orientated towards the water. The structure was in a dilapidated state and the architect's response shows a particular approach to the treatment of the historic building fabric.
The stonework has been carefully repaired, cleaned and where necessary replaced, while the brickwork and rendered areas have been demolished, together with the roofs at either end.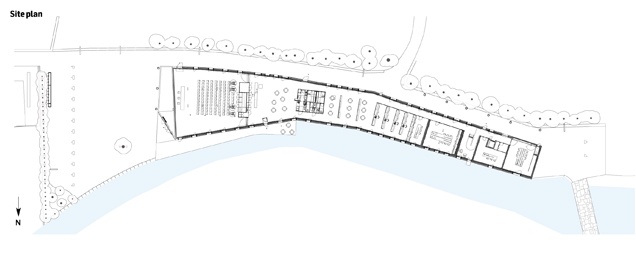 To the east this clearance has been replaced with only a single bay of two-storey new-build, allowing the creation of a new entrance court. The new-build intervention here presents a single concrete volume, with a cantilevered first floor creating a cut-away corner that invites one along the waterside pathway from which the building is entered.
This first glimpse of the building declares the architect's conceptual approach. The form presents a simple double pitch closely related to the existing profiles whilst presenting an abrupt formal abstraction of these same buildings.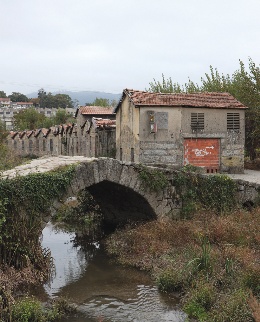 Source: Luis Ferreira Alves
The reduction of the rich language of materials and details of the old buildings to an abstract play of taut concrete volumes has been achieved through a confidence in the impermeability of the calcium-silicate hydrate gel that forms a polished white micro-concrete finish to the roof forms.
The overall impression is straightforward; these interventions present a distinct and contemporary stage in the building's historic evolution that is nevertheless related in character to the original architecture.
The architect's clear external division between existing structure and intervention is not carried through internally; all spaces are uniformly lined with white-painted plasterboard with timber floors used throughout. The rooms open up to the roof wherever possible, creating bright open spaces that recall the factory's typological forms — the new spaces divided along the gulley lines of the old building.
To the west, the relationship between original masonry and new intervention is both more complex and more characterful. These roof forms appear as concrete volumes at first floor, extensions sitting atop the old stone walls. Although the double pitch profile has been maintained, they vary in size and are discontinuous.
In combination these articu-lations create a more playful composition to the water's edge, an impression reinforced at the end elevation as the final bay reveals itself as a complete concrete volume.
PROJECT TEAM
Architect Cannata & Fernandes
Client Câmara Municipal de Guimarães
Structural engineers João Maria Sobreira
Hydraulics Raquel Fernandes
Mechanical engineering Raul Bessa
Electrical engineering Alexandre Martins
Acoustics Octávio Inácio
Landscaping Atelier Beco Da Belavista, Luís Guedes de Carvalho
Contractor Construções Imobiliárias e Turísticas