Pascal Flammer's first built project is more than a typical timber house
Project
House in Balsthal, Switzerland
Architect
Pascal Flammer
Location
Balsthal, Switzerland
Completed
2011
Outside the small village of Balsthal in the Swiss Jura, Pascal Flammer has completed his first built project, an isolated private house within a forest-lined agricultural valley whose seemingly chalet-like simplicity is underscored by a refined tectonic sophistication.
The building takes the form of a typical timber house and is constructed almost solely of spruce — the revealed structure is laminated, the concealed structure is glulam and stud, the external boarding is darkly varnished and the internal linings to walls and ceilings are of white-pigmented oil applied to triboard with timber floor boarding throughout. Oversailing the whole is a simple pitched roof with dramatic overhanging eaves.
One enters directly into a single open space, serving as living room, dining room, kitchen, working office and playground for the children. The floor level to this room is set 750mm below ground level with continuous bands of glazing above ground and storage cupboards below. The result is a room that is simultaneously protective and engaged with the natural life of the surrounding meadows; one imagines that creatures occasionally stop outside and peer in at this new nest-form.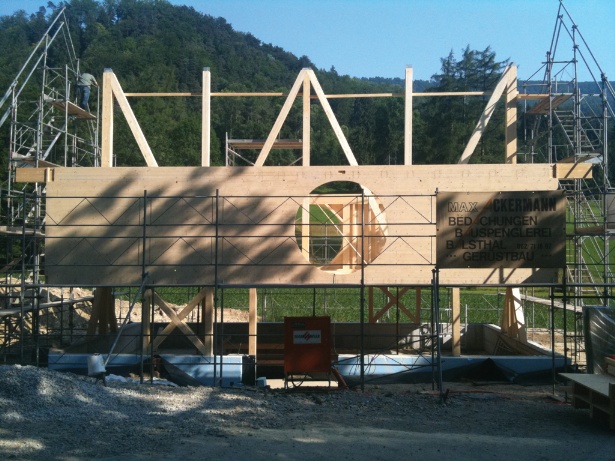 The first floor is quite different, commandingly elevated above the landscape and neatly sub-divided into quadrants with a central spiral stair and connecting doors placed against the perimeter walls, leading from room to room without the need for hallways in a manner deliberately reminiscent of northern Italian villas.
The two longitudinal outer walls of the first floor are formed as storey-height structural beams of lined glulam, supporting the heavy roof while cantilevering to allow column-free corners to the glazed elevations below. The central long wall also forms a glulam beam, 13m long and 7m high, spanning end to end and thereby freeing the ground floor entirely of the need for internal columns.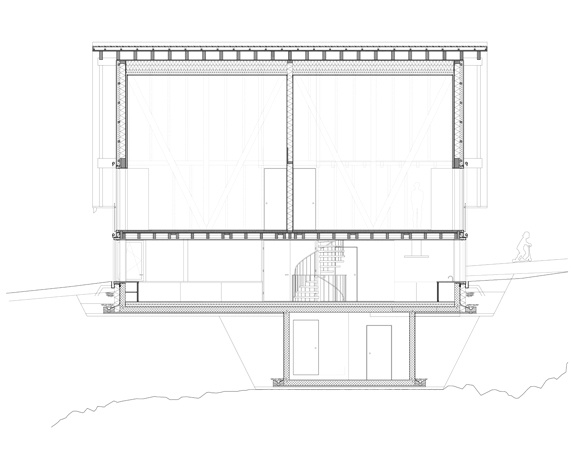 These large beams are stabilised in a variety of means: by the triangular gable walls, horizontally by a ceiling plane above the bathroom, and by laminated bracing in the form of the St Andrew's cross, reduced and single storey in height to the ground-floor side elevations and double height to the large end glazed elevations.
The extreme simplicity of the ground floor is both punctured and punctuated by the various relationships between the different types of bracing and the six columns supporting the beams above.
On the first floor the clear legibility and the simple directionality of forming large spans above a clear ground floor with three timber parallel, storey-height beams is deliberately undermined with the positioning of a large circular window at the mid-point of each long elevation.
The windows' scale makes one start questioning whether the long walls are indeed beams. Their positioning, at the meeting point of two rooms and a door, is outright provocative; the continuity of the four first-floor rooms to form a whole rather than parts abruptly meeting an aperture whose subdivision doesn't detract from the knowledge of the circular whole.
PROJECT TEAM
Client private
Structural engineer Conzett, Bronzini, Gartman
Main contractor Zimmerei Meier, Laupersdorf (carpentry)