The architect has built a mirror image of an existing house on this project near Antwerp
Architect
Bovenbouw Architectuur
Location
Mortsel, Belgium
Completed
July 2012
In the town of Mortsel outside Antwerp, Belgian architect Bovenbouw has completed a house extension that succeeds in the remarkable task of persuading one to reconsider both this ubiquitous building type and the everyday cavity wall.
Accepted responses to domestic additions more usually present the new construction as counterpoint to an existing building, additions that, however dramatic or eye-catching their architectural expression, adopt a subservient position in relation to the original houses. Not so, Bovenbouw. In this project they present the new build as a mirror image of the existing house, a match in both scale and profile to the original that, complete with its own stair, chimney and front facade, suggests a new house addressing the garden space, a twin to the house facing the road.
Built of white-painted brickwork, the extension sits behind the old structure and provides living space at ground floor, with a study and two bedrooms in the floors above, all oriented towards the garden, but with a kink in the sidewall that allows light into the rear windows of the old house.
A new stair, in addition to that in the existing house, links the first and second floors, creating a generosity of route and of spatial experience by sitting within an over-sized void that allows long views up the house. Avoiding the easy solution of using the new stair to separate the existing building from the new, the circulation instead divides the extension in two, creating a second axis of symmetry around the kink.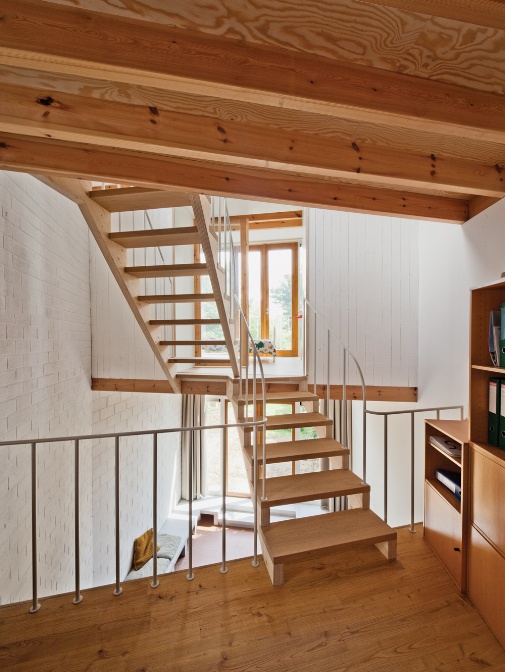 Source: Karin Borghouts
While the end elevation is largely glazed, the long, kinked sidewall presents an almost uninterrupted expanse of masonry. The internal leaf of this enclosing wall is exposed, but painted, and uses a variety of units, bonds and mortar joints to suggest a different character for each internal room in a manner analogous to using a variety of wallpapers.
These construction types range from blockwork with beaded joints or render finish, through brickwork with open or flush mortar joints to fake joint brickwork. Internally these finishes are read one at a time as one moves from room to room. However, a final provocative symmetry is presented in the construction of the new cavity wall such that the construction of the external masonry leaf mirrors the internal leaf.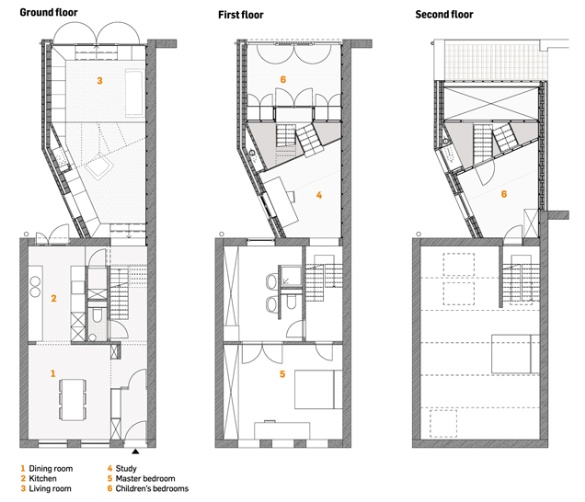 The resulting wall suggests a purposeful playfulness, not dissimilar to the experimental brickwork lining the courtyard walls of Alvar Aalto's own summerhouse. The intention here seems instead to be to make a stand against the independence of inside and outside that is intrinsic to the cavity wall, and, in the process, revealing something of the private interior world to the outside world.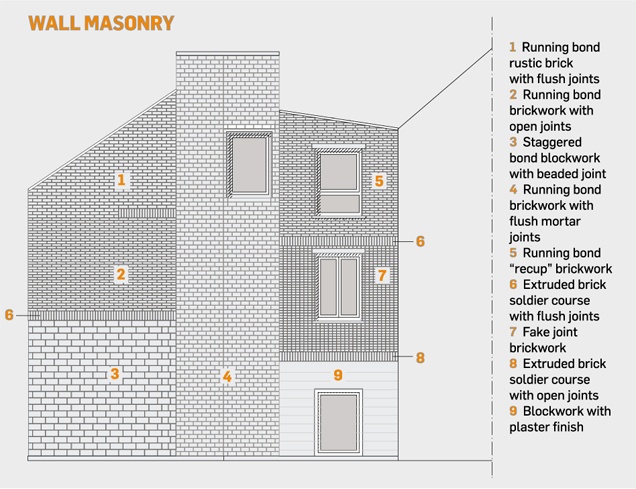 PROJECT TEAM
Architect Bovenbouw Architectuur
Client Geysen-Spoelders family
Structural engineer Util
Main contractor Gravo