Haringey Passiv Terrace retrofit by Anne Thorne Architects
Retrofit build works delivered an 80% cut in energy use to an Edwardian terraced house in London.
"I feel very privileged to be living here," says Angela Webb, who moved with her two children into a newly retrofitted Edwardian house two months ago.
The three-bedroom house has been given a £150,000 refurbishment by Anne Thorne Architects. Of this £89,000 covered retrofit build works which have delivered deep cuts in energy use and carbon emissions while offering high levels of comfort.
The project forms part of the Retrofit for the Future programme, a competition launched in early 2009 to encourage the retrofitting of social housing across the UK in order to demonstrate how future targets for the reduction of CO2 emissions can be met.
The two-storey mid-terraced house, previously used as two one-bedroom flats, took over four months to be transformed from a draughty, energy-inefficient building to a carefully detailed house that follows Passivhaus standards and consumes 80% less energy than its former incarnation thereby complying with the government's target of an 80% reduction in carbon emissions by 2050.
Anne Thorne Architects used the Passivhaus Planning Package, a design tool produced by the Passivhaus Institut Germany, to model the existing and potential heating needs and energy use of the house. The tool, which is used like an Excel spreadsheet, allows the user to see the effect of small adjustments to the design of insulation, quality of windows, air-tightness, cold bridging, ventilation strategies and heating and hot water systems.
The architect focused on a "fabric first" approach with high levels of insulation and airtightness to dramatically reduce the energy demand and CO2 emissions.
The north London house is one of two Retrofit for the Future projects by Anne Thorne Architects selected early last year and funded by the Technology StrategyBoard under the Small Business Research Initiative. The other house, in Stoke on Trent, is now also complete.
In total, 119 UK houses have now been retrofitted to demonstrate an 80% reduction in CO2 emissions. The Energy Saving Trust will monitor each demonstrator project for two years, analysing the data collected and making it publicly available.

Insulation and reducing thermal bridging
Hawthorn Road had no insulation in its walls or floors. Externally insulating the front elevation was not an option since it had an unrendered brick facade and the property is in a conservation area. Instead, the front wall has been internally insulated to achieve a U-value of 0.21W/m2K.
The rear of the house had no great architectural merit, so the conservation officer allowed it to be insulated externally – a considerably more straightforward process. As the insulation is deep the rafter ends of the roof were extended to overhang the insulation.
The insulation laps the window frames to minimise thermal bridging. Externally 240mm Jablite EPS 70E rendered board was used. The rear walls achieve a U-value of 0.15W/m2K.
To prevent heat being lost to neighbours, the party walls were insulated using 60mm wood-fibre insulation board. Chimney breasts were filled with Leca Insulation Fill, a lightweight expanded clay aggregate.
As a cost-cutting exercise, standard lime plaster 15mm thick was specified for the wood-fibre board, but in retrospect, says project architect Jennie Swain, an 8mm-thin coat plaster would have been better, as the thicker plaster took a longer time to dry. The party walls achieve a
U-value of 0.31W/m2K.
The loft had no insulation, and 300mm sheepswool insulation was laid between and over the existing ceiling joists and achieve a U-value of 0.11W/m2K.
The rear extension already had a solid concrete floor, so joists and floorboards to the remaining ground floor were removed because they could not be ventilated properly.
A concrete slab floor was laid, then covered with expanded polystyrene insulation and finished with airtight membrane and 18mm oriented strand board.
Windows
Conservation officers can be reluctant to approve triple-glazed windows in conservation areas. Hawthorn Road is in the Campsbourne Cottages Conservation Area, but Haringey Council was sympathetic to the change, particularly as they would be replacing uPVC windows.
Ecopassiv triple-glazed timber-framed tilt-and-turn windows were specified. These were supplied by the Green Building Store and made in Poland. The inward opening windows, which have a U-value of 0.75W/m2K, are composed of 100% FSC pure timber and use a polyurethane frame insulant and warm edge spacers. During installation, a collar of air-tight membrane was wrapped around the window.
The existing front door has been retained, but a new triple-glazed internal lobby door was inserted, again to ensure airtightness.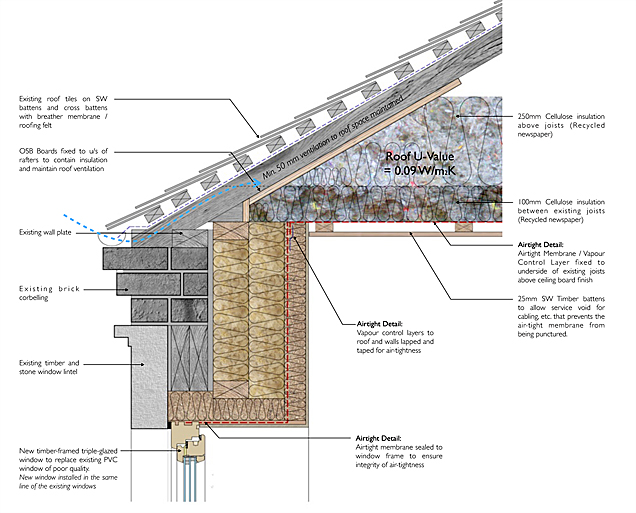 Airtightness
Airtightness is one of the most critical aspects when reducing a building's CO2 emissions.
Open chimney breasts, gaps in plasterwork, service penetrations, and any poorly fitting doors and windows can all contribute to poor airtightness, creating draughts and leaking heat from the building.
To ensure the building was airtight, the architects created a draught-free layer formed by a continuous layer of internal plaster linked to intelligent building membranes within the walls, ceilings and floors.
An air test to measure the air permeability (leakiness) of a building was carried out before the refurbishment, registering 16.47m3/h.m2 (15 changes per hour). On completion of the retrofit, the reading was 2.20m3/h.m2 (two changes per hour). Part F of the building regulations requires a maximum reading of 10m3/h.m2, so this was a very good result.
Heat recovery ventilation, top-up heating and solar hot water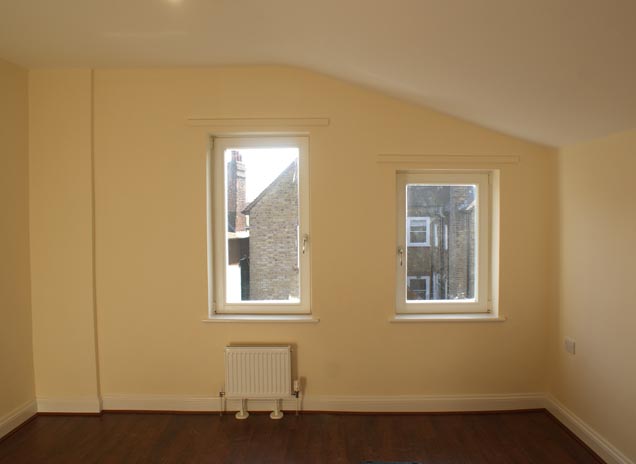 A heat recovery ventilation system has been installed so that fresh air can be brought into the house during the colder months without opening the windows.
This provides fresh, warm air to the house, recovering 92% of the heat from the outgoing air. Only when outside temperatures drop below -3°C does a small heating element need to be activated.
Passivhaus-certified MVHR (mechanical ventilation with heat recovery) systems only need a small energy-efficient fan to run the system which uses a maximum 0.45W/cu m/hour.
Crucially, the energy used to run the unit is far less than the energy that would be used to heat a conventional house that leaked air and heat.
"Our approach was to use natural materials which are sympathetic to 19th century buildings," says Anne Thorne Architects partner Fran Bradshaw.
"The building still needs to breathe and natural materials, together with controlled ventilation provided by the mechanical air-handling unit, give a fairly constant temperature all year round."
The aim is to have a comfortable and even internal temperature of 21°C.
Hot water is provided by a gas boiler with integrated solar thermal panels on the rear south-facing roof that will provide over 60% of the hot water required over the year.
Small radiators in the living room and bedrooms are powered by the boiler for top-up heating when it is very cold.
Project team & suppliers
Architect Anne Thorne Architects, Client Metropolitan Housing Trust, Contractor Sandwood Design & Build, Structural & M&E engineer King Shaw Associates, SAP assessor Eight Associates, Post occupancy monitoring UCL, Sheepswool insulation Thermafleece, Second Nature, Triple-glazed windows Ecopassiv, Green Building Store