Gridshell structures form the two biodomes at the heart of Marina South gardens
Project
Gardens by the Bay
Architect
Wilkinson Eyre
Location
Marina Bay, Singapore
Completed
June 2012
Wilkinson Eyre has completed two of the largest climate-controlled glasshouses in the world for the new 100-hectare Gardens by the Bay project in Singapore.
Situated at the heart of the £350 million Marina South gardens, the Cooled Conservatory Complex covers an area in excess of 20,000sq m, comprising a 1.28ha cool dry biome (the "Flower Dome") and a 0.73ha cool moist biome (the "Cloud Forest"), containing lush planted landscapes - including an artificial mountain with a 35m high waterfall.
Roof construction
The biomes are formed of a composite structure of a self-supporting gridshell working in tandem with a superstructure of radial steel ribs. This creates a large, clear-span frame that is as slender as possible to allow the required amounts of daylight to enter the building. The gridshell - which, to the shallower slope of the Flower Dome, is thought to be the largest in the world - is constructed from triangular-section steels to maximise daylight entering the building. These standard sections are linked to plate steel nodes, designed in "families" to accommodate the changing geometry of the building.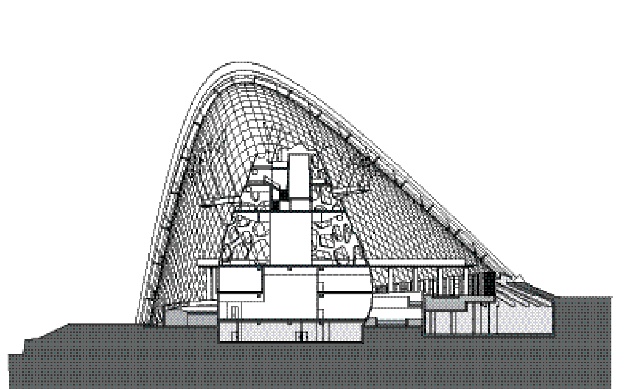 The superstructure of steel ribs is designed to address the lateral loads to the gridshell, while also serving the purpose of enhancing the biomes' organic appearance. The two structural systems are mutually supportive, with the two layers linked by steel struts. The ribs, which are anchored into concrete "shoes" at ground level, are painted off-white to reflect light and heat, their sections tapering along their length in relation to the loads placed upon them. They also house a fabric sunshading system, which plays a key role in maintaining the required internal environments. This shading mechanism, based on yacht roller-reefing, is concealed in within the section of the ribs.
Low-E glazing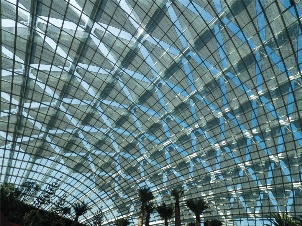 Source: Darren Soh
The steel gridshell supports large double-glazed units, which are key to the environmental modulation of the building, reinforcing the design team's intent to achieve as much environmental control as possible through passive means before resorting to active systems. As part of that strategy, the glazing has very high visual light transmission (VLT) coupled with a very low solar heat gain coefficient (SHGC).
This is achieved through a low-E coating on the inner face of the glass, which means that approximately 64% of light is transmitted into the building with only 38% of the corresponding solar heat gain.