East London firm designs structure for drinks brand
Architect Pernilla & Asif
Location London 2012 Olympic Park
Completed July 2012
Young east London architects Asif Khan and Pernilla Ohrstedt has designed an Olympic pavilion for Coca-Cola — the longest continuous sponsor of the Olympic Movement — with an innovative envelope that visitors can play like a musical instrument.
The result of an invited competition run by the Architecture Foundation in 2011, aimed at "discovering the next big architectural talent in the UK", the pavilion is designed to coincide with Coke's Future Flames initiative, to celebrate the best of British youth.
Located on the northern plaza of the Olympic Park, between the Velodrome and the world's largest McDonald's, the Coca-Cola Beatbox stands like a dynamic cloud of red and white playing cards, floating around a spiralling ramp.
Its crystalline form is made up of more than 200 inflated ETFE cushions, held in crisp aluminium frames, each measuring 1 x 5m, which provide an interactive musical interface.
Inspired by Coca-Cola's Move to the Beat campaign for London 2012, visitors will be able to interact with the panels to create their own beats, remixing sounds of Olympic sports captured for an anthem that is being created by producer Mark Ronson.
The "garland" of panels covers a circular steel-frame drum structure, clad in mirror-polished stainless steel, that encloses a darker world within, lined in black-stained rough-sawn timber.
A long spiral ramp, clad in aluminium planks and expanded metal mesh, travels around the outside of the drum, before entering it from the roof, giving access to the interior of the pavilion.
The building will receive as many as 200,000 visitors during the games, after which it will be demounted. It is hoped that the panels will be reused to construct a canopy for a local primary school playground, in line with the brand's aspirations for a sustainable legacy.
Audio system
Proprietary audio, illumination and interactive sensor tech-nology has been integrated into the ETFE membranes all over the building.
This enables the architecture to be embedded with rhythmical sport sounds from Mark Ronson's Coca-Cola Anthem for London 2012.
Ronson's recordings of Olympic athletes' heartbeats, shoes squeaking and arrows hitting targets, are triggered, played and musically remixed by visitors' gestures and proximity as they ascend the external spiral ramp on a 200m journey to the pavilion's rooftop.
Here they experience a 360-degree view across the Olympic Park before continuing their route down a timber-lined internal ramp into a circular steel-framed black-box performance space, culminating with a Coca-Cola bar.
Reciprocal frame structure
The building's giant crystalline facade structure is made up of 230 red and white inflated ETFE cushions connected in a self-supporting reciprocal frame structure, which was developed in conjunction with structural engineer Adams Kara Taylor (AKT II).
To achieve the irregular geometric arrangement of the Beatbox's facade, the design team exploited redundancies in the reciprocal frame system, allowing them to introduce distortions to the parametric structural grid, removing and rotating individual ETFE cushions and performing translational movements along the cushions' axes.
A bespoke lightweight aluminium extrusion was developed for the cushion frames to allow them to be hoisted in place one by one. Like a three-dimensional house of cards, each ETFE panel required delicate connection to two adjacent cushions to achieve stability.
PROJECT TEAM
Client Coca-Cola
Architect Asif Khan and Pernilla Ohrstedt
Structural engineer AKT II
Commissioning body Coca-Cola and Architecture Foundation
Music Mark Ronson
M&E consultant Atelier 10
Project management / quantity surveyor RLB
Main contractor Nussli UK
ETFE facade Taiyo Europe
Technology hardware IArt interactive AG
Lead software development Arthur Carabott
Interior fitout Aldworth, James and Bond
Wrapping up the Games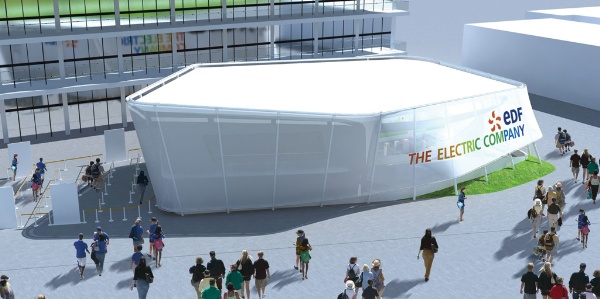 The presence of sponsors in the Olympic Park has historically been all about product placement," says Kevin Owens, head of design at Locog. Traditionally sponsors' booths have been arranged in zoned precincts, forming marching avenues of boosterish corporate messages, oppressive aisles of "brand showcasing".
In line with London 2012's lean, flat-pack approach to staging the Olympics, Owens and his team have worked from the beginning to attempt to make the inevitable sponsors' presence an integral, lighter, part of the park experience. Their strategy has been to distribute the showcases in smaller stand-alone pavilions around the park and encourage the sponsors to think more creatively, with a particular focus on working with younger up-and-coming talent — a principle that has been embraced with mixed success.
"We said they could be anything from a display of products through to an art installation," says Owens, describing the Coca-Cola Beatbox, by Pernilla & Asif, as an "exemplary" product of Coca-Cola working with the Architecture Foundation to encourage emerging talent. BMW's hovering waterfall, by Serie Architects, looks to be a similarly successful marriage of global brand and young local practice.
In all cases, the stand-alone nature of the structures has made their outward expression of greater importance than would usually be the case in the pre-fab lines of marquee stands. The envelope has become the primary sales surface.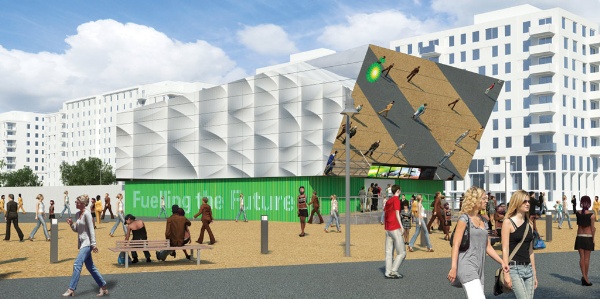 The seven key sponsors have approached this premise in a variety of ways. BP's Walk in the Park pavilion, by And Architects and KBW Design, takes the form of a standardised rental structure, clad in a bespoke skin of mirrored panels in an attempt to "create a sense of low impact on the environment and invisibility by reflecting the surroundings". Conversely, and perhaps appropriately for BP's recent global activity, the mirrors in fact make it a very visible presence in the landscape.
Samsung's showcase, to the south of the Velodrome, was originally designed by young practice DRMA as a series of interlocking white mushroom-like canopies, but this scheme was dropped in February in favour of the digital giant's proprietary "pin" system, a modular demountable "premium experience space".
The EDF pavilion, located between the Olympic Megastore and the world's largest McDonald's, has been designed by Munich-based Schmidhuber & Partner as a curvaceous temple to the "magic of electricity", clad in a translucent white PVC skin. The National Lottery, meanwhile, has gone for a more subtle approach, with what Owens describes as a "street furniture installation" by communications agency Unspun.
Up to a third of the usual size of sponsor showcases — and predominantly reusable or recyclable — these pavilions may not entirely fulfil Locog's original ambitions, but they generally represent an improvement on the usual Olympic vernacular of blank sheds and bloated follies.