Chelsea Open Air Nursery classroom by Friend & Company Architects
A need to provide more classroom space and a stronger connection to the garden has led to the creation of a new "tree house" mezzanine in a children's nursery in London.
Project
Tree House Classroom
Architect
Friend and Company Architects
Location
Chelsea Open Air Nursery School, Glebe Place, London SW3
The new space has been designed by Friend & Company Architects and employs a lattice of CNC-cut steel beams, leaf-patterned infill panels and glass balustrade openings to create a dappled "glade" effect when the sun shines through rooflights.
Established in 1928, the Chelsea Open Air Nursery School is situated in Glebe Place off King's Road, and was founded to provide an environment that encourages exercise and free play as a means for young children to learn.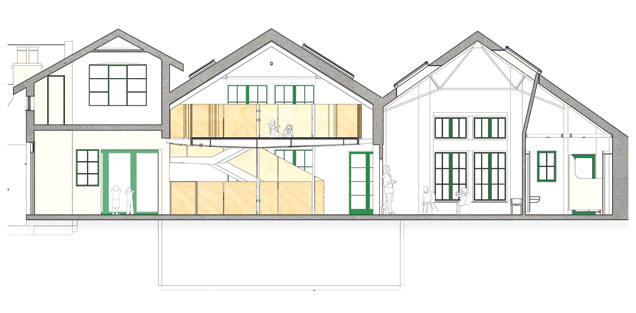 The new £250,000 tree house classroom is located in a double-height space, originally an artists' studio built in 1917, and replaces an existing smaller mezzanine floor.
The structural arrangement of the mezzanine consists of flat-plated serrated profiled primary beams and criss-crossing secondary beams welded together to create a steel lattice or web like structure. For simplicity's sake, the frame had to be fabricated upside down.
An 8m-long steel plate was sourced to avoid the need for butt welds in the primary beams, although once cut, residual stresses in the plate caused deformations that had to be straightened during fabrication.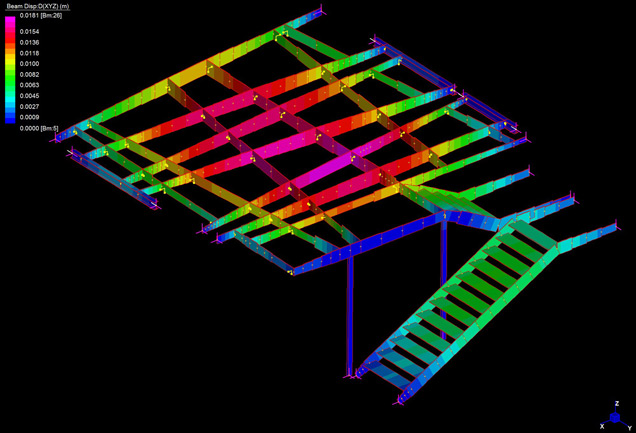 Source: Structure Workshop
The structure was assembled first in a workshop and then taken apart and transported to the site where it was erected and bolted together. The secondary beams were arranged to accommodate sheets of birch plywood for the classroom floor and in an interesting architectural flourish, the underside of the new mezzanine reveals the criss-crossing steel beams, or the "branches of a tree".
The beam design allowed for a simple clamp plate detail to be developed around the perimeter to accommodate the balustrade. The balustrade alternates between panels of structural glass, employed to draw in daylight and to allow views below, to birch plywood panels.
Meanwhile the soffit to the new classroom resembles a tree canopy, comprising large triangular (the largest is 2.4m) pieces of fireproof MDF with a delicate William Morris-inspired oak leaf pattern CNC routed into the material. The triangular pieces were recessed into the openings on the underside of the structural steel lattice and fluorescent lights have been recessed into the panels.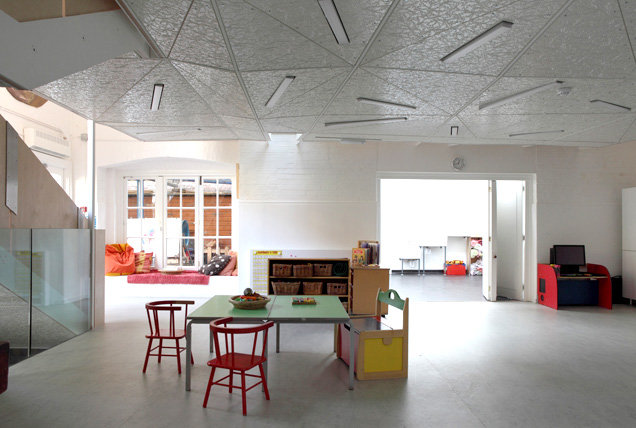 Source: Ioana Marinescu
The kit of prefabricated laser-cut structural components was designed by the architect using 3D design and bim manufacturing techniques.
A 3D cad model was used to exchange information between the architect and the engineer and involved digital patterns to which all elements were laser cut including beams, clamp plates, lugs and stair treads, balustrade and soffit panels.
The classroom structure including the stair and fit-out took two weeks to install.
PROJECT TEAM
Client: Chelsea Open Air Nursery School; Architect: Friend & Company Architects; Structural engineer: Structure Workshop; Steel fabricator: Stewart Noel; Steel laser cutter: Cutting Technologies; Soffit panel CNC cutter: Wup Doodle; Lighting supplier: Architectural Lighting Works