Adam Khan's timber structure gives definition to a large studio space
Project
Empire Studio balcony
Architect
Adam Khan Architects
Location
Tower Hamlets, east London
Completed
May 2012
Adam Khan Architects has designed a new timber staircase and mezzanine platform for an art space and recording studio in Tower Hamlets, east London.
Set up by artist Marlon Brown, Empire Studio is housed in an Edwardian church building, which was used as a shoe factory after the second world war. Unusually it has the main church hall on the first floor.
Since 2002, this space has been used as an art gallery, an events space and as recording studios — including for the Arctic Monkeys. It now houses a hub workspace.
AKA's new piece of furniture provides a stair to the mezzanine control room level, a viewing balcony and "royal box", as well as storage for 12-inch vinyl records.
Taking inspiration from Empire's insignia of a rampant lion, it has an animalistic form, standing on four legs, with a head wrapping around an existing column, and the dog-leg staircase forming a tail.
Constructing the components
The pieces were assembled on site by Stephen West, with the majority of connections dowelled and glued, with biscuit joints used between the floor plates.
The stair, balcony and head work on the principle of having two sheets of triboard on either side: a backboard fixed to the wall, with a fascia board fixed in front, on top of the stringer on the stairs, and on the floor plate of the balcony. This enabled potentially messy fixing to be hidden and allowed maximum control of the grain on the facing pieces.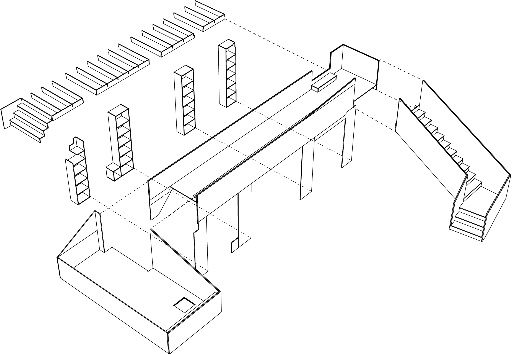 Structurally, the lion is supported by the four legs at the front, which are boxed for strength as well as utility. On the rear, the structure is carefully fixed back into the wall with attention paid to avoid breaching the acoustic barriers.
A number of coats of Bonakemi Traffic water-based matt varnish were applied to seal the surface of the triboard. This also had the effect of enriching the colours and bringing out detail in the grain.
Design and fabrication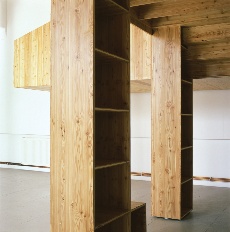 Source: Ioana Marinescu
The entire structure was modelled in 3D in Rhino to allow the junctions to be resolved and translated directly into a series of cutting lists, with particular attention paid to the grain direction.
The model was also used as a tool to explain tricky junctions with the builder.
Throughout, 19mm larch triboard is used, a cheap and versatile material available in huge sizes.
The triboard was imported from Austria, cut by a CNC-router at a mill in Sheffield and assembled on site, making for a very fast and low-cost production — with a total construction budget of £15,000.
PROJECT TEAM
Architect: Adam Khan Architects
Client: Empire Studio
Contractor: West Building
Fabrication: CNC Routing