Architectural Association students demonstrate the potential of low-value local timber
Designers
Architectural Association Design & Make students
Location
Hooke Park, Dorset
Completed
April 2012

The Big Shed is the latest product of the AA's Design & Make master's course, a 500sq m assembly workshop for full-scale prototyping, testing, pre-assembly and other research into architectural systems at the school's Hooke Park campus in Dorset.
Constructed from locally sourced larch, the building structure has pioneered the use of high-capacity screwed connections within large round-wood trusses.
Developed by Atelier One, in collaboration with Bath University, this approach allows trees to be used "in-the-round" in complex structures without the need for major engineering processing.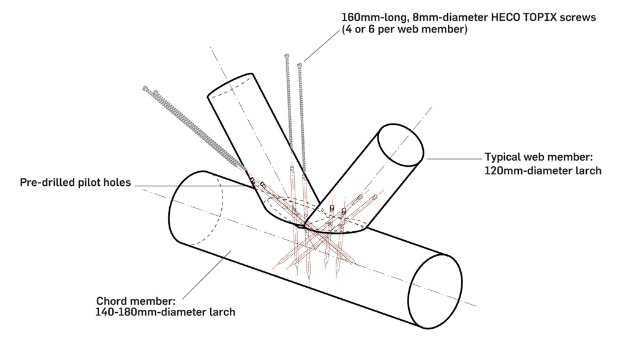 Roundwood trusses
The primary structural trusses are of un-regularised larch roundwood, which means that their natural structural integrity is preserved. Following the precedent of the existing Hooke Park buildings, which use waste "thinnings" from the woodland, the ambition was to again demonstrate the potential for using low-value local timber.
The challenge for the team was to find a structural connection solution which allowed this low-grade larch to be used long-span structure but with a relatively low-skilled student team. The solution came in the form of a new type of structural timber screw from German firm Heco. These large (up to 450mm long) screws have two separate threads with subtly different pitches that cause a compression of the elements being connected, which in turn maximises the capacity of the joint.
By using a set of these screws at cross-angles through the joint, a connection of sufficient strength could be made. The angle of each screw had to be defined in a way that correctly related to the force direction and the timber grain (the screws need to be oblique to the radial axis of the tree to prevent splitting), and that could be fitted on site without overly complex jigs.
Another complexity was in how to best match the naturally varying trees trunk to the differing structural performance requirements within the structure. By mapping the engineer's analysis-derived forces onto the structure, the natural variations in diameter, taper, straightness and quality (measured by the number and size of knots) were taken into account so that each tree is optimally used in the building.
The wall panels are clad using western red cedar planking (typically 30mm thick and 100mm wide), sawn from about 30 trees felled at Hooke Park. The planks are carried on triangular cassettes with a sawn larch substructure.

PROJECT TEAM
AA students Nozomi Nakabayashi (Design & Make); Elena Gaidar, Eyal Shaviv, Olivia Putihrai, Samuel Nelson, Sanem Alper
Teaching team Martin Self (programme director), Piers Taylor, Kate Darby, Charley Brentnall
Architect of record Mitchell Taylor Workshop
Structural engineer Atelier One
Civil Enginner Buro Happold
Timber testing Bath University
Contractor Charley Brentnall