Energy efficiency plans welcomed by UK-GBC
Green building body says consultation on reducing electricity demand is "encouraging"
Government plans to cut electricity demand by improving energy efficiency have been welcomed by the UK Green Building Council.
Energy secretary Ed Davey today published an Electricity Demand Reduction Consultation alongside the Energy Bill.
The paper examines options that would help reduce electricity demand by 10%, which the government believes could result in savings of around £4 billion by 2030.
It adds that these savings would "more than compensate for the costs of making efficiency investment," raising the prospect of increased investment in retrofitting.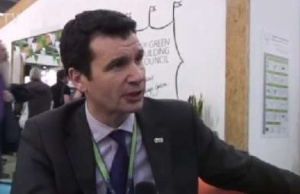 The government said it hopes to identify whether financial incentives for energy efficiency measures are cost effective, as well as the likely impact of encouraging voluntary take-up and providing public information.
Paul King, chief executive at the UK Green Building Council, said: "After some major setbacks for its 'greenest government ever' claims, today's announcements are much more encouraging than many, including ourselves, have been expecting.
"It's great to see the government bringing forward innovative proposals to reduce energy demand, but of course, it will be critical that they learn lessons from the Feed-In Tariffs debacle and the Carbon Reduction Commitment to ensure that this is done in the right way and provides the certainty industry needs to invest."
The Energy Bill itself, details of which were published last week, will allow energy companies to charge a levy to help them switch to renewable sources. Household bills are likely to rise by around £100 by 2020.
Davey said: "In an era of rising global energy prices, by shifting to more home grown sources of power and by becoming more energy efficient, we can cushion our economy and households from the fluctuations of world gas markets."