Campaigners slam plans for new wave of garden cities
Call for "smart growth" to meet housing need
Campaigners have called on the government to introduce a "smart growth" strategy for large developments to prevent urban sprawl.
A coalition of groups including the Campaign to Protect Rural England, the Campaign for Better Transport and Civic Voice wants the government to encourage high-density energy-efficient homes on brownfield land.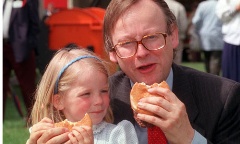 Source: John Gummer
The coalition criticised plans for a new wave of garden cities, backed by Nick Clegg and David Cameron, which it said would "take us in precisely the opposite direction to smart growth".
Representatives from all three major political parties have backed the call for "smart growth", including former environment secretary and Tory peer Lord Deben, Labour's Tristram Hunt and the Lib Dems' Martin Horwood.
"There are more than sufficient sites for the housing we need," said Lord Deben. "It only requires imagination, energy and government drive to unlock them. Building on green fields is the lazy way to sacrifice our future."
The appeal also received backing from the private sector. Chris Brown, chief executive of Igloo Regeneration, said: "It's common sense to make the best use of our existing infrastructure. This is what smart growth delivers."