Remaking London: Decline and Regeneration in Urban Culture
Remaking London: Decline and Regeneration in Urban Culture
Ben Campkin
I.B.Tauris
£18.99, 224pp
"Gentrification is sold as trickle-down – but instead brings wholesale destruction and displacement of communities"
Ben Campkin's thoughtful and timely book is a welcome addition to the current debate about regeneration. As Director of UCL's Urban Laboratory and lecturer at the Bartlett, he knows his business, and this is an invaluable text, generously referenced.
He opens with a discussion on how the language of hygiene and disease is used to frame and denote urban decline. He tackles the tenets of neoliberalism, where commercial self-interest is disguised as urban renewal, where gentrification is sold as trickle-down – but instead brings wholesale destruction and displacement of communities.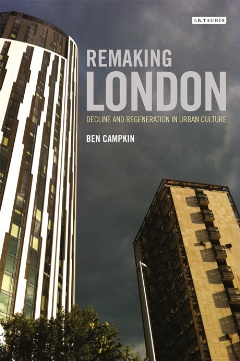 He proceeds with a romp through time and space, with chapters on the rebuilding of the slums of Somers Town by charitable organisations in the 1920s/30s, three chapters from different eras and angles about the ongoing and ineffective redevelopment of Elephant and Castle, Heygate and Aylesbury estates, and a thoughtful chapter on the reclamation and development of Kings Cross environs.
And there Campkin loses me entirely, with a chapter on David Adjaye's Dirty House in Shoreditch. This salaciously detailed love letter, of a single architectural project, seems quite out of place in this book. Similarly the notion of wealthy artists colonising a poor area with an architect-designed house celebrating, even fetishising, the appearance of poverty, seems disdainful in a book on regeneration.
Marie Antoinette's Petit Trianon, or the excesses of the Neo-Georgians who colonised Spitalfields in the 1980s while children picked through rubbish for food, may be no less corrupt. And don't get me started on Nigel Coates' NATO!
There is nothing whatever romantic, or ennobling, or 'authentic', about poverty.
Remaking London saves itself with a well-deserved battering of the so-called 'regeneration' for the Olympics in Newham which flattened the area and displaced communities, and concludes with thoughts and reflections.
In my world, 'regeneration' is an aim not a process. If development only achieves improvement in visual amenity and built form, but does not produce other long-term sustainable economic or social benefits for existing communities, this is not regeneration. The recent 'poverty maps' of the area surrounding Canary Wharf are a disheartening lesson for us all.