Liverpool Ferry Terminal wins Carbuncle Cup 2009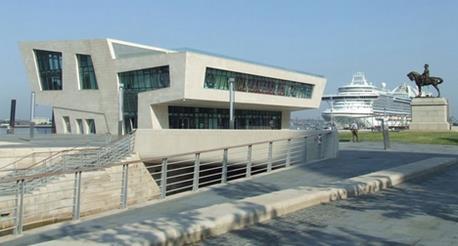 Despite strong competition from a record number of entries, this year's winning building by Belfast-based Hamilton Architects is a shining example of bad architecture and bad planning


This year architecture's only prize for sheer downright ugliness has seen a record number of entries: buildings so drab, hostile, or puffed up with their own self-importance they made you queasy, angry and depressed.
Many of you wailed at opportunities lost, egos gone unchecked, or sheer downright laziness, while others wanted the prize to go not simply to the architect but to the clients and the local authority that waved these hideous schemes through planning.
"An utter eyesore on the skyline of Belfast," said the reader who nominated Woodlands Manor, while Poundbury Fire Station was described as a collection of "pasty sand-coloured brick and inelegant glazing". And what about Westfield Shopping Centre in west London, nominated by Darren Lewis, who described it as "an oversized box of artificial spending".
But are these three villains really good enough to win this year's Carbuncle Cup? No. To win takes more than distaste at Westfield's admittedly ugly, green, metal-panelled exterior and its crude red "Westfield" logo the size of a bus; or anger at Woodlands, which reflects badly on Belfast, where design standards are lower than the UK mainland.
The winner is the building that shows how bad architecture and bad planning can combine to produce something truly awful — a building so ugly it can turn human flesh to stone or at the very least make grown men cry.
The long list had been picked over many times especially by readers in those historic cities where anything new is put in the spotlight. This was the case in Edinburgh, where Allan Murray Architects' Hotel Missoni had been nominated on the grounds it was "an unimaginative lump in a sensitive area", but would anything please the city's conservationist lobby? Probably not, said the judges, who felt the hotel was the least offensive building on the list.
But is it fair that a project in Edinburgh Old Town be treated more harshly than one in a business park, and is a building designed for a university perhaps inherently more objectionable than a bad luxury housing scheme?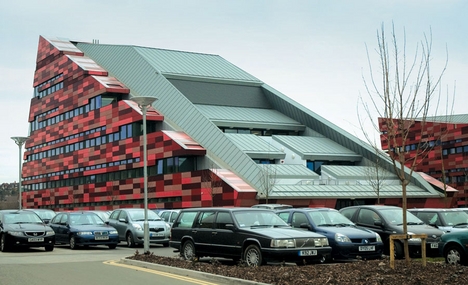 These arguments only got going when it came to deciding an order for the final three: Make's Amenity building for Nottingham University, Belfast-based Hamilton Architects' Ferry Terminal in Liverpool and Queen Margaret University campus, Lothian by Dyer Associates.
In the end the three judges, BD's buildings editor Ellis Woodman, BD columnist and critic Owen Hatherley and architect Sean Griffiths of Fat were split between the Nottingham and Liverpool buildings.
Both buildings are appalling, they said, but after much deliberation they decided that, given the damage inflicted by the ferry terminal on what is a Unesco world heritage site, it was the more worthy recipient.
"It is such an amazing site, directly in front of the Three Graces, but the architects seem barely to have noticed. It is like letting a bad second-year student build next to St Peter's," said the judges despairingly.
"This is bad patronage by an ignorant council which thinks having jazzy architecture is putting the city on the map again."
Completed this summer by Hamilton Architects (not to be confused with Hamiltons) the £9.5 million building incorporates ferry operations, a Beatles museum and a rooftop restaurant. It is cantilevered on two sides and clad in limestone to complement the new Liverpool Museum next door. 
"The architect evidently once looked at a Zaha building in a magazine," said the judges. "It is essentially a horrible sectional idea that has been extruded like a stick of rock. The long elevations couldn't be more tedious, the Dr Caligari end facades no more grotesque. When you go there you think: oh no, I can't believe they've done that."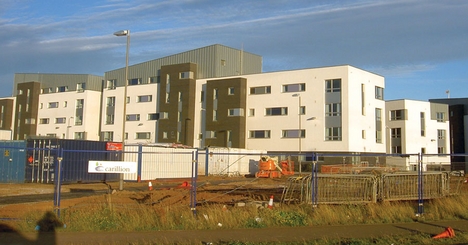 The judges felt that this year's winner, and Make's technicolour campus were "very much of a type in that they are both in thrall to some horribly misconceived idea of the avant–garde," they said.
Make, has actually, pursued its bad ideas rather more energetically than Hamilton Architects, which is a recommendation of sorts. The Nottingham project suggests that, in trying to put some blue water between himself and his former boss, Ken Shuttleworth has got catastrophically out of his depth."
It was certainly the nomination that provoked the most hostile comment from readers. "A tribute to starchitect cleverness. Just how hostile, arbitrary and ugly a construction can you talk a client into and sneak past the community," said one reader.
Make's efforts were shocking said the judges about its three Nottingham buildings, while they said the Aspire public sculpture was noticeable only for its "insufferably punning name implying Blairite vacuity".
Least known of the three finalists was Queen Margaret University campus in Edinburgh. No hallowed spires of academia here but instead a building of such depressing PFI drabness, "it needs to be slapped down", said the judges, who were torn between awarding this third place, and another nomination from Aberdeen, Union Plaza by Halliday Fraser Munro — a building "so ugly, so simple and unimaginative so out of scale that is has become a scar in the landscape of the granite city," said Andrew Mackintosh, who nominated it. 
Hang your head in shame Hamilton Architects, but for everyone who was nominated — don't worry, there is always next year.
Liverpool gives Pelli's building a 'Hug'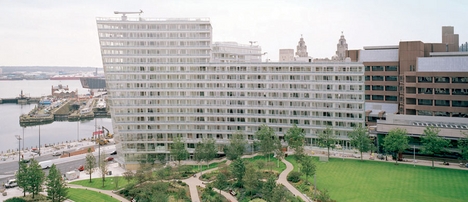 Grosvenor, the developer of Liverpool One, must have been delighted when the masterplan for the city's new retail scheme made a surprise appearance on this year's Stirling shortlist.
The client is described as having "vision and commitment to delivering design excellence and urban coherence", according to this year's judging panel.
But not everyone agrees that the individual buildings match the quality of the masterplan.
Particular objection has been raised to Cesar Pelli's One Park West partly because of its location alongside the Albert Dock and within the Liverpool World Heritage site and partly because, given its importance in the overall masterplan, it is seen as a lost opportunity that fails as the icon it's so clearly striving to be.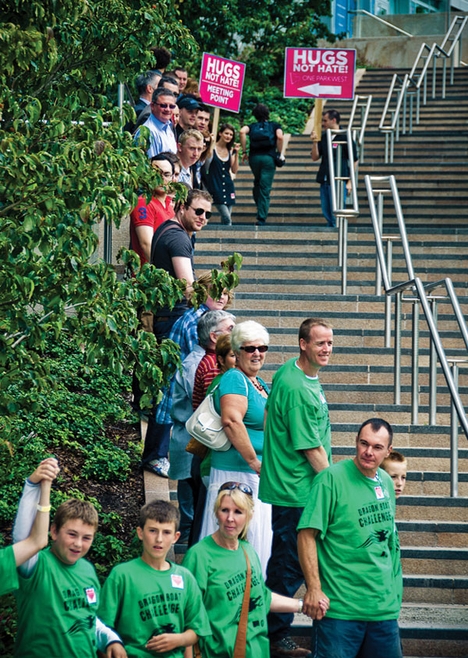 But Grosvenor hit back at the nomination, claiming that the building was in fact greatly loved and to prove it organised a "group hug" in the form of a human chain around the building last week, a day before the final judging.
Guy Butler, Grosvenor's senior development manager, said the developer was proud the building could provoke debate. "Love it or hate it, One Park West is here to stay and I'm proud to say will continue to provoke debate for many years to come as any landmark building should."
But, despite attracting media interest, the event was met with cynicism by critics who said that the stunt was a "desperate rearguard action by a group of people rolled in to make up the numbers for the occasion".
And the other nominees were…
Allan Murray's Hotel Missoni in Edinburgh had readers arguing over whether it was "oversized crud" or simply "bland".
"Every time I walk past it it makes my heart sink," was just one of the many negative comments about the luxury hotel opened last month by the Italian label Missoni, best known for its multicoloured zigzag pattern jumpers.
The judges agreed it was the "least offensive" of all the buildings on the shortlist but highlighted "the problem with Edinburgh", saying: "It's a building caught between two stools trying to be modern and respectful to the historical context, but no one has worked out how to do it."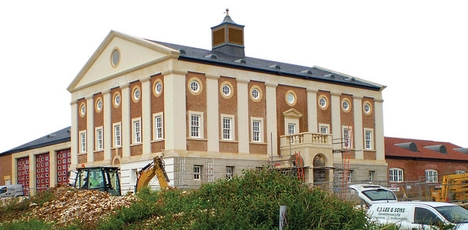 Poundbury Fire Station, by Carden Croft, also split opinion with some arguing that it fits in with the rest of the town, while others tore into it — "unimagin-ative, dull, historicist, inefficient, a relic: and that's just the landowner/client, never mind the building," said one.
The judges, while agreeing that in a different year it could have made the top three, said the Carbuncle Cup was not there to "hit out at pastiche", concluding: "It's offensive but not that offensive."
They reached a similar verdict on Shrewsbury Theatre by Austin-Smith Lord, agreeing with one reader who said: "It adds nothing to the architectural dialogue of the town", but feeling it fell short of being a carbuncle.
One Park West, Pelli Clarke Pelli's contribution to Liverpool One, while popular with locals missed making the final three. "It has big architectural aspirations but ends up playing tired fashionable games," said the judges.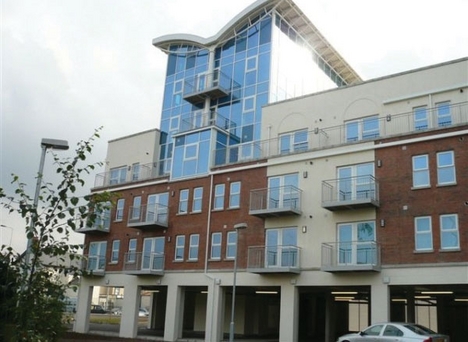 Woodlands Manor in Belfast by Coogan & Co also had architectural aspirations, said the judges, but they rather wished it hadn't. "It is a bloody awful eyesore but it has aspirations to be something. The architect is looking for an architectural precedent and seems to have settled on Broadway Malyan's scheme for St George's Wharf in London."
Also shortlisted were Westfield Shopping Centreby Westfield's in-house team and the Union Plaza, Aberdeen.
Thanks to all BD readers who nominated buildings.
Listen to the BD podcast on the Carbuncle Cup