Working mothers can be an asset to your practice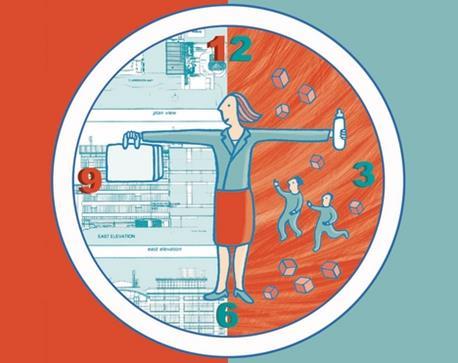 With changes to maternity leave laws this month, Sandra Roebuck advises how to smoothly combine motherhood with career
As of the start of April, statutory maternity leave has been doubled from six to twelve months for all employees, with statutory maternity pay extended to nine months. But statutory pay may be considerably less than your regular salary, and legal entitlements can still leave you with serious concerns over the realities of being away from your work for such a long time, particularly if you are in a senior position, as I was (see box).
Our industry typically works round a 24/7 timetable and I was whole heartedly signed up to this. With the arrival of a family this has changed, but my performance has not suffered and my work life balance is much improved as a consequence.
Many new mothers will want to return to work on a part-time basis. This requires a great deal of flexibility and co-operation on the part of both employee and employer, but it can work effectively. With an ever increasing shortage of skilled people across all our industry disciplines, employers should recognise that part-time employees can make a valuable contribution.
For employees it is important to be honest and open about what can and cannot be achieved and stick to it. Part-time employment can also be a good way of staying in touch with the work place until you are ready to return to full-time employment.
It is not always easy, but on the whole I believe that a good balance between work and home can be achieved. Drawing on my own experience, both from the point of view of the employee and, in my role as principal, as the employer, I have drawn up some suggestions for both parties:
Tips for employees
• At 21 weeks you get a MATB1 form from your midwife. Give this to your employer straight away with an indication of potential leave dates. Plans have to be made on both sides and the sooner this starts the better.
• Hand over projects in good time as babies come when they are ready, not when your projects are finished. This will enable clients to get to know new team members and will ensure project performance is maintained up until you go.
• Do not worry about absences for either six or 12 months. Projects come and go and in my case, when I returned to work after my leave, I was able to rejoin both the projects I was working on. Six months might seem a long time to you, but in the evolution of a piece of city or a building, it is not.
• Organise your childcare the same way you would manage your business. Childcare must be high quality, consistent, reliable and affordable. If not, it simply adds to your worries.
• Be flexible — nurseries will often be able to offer additional days if there is a meeting that you simply cannot miss.
• Be honest with everyone, clients and colleagues alike. Set down your timetable so that plans can be made around this and you can leave when you have to.
• Be aware that you will miss some things and you cannot be involved in everything. Do what you can while you are at work and do it well. Trust your colleagues as you will need their support.
• If it is possible, I recommend setting up an email account at home. This enables daily review of emails and you can send work home when you have to leave, then pick it up later if necessary and email it back for the next day.
I also take telephone calls on my days off. Although I would not necessarily encourage this, I find that as I am managing teams of people they need questions answered five days a week.
Hand over projects in good time as babies come when they are ready, not when your work is finished
• If you want to claim child tax credit, you must ensure that your child is in the care of a registered provider. The government will fund a number of sessions a week at a nursery — ask your employer about child care vouchers.
During my maternity leave I wanted to maintain contact with my clients and I did so by email, text message and telephone calls.
• Try to persuade a partner to help when needed with childcare duties.
Tips for employers
• Contact clients early on so that they know that contingency plans are being made to ensure things run smoothly.
• Recognise that pregnant staff will not always be able to carry on doing the same job, for example going on construction sites or some types of field work, so office based tasks that are meaningful will need to be identified.
• Consider employing temporary staff to cover maternity leave.
• Statutory provision for maternity leave is fairly limited. A lot of mothers would benefit from an enhanced policy if you are able to provide it.
• Support paternity leave, and again consider going beyond statutory requirements.
• Schemes such as child care vouchers can mean a significant saving in tax for employees, and are relatively easy to administer through your payroll system.
• Try if possible to enable staff with childcare responsibilities to work locally to the office, whether full or part time.
• If staff are in senior management positions, try to ensure meetings are organised on the days they work so they can contribute. In my office these are scheduled for Mondays so I can always attend.
• Provide part-time employees with IT equipment and a mobile phone to use at home.
• Recognise that part-time employees need not be any less successful, productive or profitable than full-time counterparts. It has been said that sometimes they are more so in relation to all these things as the pressure of a timescale often demands more effective decision making, more delegation and better time management.
• Many clients have young families and will respect the need to leave at a certain time of the day (provided the deadlines are met of course!).
Postscript:
Sandra Roebuck is an architect and principal of Edaw Aecom responsible for major masterplanning projects and the development planning studio.