What's in store for IT developments in 2010
If augmented reality is one of the emerging trends for 2010, what are the others?
1 Rise of the business app
2009 has been the year of the consumer iPhone app. No party has been complete without the latest iPhone convert waxing enthusiastically about the latest app that lets them find a restaurant, get directions or name that song.
From an architectural angle, just on the market is a guide that will tell you, wherever in the world you travel, where the most interesting nearby buildings are — along with images, history and directions.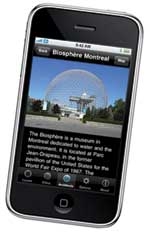 And other companies, including BlackBerry and Google, are targeting the business market. Already available are apps to help architects specify products and share drawings — expect many more to come.

2 Real time web
Twitter came of age as an information source in 2009 during the Iranian election disturbances, as the world woke up to the utility of receiving information in real time.
Now, Google has included Twitter feeds in its search results. Expect this trend to gather pace, as the concept of waiting for information starts to feel anachronistic.
3 Personalisation
One size doesn't fit all, and 2010 will be the year that IT and the internet stop pretending it does. Expect to be able to decide how you want to receive and use information, software and websites, as we all struggle to get a grip in a world of data overload.
4 Cloud computing
Next year, cloud will no longer be an esoteric subject for debate, as downsizing — and even upsizing — means companies must take a hard look at where they store their data, programmes, and where employees can work.
The era of everything being on desktops and in server rooms has gone, with employees expected to produce meaningful work from anywhere. This means technology is increasingly being stored virtually.
There is even a "Cloud" installation planned for the London Olympics — a striking combination of real-time information relay and a physical sculpture.
Postscript:
You can download the architecture iPhone app at http://itunes.com/apps/architecture. More details are avaliable at http://www.makayama.com/architecture.html