Review: Testing cad skills with CADsmart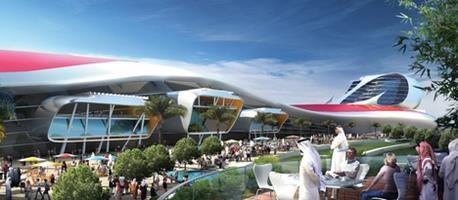 How do you know if job candidates are as good at cad as they say? And how effective are your own employees? Paul Carnell, associate director at Benoy, explains how CADsmart is helping his practice to get some answers
During the past year, the number of people working at Benoy has grown by 30%, and we now employ over 380 people from 28 nations in offices across the UK, Asia and the Middle East. This has raised numerous challenges, particularly in recruitment and team development. To assist in these vital areas, Benoy subscribed to CADsmart cad skills assessment software, which enables the cad skills of potential employees to be assessed quickly and accurately at interview stage.
This has been important when winning large-scale projects. We are working, for example, on the prestigious Yas Island project — an enormous mixed-use scheme which will transform 25sq km of desert into a leisure oasis and will include Ferrari World, a unique multi-sensory theme park celebrating the Ferrari brand. The entire team had to be sourced in a very short time; without CADsmart, this would have been extremely difficult.
CADsmart's skills assessment software is the only automated software available and it provides an impartial view on the cad skills and performance of both existing team members and potential employees. The software runs on AutoCAD and Microstation, and sits alongside existing software without affecting the set-up. The assessment has 10 randomly generated questions on specific areas of cad use. The questions are not industry-specific and focus on the candidate's ability to use the software, not to understand industry-specific terminology.
The assessment looks for an accurate end drawing while allowing candidates to use whichever tool or technique they like. Each stage is timed, so an inefficient way of achieving the desired result will be apparent in the time taken to complete a stage of the assessment.
The average national score for an assessment in terms of time and accuracy is 66% over one hour and 14 minutes. However, a high-end cad user should achieve nearer 90% in half that time.
Benoy's first step using CADsmart involved gaining a practice benchmark in order to compare potential employees' assessments. Beginning with the Newark office, approximately 25% of cad users were assessed individually over a four-week period. This was followed by two full assessment days carried out with CADsmart's assistance, where four dedicated machines were installed to run back-to-back assessments on all relevant staff. This included all cad users across all levels of seniority. Benoy's Newark office posted a benchmark of 81.57% in 66 minutes. We understand from CADsmart that this is one of the highest averages achieved by a company of our size and diversity.
While it is not always possible to test every potential employee at interview stage, we do try to assess those whose roles involve full time cad use. In two years of using CADsmart for recruitment, the software has enabled Benoy to reject several applicants claiming exceptional cad skills on paper who performed poorly when assessed. The use of this software has effectively removed the risks associated with recruiting unproven cad users. The financial benefits become clear when comparing the cost of a year's subscription with that of employing one incompetent cad user.
Interesting cultural differences have also been noted when comparing the results of the Newark office with those of Hong Kong and London. The faster turnover of staff in the latter offices compared to Newark's more consistent staff base is considered to be the main factor in Newark's slightly higher average score. Additionally, the time taken to complete an assessment differs across other offices and cultures.
This software has removed the risks associated with recruiting unproven users

 
This assessment software is also used for training and development as it provides measurable data for staff appraisals. This allows targeted training strategies to be implemented, making cad training much more efficient and allowing less experienced staff to be nurtured within the company.
CADsmart offers various subscription levels to suit individual needs. Benoy has a partner level subscription; this gives unlimited use of the assessment software, access to our own dedicated assessment data for analysis, and two half-day consultancy sessions which include detailed recommendations on targeting training needs, recruitment practices and HR-related issues.
The use of CADsmart has challenged some of our internal procedures, and we are constantly working to improve our use of the assessment data, particularly in HR-related areas. We have also worked with CADsmart on the development of the software to improve what is already an extremely effective tool.
CADsmart, as described above, presents Autocad and Microstation users with a range of tasks and asks them to complete them as accurately and as fast as possible. At present, the tests focus on the "basics of 2D cad", according to the company's website; note that this assessment tool does not work with AutoCad LT. The software is available as an annual subscription, available in three different packages. Visit www.cadsmart.net for details.
Skills assessment software
CADsmart
5/5