Making possible demands on architecture software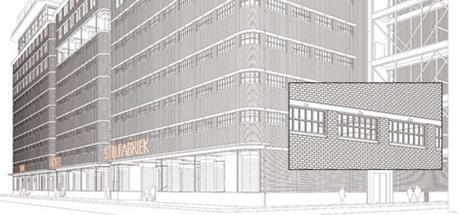 Caruso St John's Florian Zierer has been won over by the fine quality of the drawings produced by ArchiCad's BIM technology
Paper and pencil have served architects well: simple, solid and discreet, adapting to all their needs, not interfering with the design nor promising virile intelligence. Should we not demand the same from architectural software? It should aid our work — a tool we almost don't notice in everyday practice, especially if we are not interested in technology as an end in itself.
But when given new software to work with, I have to acknowledge the differences between the tools and my habits of use, which tend to correspond to the demands of Caruso St John, where I work.
Many of the tools used to draft architectural designs derive from the engineering industry and hence satisfy the pragmatist in the architect. But often another software program (or even two — one for 2D, another for 3D) is needed to satisfy the artist in the architect — the need for representation — thereby splitting up the production of architecture into design and construction.
Unfortunately, these habits are rarely challenged and are almost impossible to break because, as rational as we seem to be, our choice of cad tools is determined by the schools we went to, the practices we work for and the systems we work with; in other words, by our education and experience. Many architects at Caruso St John, a lot of whom are German speakers, are familiar with ArchiCad from their education or experience in practice in Germany or Switzerland, where it's much more widely used than in the UK.
During the design process the 2D representational abilities of software should be simple — but without limitations— and should offer possibilities beyond the usual standards: a choice in the weight of line, line shape, individual hatches and patterns, colour, shading, and the option to import external images in all known formats. It would be perfect if our drawings could have an extra dimension, allowing us to work in both 2D and 3D at the same time without losing the quality of the "conventional" 2D drawing. We could extract perspectives and isometrics in a wide range of shading modes, relying on all settings of light transparency and hatching, and render elevations and sections, setting them up in such a simple way that anyone could pick up our work.
An entire team might work on the same design, as if several architects were drawing on one magical piece of paper that could show all their ideas simultaneously. We could determine which parts and layers of the design we wanted to share. Any inquisitive architect should be asking what tool might possibly offer all that.
Once the general design is formulated and approved, the next steps involve filling in the detail, adding more complexity and information to our work. For this, graphical representation is different and atypical depending on the scale of the images required.
Ideally, we should only have to change the scale of the drawing and the viewing mode to reveal all the information required by the changes without losing the work carried out in 3D. Simple parallel lines in one scale would suddenly show how a wall was constructed, and a space in that wall would become a door displayed in all the detail needed to make further decisions.
Caruso St John will be able to do all this on a refurbishment project in the Netherlands city of Eindhoven. At 42,000sq m, with a department store, a hotel with conferencing facilities, a restaurant, and apartments with roof gardens, it is a complex project. We are using ArchiCad and its building information modelling (BIM) technology, which enables us to construct a 3D model, or virtual building, from which all other information is then derived.
Paper and pencil have served us well — we want the same from our software

 
This not only includes all possible 2D drawings, their documentation and history, but also schedules and quantities which are produced almost as by-products of the design process. And if the model is changed, all related information is updated automatically.
The latest generation of this software, ArchiCad 12, is also the first application to exploit fully the benefits of today's standard multi-core processors. It offers speed and reliability during the most frequently used BIM modelling and documentation operations such as creating 3D views, sections and elevations, as well as panning and zooming in 2D on large floorplans and layouts.
The system performance benefits and the ability to run on both Mac and PC platforms are, next to the comfortable handling performance, also very strong arguments for using this software: a tool like the pencil that some might say was created specially for architects to use.
Line perfect
Caruso St John is using ArchiCad 12 to design Strijp-S, Veemgebouw, a €30 million (£28 million) refurbishment of a warehouse in Eindhoven built during the second world war. It's a 42,000sq m site which will include food markets, furniture stores, a hotel and apartments. This image is an unadulterated drawing straight out of the machine. ArchiCad 12 produces very precise results at a high level of complexity.
It's used to create 3D fine line drawings in order to check details before designs move on to the next stage. These are "hidden line" drawings, so you don't see what's behind them. The line thicknesses and shades of grey are all done by the program, giving the impression they may have been worked on.
It requires a precise and complex 2D plan to create a true 3D output; the drawings are driven by the architecture. You take the plan drawing, select a viewpoint, and use a "camera" to create the 3D drawing, so quick sketches can be very informative. It allows the designer to shift things in the 3D image, for example, the position or height of a window.
Original print headline - Making possible demands
Postscript:
Florian Zierer is an architect at Caruso St John