Help with the stairs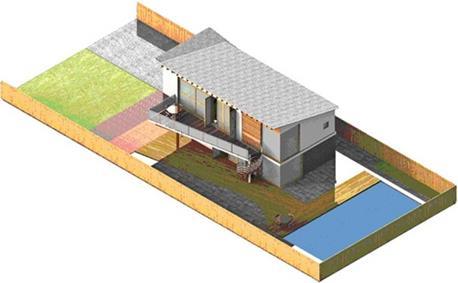 Making change easy is the claim of the recently released Vectorworks 2010 cad software. Jonathan Reeves finds out whether it delivers
Vectorworks 2010 feels like a significant upgrade on its predecessor in many areas.
Now that the Parasolid 3D modelling core, introduced in version 2009, has been fully integrated, Vectorworks 2010 offers an extremely flexible and easy-to-use 2D environment, combined with a true 3D BIM solution.
Initially, it does not look too different, with the 2010 interface appearing almost identical to the previous version apart from a few new tools and modes.
The developers have chosen to focus on improving underlying performance, streamlining productivity and making the program easier to use. The new tools and features concentrate on streamlining workflow and saving time and money. The whole program feels more responsive, and the 2D/3D snapping system has been improved again and is now one of the best in its class.
As a modelling program, Vectorworks has always had a strong set of free-form and parametric architectural tools. However, less experienced users found it complicated navigating and working in the 3D environment.
Now planar 2D graphics can occupy the active layer and screen plane, so 2D drawings maintain their relationship to the 3D model. This has been combined with powerful and reliable 3D snapping, and a unified view, which allows you to select and modify multiple layers while in 3D. Finally, much improved working planes make the whole process of working in 3D simpler.
The full implementation of Parasolid also has some other big benefits to the speed and robustness of the 3D parametric objects, such as doors, windows and stairs.
The developers have focused on improving underlying performance, and making the program easier to use.
Corner windows are now possible, and the new stair tool is virtually as powerful as a standalone application — doing a great job modelling a wide range of complex designs, such as winders, spirals and the more traditional forms. Wall sculpting now enables 3D projections and niches to be added to walls, which means walls can now be used to model even the most complex facades. This has been combined with the ability to make any shaped wall holes.
Improved usability functions have also been a major focus of this release. There is a new "select similar" tool that allows users to custom select similar objects based on a combination of different criteria, which can also be saved.
Associative hatches can now also be edited interactively allowing you to set size, origin and rotation directly in the drawing without going into the powerful but complex hatch editing dialogue. A new global world coordinated feature will be important for large projects that involve rotating the plan and referencing files when teamworking.
Other simple, but time-saving enhancements have been made to the drafting and reshaping tools, which also no longer require pre-selection since the selection tool can be temporarily activated by using the command key mid-process.
Importing and exporting information is always an important consideration for practices involved in collaborative work, and Vectorworks 2010 has excellent inter-operability. When importing DWG/DXF files, setting can now be saved, and Xrefs can now be automatically imported as design layer viewports with support for AutoCAD tables and also ADT objects. Batch DWG/DXF export support has also been added along with a SketchUp 7 import function. The improved import and export functions will also save practices a lot of time, and improve consistency of data when working with other consultants.
While IT budgets are inevitably under pressure in the current economic climate, investing in software and cad training may not seem like such a priority.
However, for practices that keep up to date, Vectorworks 2010 offers many potential benefits in terms of increased productivity, creativity and the opportunity to easily change from 2D cad to 3D BIM.