Entering another digital design dimension at the University of Bath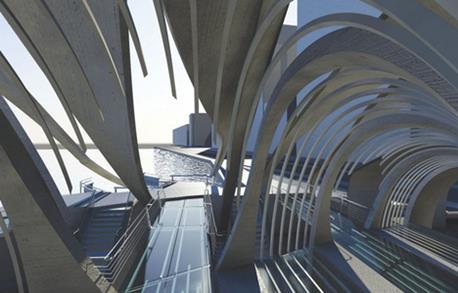 From 3D modelling to design practice, the University of Bath is sharpening its digital skills, say Andrew Watts and Paul Shepherd
Second in a series on how archi-tectural schools are responding to the latest technology.
The first year of the MArch (RIBA part II) design studio at the University of Bath investigates design as "material systems" that are explored through 3D modelling rather than primarily 2D undergraduate projects. The engineering aspects of design, both structural and environmental, are developed through an investigation of the "behaviour" of construction systems when the forms are altered geometrically.
Rather than develop a series of options to solve a design, a single parametric model is used with fixed and other criteria which can be stretched and pulled until an optimum solution is found. A single design model can thus provide solutions that can be explored through rapid prototype models using a range of modelling tools — from 3D printers to laser-cutters.
Strands of projects are developed in parallel rather than sequentially, weaving parts of projects together. Strands of social issues, site specificity, language of the base "component" of the design, and spatial organisation are developed in parallel so that each scheme builds up into a thesis — a specific approach and a "kit of parts" developed by each student as they progress through the course.
The tools used are Rhino, Digital Project, Ecotect and Autodesk 3ds Max, which allow projects to transfer quickly from wireframe model to 3D render. These emphasise a 3D method of working so that the "behaviour" of the complete design can be explored continuously as a consequence of changing the relationship between volumes on screen.
This contrasts with the thin slices of plan and section that are the conventional tools of architectural exploration. Renders provide views as experienced within the completed building which are environmentally specific to geographical location, time of day and day of the year. This ensures designs are developed technically and aesthetically to provide buildings with a clear social purpose.
The urban environment is the field of activity for studio designs, starting with the interaction of new buildings within an existing built environment. Techniques for dealing with historic buildings are explored through study options in the second year of the MArch. Rhino is used for basic modelling of complex surfaces, while Digital Project is used to describe the components and assemblies that form the building. These provide tools that connect directly to rapid prototyping machines so that the evolving project can be built as a complete set of miniature components and the actual number of parts calculated. This enables environmental studies of embodied energy to be undertaken with relative ease.
The studio focuses on new forms of construction in a range of materials from concrete to cardboard. Projects are described constructionally through a parametric model and as an Airfix-type kit of parts — usually for one specific part of the building — rather than as sets of 2D details in plan and section. These material systems are developed through a single primary material rather than as a collage of different materials which are conventionally used for visual juxtaposition rather than technical performance.
The use of material systems lets projects develop without a specific stylistic preference, and the design evolves to reveal a performance-informed aesthetic.
Digital design in context
At Bath, we believe it is crucial to put our teaching of digital design methods, parametric modelling techniques and scripting into the wider context of professional practice. To this end, we organise seminars by some of the world's leaders in digital design techniques.
This year's speakers included Julian Vincent, who talked about the uses of biomimetics in architecture; Spyros Stravoravdis of Ecotect, who demonstrated the use of environmental modelling software to inform design; and Shrikant Sharma and Lawrence Friesen of Buro Happold, who showed what can be achieved by applying programming techniques to the design process.
In addition, Ulrika Karlsson of Servo visited the department to discuss materiality in design, and Robert Aish of Autodesk presented a fascinating history of the development of parametric software.
By exploring the innovative ways in which digital tools are being used in practice by both engineers and architects, our students are able to identify the contexts in which these methods can be of benefit and to incorporate them into their design projects.
To facilitate this, students are given support and training in such parametric modelling software as Digital Project and Grasshopper, the parametric component of Rhino. This is complemented by tutorials in writing macros and scripting.
Digital architectonics
In response to the fast-paced development of digital technologies in practice, the department of architecture & civil engineering has developed a new MPhil course in digital architectonics, starting in October 2009. The name refers to the science of digital architecture, and the course seeks to prepare students for practice in the world's most innovative offices.
Its aim is twofold. First, it responds to the recent influx of parametric and 3D design modelling software being introduced into practice by providing theoretical and practical understanding of how software tools are constructed, extended and operated. This is based on the principle that to get the full benefit of their efficiencies and creative designs, these packages must be extended and tailored to meet specific project requirements. Second, it aims to develop a critical understanding of how these tools and methods contribute to and are influenced by current design practices.
This one-year course is aimed at practising engineers and architects who want to develop their skills in this area, but will also act as an accelerated route into PhD-level research for those who wish to take their research interests further.
Designs for a digital future
Bath University MArch 1 students developed 3D designs for water taxi stations in Dubai that would form a set of new buildings for an existing public transport network.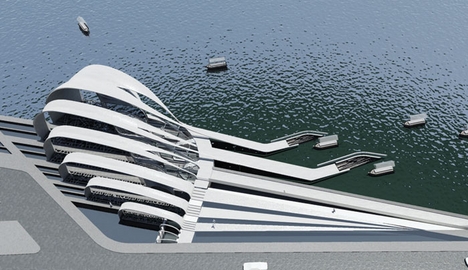 Daniel Moor
This design was developed in Rhino with the aim of making models of polystyrene formwork that were scale models of the real fabrication process of pouring concrete.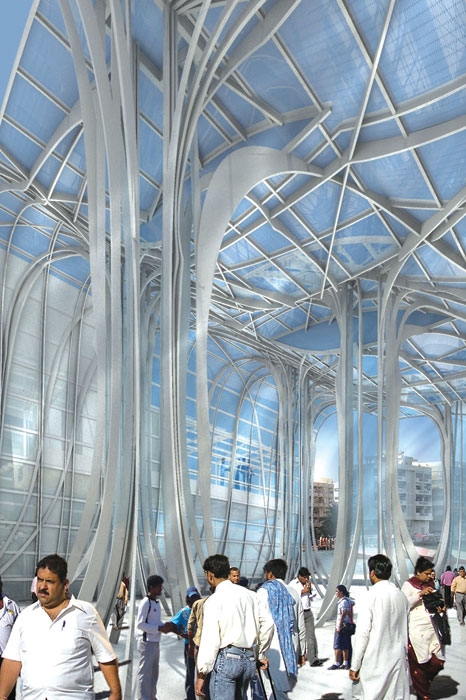 Luke Dewey
This water taxi building was developed in Digital Project and tested in Ecotect for environmental performance. The structural design software was also used for laser-cut components for the physical model.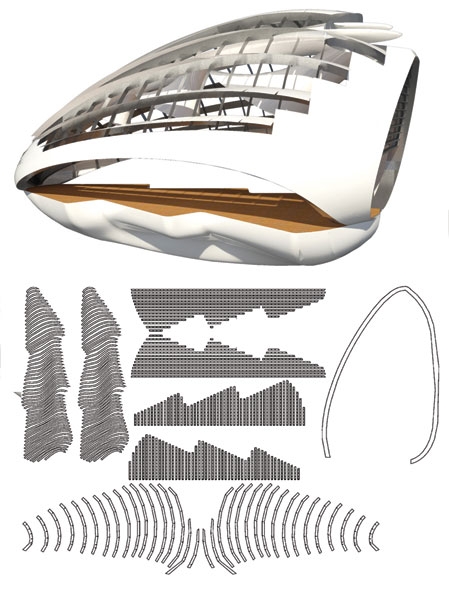 Alan Carruthers
Developed in Rhino from sketch stage, this project used a physical model made with laser-cut components that were a miniature version of the full-size computer-cut components that would be used for actual fabrication of the building.
Original print headline - Entering another dimension
Postscript:
Andrew Watts is studio leader of the MArch1 design studio at the University of Bath. Paul Shepherd is a course leader of the new MPhil in Digital Architectonics at the University of Bath.