Bentley event shows software has its head in the clouds
BE Inspired show reveals tools are getting faster
Bentley Systems holds two annual events: the BE Together conference, where people who use its software can get together with the development teams that write it; and BE Inspired, which took place in Amsterdam last month.
Aimed primarily at senior management and the press, this showcased the extensive portfolio of applications for designing everything from bridges to entire offshore oil platforms that has led Bentley to promote itself as the software vendor for "infrastructure". But don't be misled by this mantra: tools for building design are still a crucial part of its range, as reflected in the higher level of development that has lately been applied to its bim tools.
If pencil and paper is too retro for you, then you will want to try Bentley's iPad apps. In a live display, a welcome departure from the ubiquitous pre-recorded demos, chief executive Greg Bentley called up various project documents using Bentley Navigator for the iPad, closing with a walk around inside a point-cloud survey of Paddington station. It allows you to move the iPad around like a window into the 3D model and is free and available now.
A really important message from Bentley at this event was that, rather than lagging behind competitors, it has taken time to think through cloud technology. Demonstrating a clear understanding of its clients' needs, its cloud strategy will always be a hybrid between cloud and office systems, offering the flexibility to access project information on mobile devices, backed up by office-based systems and data storage. We are still a long way from having national data infrastructures with sufficient reliability and bandwidth to make cloud-based systems the default choice, so this is an intelligent and honest approach.
Bentley's applied research team was also demonstrating current projects: gesture/voice control of Microstation models using a Kinect motion sensor and augmented reality applications. Gesture control is relatively crude, limited by the current Kinect's eyesight. Microsoft has just announced a Kinect designed for desktop rather than living-room use so this is going to change.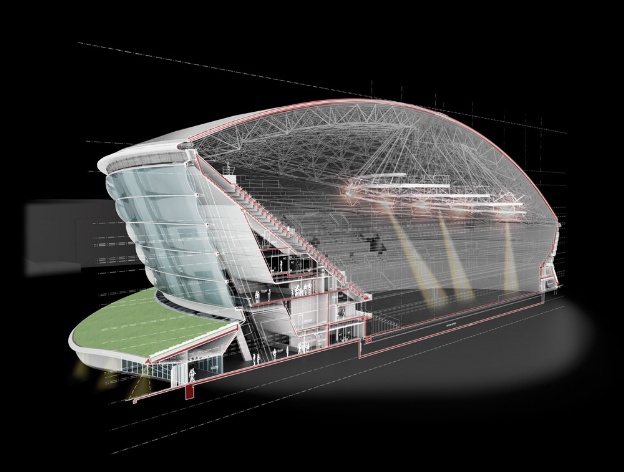 Other interesting experiments with the Kinect took place at SmartGeometry 2011 earlier this year. Augmented reality — which would enable you to hold your tablet computer in front of a site with a 3D model of the project superimposed on the live camera view — is enticing, but the realities are challenging. Matching camera and model when you know where they both are is one thing; precisely geolocating a tablet in real time is tricky.
Looking at the nuts and bolts, everyone will be interested in the confirmation that Microstation and Powerdraft will be updated by the SelectSeries 3 (SS3) release early in 2012. If you have been experimenting with dynamic views and finding them tricky to use, you will like hypermodels — a development of dynamic views that will make slicing and dicing your 3D models far easier and more productive.
At the other end of the scale, one of the most basic tools, break element, has new options — one of many individual updates. The abilities of Microstation's Luxology-driven visualisation tools continue to expand and may even start to turn the heads of dedicated visualisers.
Hot on the heels of these foundation tools will be Aecosim Building Designer (ABD), the upgrade to Bentley Architecture. Aecosim is its branding for a range of software aimed at the building industry (Architecture Engineering Construction Operation). ABD is now a suite that includes the structural and mechanical tools previously sold as Bentley Structural & Mechanical. Hypermodels are at the core of ABD, interactively linking 3D and 2D information together along with non-cad
documents such as site photos or even movies.
"Information mobility" was a widely used phrase at the event. To aid this, Bentley and Adobe have collaborated to package i-models within PDF files.
What's an i-model? Think Russian dolls: it is a very smart container that packages up a Microstation file and all attached data. Now this container will be packaged up within Adobe's PDF container, meaning that data from a wide range of formats, including Microstation, Rhino, Revit, Autocad and Sketchup can all be published together, for anyone with Acrobat Reader. This will be available early in 2012.
There has been a flurry of acquisitions of Point Cloud software by cad vendors. The latest is Bentley's acquisition of UK-based Pointools. Carried out to enable closer integration between Bentley applications and the Vortex point-cloud engine, it promises to make point clouds more accessible.
Overall, the theme was one of incremental development, with familiar tools becoming faster and easier to use. Some of the applications discussed above will be reviewed during 2012.