Bentley's V8i upgrade provides new vision for architecture visuals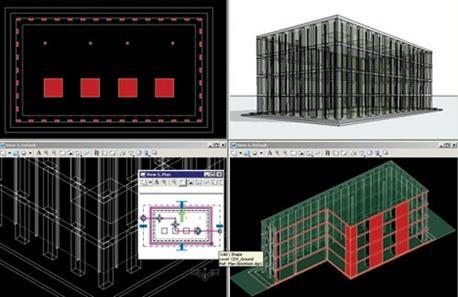 Bentley's V8i upgrade, its largest-ever simultaneous release of new products, is an important step along the evolutionary line to 3D design
The latest iteration of Bentley's V8 generation has been a long time coming. First introduced as MicroStation Athens in 2007, the new version, V8i, came out on November 6. The "i" stands for infrastructure, and reflects Bentley's positioning in a marketplace covering architecture, engineering and construction (AEC).
MicroStation supports and provides the technical foundation for Bentley's range of discipline-specific applications. MicroStation, PowerDraft (the 2D drafting oriented version) and several other V8i applications were immediately available for download on launch day, with the remaining applications soon to follow.
Next year, Bentley's building physics applications will be integrated into its AEC toolkit, enabling more informed decision-making earlier in the design process.
MicroStation is widely used by architects as a generic 2D drawing tool (a relatively dumb electronic pencil to draw lines and symbols) for which it is an excellent choice: more productive than pen and ink, but part of a process still not radically different from the way we used to do things.
So what's new in Architecture V8i, and has it the potential to change the current paradigm?
One of the main new features of V8i is 3D concept modelling, which should help to speed the move into 3D processes. MicroStation has continued to develop its Parasolid-driven 3D solid modeling toolset since 1998, and recently added SketchUp-style manipulation tools to V8 XM. This 3D toolset has been further extended with additional 3D Primitives, surfacing tools, and long awaited Mesh creation and manipulation tools.
The most spectacular new feature is "dynamic views". At its simplest, dynamic views provides interactive plan and section cutting; it also underlies an improved production drawing composition process. Drawing symbols — such as sections cut through the 3D model — are interactively linked to the resulting output sections. Drag the section line to a new position on plan and the section displayed immediately updates in all 2D or 3D views. The resulting 2D plans and sections are standard DGN files that can be worked on in the conventional manner.
A move to wysiwyg
Colour Books, introduced in XM, improved MicroStation's presentational capability. V8i adds "display styles", a simple, immediately usable feature offering a wide range of illustrative real-time rendering effects for both 2D and 3D views. These features lead us towards a more wysiwyg (what you see is what you get) working environment, in which many tasks previously carried out after export to other applications such as Photoshop may be completed within MicroStation.
Its new features provide an extended, almost entirely MicroStation-based workflow.

 
MicroStation's visualisation tools, though they have the advantage of being an integral part of the application, have generally been considered inferior. This should change following Bentley's recent licensing of the Luxology rendering engine, which brings new levels of speed and extended feature sets to MicroStation. Bentley's ambition is to make producing good images from MicroStation as easy as using a digital camera.
Luxology will initially be included in V8i as a semi-integrated technical preview, alongside existing rendering methods. Existing MicroStation data will be compatible with this update. When it becomes fully integrated, Luxology will supersede all of MicroStation's current rendering methods. Luxology is multi-threaded and therefore able to use all available processor cores.
Another focus of the upgrade is connectivity of data. V8i will edit DWG 2009. Following an interoperability agreement between Bentley and Autodesk, Bentley now has much fuller access to AutoCad, so V8i's half-year update will be fully compatible with DWG entities, and with the upcoming DWG 2010 file format.
V8i also adds the ability to open files from SketchUp 6 and Rhino. Bentley's approach of openness to data from many sources is essential for large-scale projects, and equally advantageous for smaller jobs. And it allows evolutionary movement to new processes.
The upgrade also enables a geographical coordinate system (GCS) to be attached to DGN files, so that incoming files containing appropriate GCS data may be correctly referenced in their real world location. For example, image and terrain data imported from Google Earth will appear in their correct location relative to the attached GCS, and not at the geographically arbitrary file origin. An ability to relate data by true geographical position is increasingly important.
Myriad improvements
On top of these significant changes, myriad minor improvements add up to much better usability. The V8i interface is familiar, particularly to V8 XM users, and three aspects of it have been tidied up: the main toolbox and task navigation dialogue have been amalgamated and given a greater set of controls for tool display; the tools menu has been grouped more rationally to access every available tool; and within groups of tools, workflows have been co-ordinated to be consistent with one another.
Several existing features sets have been enhanced or given new roles within the dynamic views-based drawing composition workflow. These include project explorer, saved views, display sets and sheet layouts. Those who tire of constantly moving from one file to another will love "reference activation". Simply right click on a referenced file, select "activate" from the pop-up menu, and that file is then active for editing within the currently open file. The activated file is locked read-only to other team members until released. This saves time and effort in many situations, for example, when making a series of minor changes as a set of drawings is co-ordinated.
V8i's new features provide an extended, almost entirely MicroStation-based workflow from concept to presentation and production output. The interface and workflow improvements address current day-to-day 2D drafting practices, while the introduction of dynamic views and other 3D enhancements encourages adoption of potentially transforming 3D processes.
Postscript:
Marc Thomas is a senior consultant at Cadventure, and a contributor to the Bentley Community, which holds its autumn conference at the RIBA on November 27-28. More info at www.bentleyuser.org
Original print headline 'New vision for visuals'