Bentley's tome marks the shape of things to come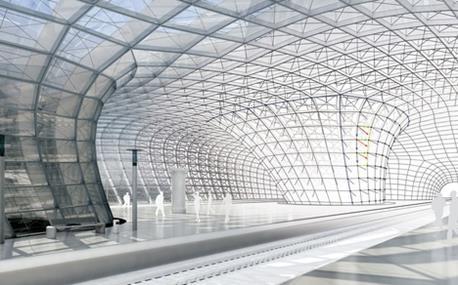 This massive book is a valuable aid to understanding architectural geometry, says Marc Thomas of Architects Design Partnership
At a time when non-rectilinear forms are becoming increasingly common in architecture, it's essential to gain a better understanding of the geometry that is used to generate them. Advanced geometrical concepts come into play as soon as you pick a cad tool that plots anything more complex than an ellipse.
The curve, 3D surface and solids tools in any cad application make it easy to generate, modify and display blobby shapes. But how about understanding what is going on in the background as these shapes and forms are created? How can they be accurately controlled and set out for fabrication?
From time to time I have visited the geometry section of Blackwell's bookshop, finding the occasional title I immediately understand, leafing through hoping to find a book that will fill the many gaps between secondary school geometry and these fairly advanced geometric concepts. I think Bentley has now come up with the goods. Three mathematicians (all specialists in geometry) and an architect have come up with Architectural Geometry, a lavish publication that succeeds in bringing together all the essential geometrical concepts that power our cad tools.
I'd like to say that this has been done in an immediately understandable manner, but that would be misleading. However, this is no criticism of the writing, because architectural geometry is a topic that needs and deserves study. Each topic is dealt with by a rich mix of text and supporting diagrams. For some topics a first read can give you all you want. Others will provide an overview at first read, while a re-reading with close reference to the diagrams may be necessary. Some of these things are not easy.
This book is intended to be a student textbook so is structured as an undergraduate primer, through graduate level, continuing to discuss the most current research available at the time of publication. Essential early reading for most of us will be the short geometry primer and the list of symbols at the end of this book.
Chapter one sets the context, using Frank Gehry's Winton Guest House as an example to introduce co-ordinate systems and discuss some basic cad concepts. When starting with cad it is very easy to simply pick a random point on the screen and start drawing, so starting off with an explanation of co-ordinate systems is an excellent idea. The first half of the book, up to chapter 11, deals with essential geometric concepts, from projections (hands up those of you who can remember how to set up a measured two-point perspective drawing with pencil and paper) to freeform 2D curves and traditional surfaces.
At one time classical geometry — the Platonic and Archimedean Solids, for example — were fundamental to a good education. Today an architect's education is unlikely to have encountered these, so chapter 3's coverage of polyhedra and polyhedral surfaces will bring you up to the level of an English gentleman on the Grand Tour.
Its coverage of polyhedral surfaces will bring you up to the level of an English gentleman on the Grand Tour
A good example of the way each topic is dealt with is in chapter 8, Freeform Curves. I have used B-spline curves since the early 1990s as a method of drawing 2D curves. This has involved wrestling with the settings available in MicroStation's tools to arrive at an acceptable visual result with little understanding of what is actually going on.
Here we discover that the origin of B-spline, which I had assumed was some special mathematical term, is simply derived from the tool used by shipbuilders to hand-draw smooth freeform curves. The spline was a thin flexible wooden or metal rod bent into shape and held in place by weights. The weights provide the origin of the control points that you will have used when placing a B-spline curve. The B is for Bézier. Bézier curves will be familiar to any user of Adobe Illustrator or other vector-based illustration applications.
Pierre Bézier invented this type of curve at Renault in 1962, based on the de Casteljau algorithm developed three years earlier at Citroen by Paul de Casteljau. No wonder French cars have sexier curves. The B-spline is a string of several Bézier curve segments linked to generate a smoother and more controllable curve than the single Bézier curve. Explanations of the origins of these curves are woven in with explanations of their behaviour and associated terminology, all accompanied by excellent explanatory diagrams. If you feel like delving further into the mathematics, an example of the de Casteljau algorithm is demonstrated.
Understanding these curves is an essential grounding for the understanding and use of the B-spline and the even more flexible Nonuniform Rational B-spline (Nurbs) surfaces. Control of such surfaces is essential to support the successful transition from design concept to fabrication.
The early application of these types of geometry could save a design team a great deal of time and grief by eliminating much of the post-rationalisation that would otherwise be necessary. As any attendee of the SmartGeometry Group's conferences will know, panelisation of curved surfaces is a topic that has had a great deal of attention devoted to it.
Later chapters start to mix more discussion of the applications of geometry to architecture, and three-dimensional design more generally. These include a brief introduction to texture mapping and more extensive explanations of unfolding various forms. The book also covers the currently hot topic of digital prototyping and fabrication. At the simplest level, the advent of increasingly affordable 3D printers and laser cutters should make this of interest to most architects.
The imminent transition to 3D design and production workflows will produce representational models suitable for three-dimensional printing at various stages in the design process. While direct fabrication from an architect's production information still seems a distant prospect in most cases, the current possibilities are reviewed here.
The early application of these types of geometry could save a design team a great deal of time and grief
Optimisation of shapes and the use of parametric design are among the research topics dealt with in the final chapters, which are a good introduction to some of the areas being investigated by architectural researchers in academia.
I would recommend this book to anyone with a desire to understand and exploit geometry in the production of better architecture.
Architectural Geometry
Helmut Pottmann, Andreas Asperl, Michael Hofer and Axel Kilian
Bentley Institute Press, 744 pp, 2,100 images, HB, $175
5/5
Original print headline: The shape of things to come