Autodesk's LandXplorer: kit that's right up your street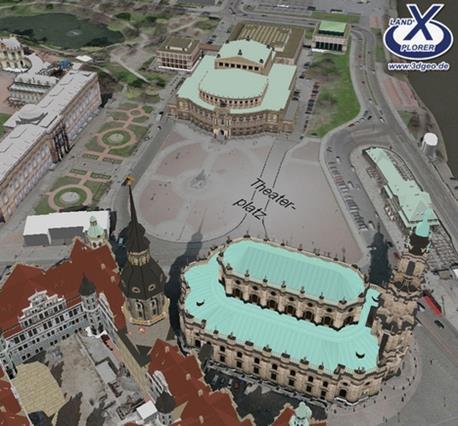 New city modelling technology is given a test run
Autodesk's recently launched LandXplorer is a city modelling technology solution built upon its purchase of 3dgeo.de in October 2008. I attended a webinar demonstration by Lynda Sharkey at Autodesk's Geospatial Business Unit and what I offer here are those first impressions.
Arup's development in 3D Urbanism focuses on creating single environments where diverse, discipline-specific datasets can be explored together at an early stage of the design process. We see this as a necessary first step towards a single environment with diverse, inter-related discipline design.
The LandXplorer city model aims to enable the representation and exploration of a diverse city dataset in one software environment. The demonstration begins with importing of the Digital Terrain Model (DTM) or Geographical Information System (GIS) shape files. A raster image of a topographic map can then be applied and superimposed over an aerial photograph.
Simple block models, referred to as Level 1 detail in LandXplorer, can then be imported. Building blocks are generated automatically from GIS data using the shape files data and the elevation and number of stories from the attribute fields.
Each building block will remain modifiable in the LandXplorer model and maintains the association with its original GIS attributes, thus enabling search by field and thematic mapping.
Generic facade textures, referred to as Level 2 detail in LandXplorer, can be applied throughout the building blocks and then refined interactively where the automated UV mapping is unacceptable. Level 3 detail allows the user to import 3D models of buildings of specific interest. 3D models can be generated in Autodesk's Revit or 3D Studio Max or in other 3D modelling software using standard import formats.
The most promising part of the demonstration seemed to be the ability to save and export the modification back into the datasets. Imagine a workshop session with city planners, urban designers and economic developers exploring ideas, proposing modifications and making decisions around their LandXplorer city model.
It is fundamental that these modifications, including, for example, increased building heights, are saved and can be exported back into original datasets. We hope that different audiences will invest the time in experimenting and providing feedback to the technology providers about their requirements.
A couple of key usability factors in city modelling are the intuitiveness of the user interface and the smoothness of navigation on a standard laptop.
Postscript:
Alvise Simondetti is responsible for the business development of Arup's Realtime Synthetic Environments.