Pop Art Design
Barbican Art Gallery,
Silk Street, London EC2Y
Until February 9
3/5 Stars
Steve Rose discovers pop art's deep and lasting influence on architecture
The Barbican's new exhibition traces a clear lineage from artists such as Richard Hamilton, Andy Warhol, Roy Lichtenstein and Patrick Caulfield through to pop sculpture, furniture, product design, interiors, even shop windows. But we reach a dead end at architecture. Specifically with Robert Venturi and Denise Scott Brown's Learning From Las Vegas, images from which are reproduced alongside Ed Ruscha's Every Building on the Sunset Strip. The rest, it's implied, is postmodern history… but is that all there is to pop's influence on architecture?
Pop Art Design drops the hint that architecture couldn't really "do" pop. Architects of the era certainly tried: Alison and Peter Smithson, for example, who embraced pop with Hamilton and Eduardo Paolozzi in the Independent Group (in spirit at least), or Archigram, whose cartoonish pop sci-fi fantasies were the bright antidote to austere old brutalism but never made it off the comic-book page.
"The Architectural Association was pretty strongly pop at the time," remembers Piers Gough, who studied there in the 1960s. Translating pop into practice was a struggle, however, "because architecture's so bloody serious deep down. It's about housing people and building offices for them to work in, not cinema and theatre and poppy activities.
"It wasn't something that architecture could sustain, really. Also, the planning system wasn't exactly kissing you on both cheeks if you turned in some building that looked like a billboard!"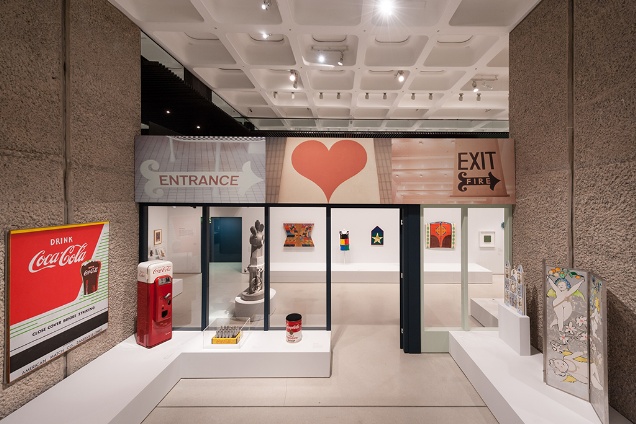 Source: Gar Powell-Evans
As postmodernism's excesses are airbrushed from history, pop's influence has become harder to discern, but it's there all the same. You can trace the bright, playful populism of Archigram and Cedric Price through to Richard Rogers (notably the Pompidou Centre), James Stirling (who wasn't beyond the odd postmodern "joke") and Will Alsop (who once worked for Price). And Frank Gehry, longtime friend of Ruscha, made his links to pop explicit with works like the Chiat/Day building, with its giant Claes Oldenburg binoculars, before collapsing Venturi's whole "duck or decorated shed" dichotomy into his own brand of pop icon-making.
Homage to collage
Later generations of architects refer back to pop art directly — FAT being the most conspicuous current example.
"Pop has always been pretty central to what we do," admits FAT's Sean Griffiths. "Even in the mid-1990s we were looking at Richard Hamilton collages and stuff like that, and taking incongruous, found things together as opposed to inventing new shapes."
Pop's preoccupation with surface and "low-brow" motifs is explicit in FAT works such as the Blue House or its BBC Studios in Cardiff, with their cut-out and clipped-on facades. "Pop art is social realism with the emotion taken out," says Griffiths. "That flatness, that deliberate lack of gestural inflection, is something we found very interesting."
But pop art has been more subtly assimilated by less overtly postmodern practices. Graphics, patterns, bright colours and bold forms are no longer seen as outlandish. See recent works like Tim Ronalds' Hackney Empire, with outsize terracotta lettering taking up half the frontage, or Edouard François's Barrière Hotel in Paris, its pastiche Haussmann facade punched through with random window openings.
Or take Herzog & de Meuron's Ricola Production and Storage Building, which the architects describe as a "cardboard box lying on the floor with its flaps open" but is printed with a repetitive silkscreen pattern: it's Oldenburg meets Warhol. Meanwhile a building like Caruso St John's Nottingham Contemporary might not register as "pop", but it's there in its communication with the streetscape, its gold-clad and lace-imprinted facades. The gallery even has a Vegas-style neon sign as a permanent outdoor artwork.
Beneath the surface
But pop should be remembered for much more than just surface qualities, argues Geoff Shearcroft of AOC, which designed the Barbican's exhibition.
"What's interesting about pop is that there's this amazing relationship between communicative surfaces and material richness," he says. "Pop is often dismissed as superficial but this show makes clear that the material quality of these objects, like Oldenburg's "Store" pieces, is amazing."
That has informed AOC's own work, says Shearcroft, such as their St Saviour's and St Olave's School, where overtly billboard-like facades engage with the surrounding streetscapes but not at the expense of material solidity. "I would say pop is incredibly relevant to us," he says.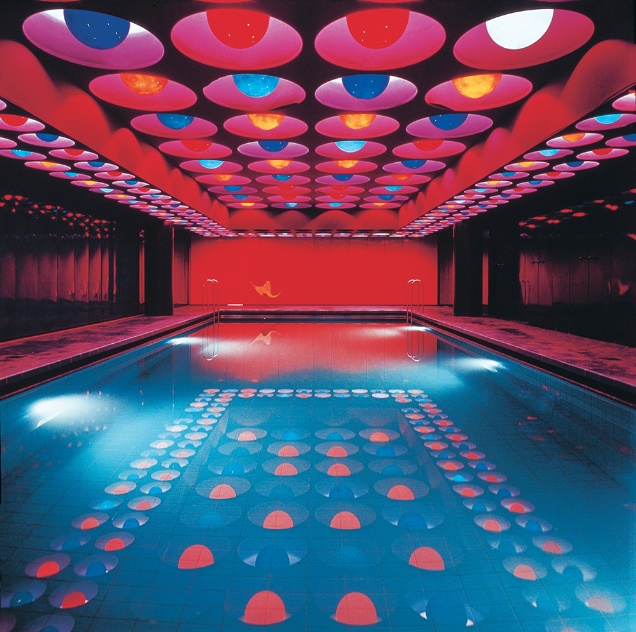 Source: © Panton Design, Basel
Strolling around the Pop Art Design exhibition, you can't help but feel grateful for pop's mutability and ephemerality. The show is a riot of clashing colours, wilful shapes, fetishised cars, packaging and female pin-ups — all of which could be said to have entered the urban realm regardless of artistic or architectural strategies, and are viewed with far less enthusiasm now than they were at the time.
As standalone pieces recording a key cultural moment, it's great. As an ironic antidote to cheerless, po-faced "serious" art, it's refreshing. But a wholesale pop gesamtkunstwerk would actually be hell — a Blade Runner-style Plug-In City on the outside with garish Clockwork Orange-style apartments on the inside. As much as missed opportunities, it's a history of narrow escapes.