Zaha in human rights row over Azerbaijan project
Soviet experts have criticised a cultural centre designed by Zaha Hadid Architects in memory of a former KGB chief and ruler of Azerbaijan.
The Heydar Aliyev Cultural Centre in the capital Baku, named after the deceased Azeri president, and commissioned by his son and current ruler Ilham, includes a 21,000sq m conference hall rising to a height of 22m, as well as museum, library and sculpted parkland. The 9ha project is held up by the government as a project of national importance ahead of Baku's bid for the 2016 Olympics, but has not been publicised outside the country before now.
A highly controversial figure, Aliyev, a former KGB supremo who died in 2003, is accused by Amnesty International of human rights abuses, ballot irregularities and police intimidation of the opposition during the later years of his presidency.
However, others consider him a national hero who resurrected Azerbaijan's fortunes during its first years of independence by opening up its oil reserves to western markets. Last September, Hadid laid flowers by Aliyev's grave before attending the project's start on site.
Commentators have questioned the wisdom of designing a project in his name. Edmund Herzig, an expert on the region at Oxford University, said: "By taking on a commission named directly after Aliyev, she is reinforcing his cult of personality."
But Orlando Figes, a Soviet historian at Birkbeck College London, said: "Aliyev was not a model citizen to say the least, but whether you get involved in the project is an ethical decision only you can make."
Philosopher and Stirling Prize judge Alain de Botton said the ethics of the project should be considered carefully, but added that many architects had a "fondness for strongmen".
He added: "They tend to do away with planning regs. There's long been a flirtation between architects and dictatorial types."
A spokesman for Zaha Hadid Architects said: "The centre is designed to the highest international standards, bringing performances and exhibitions from around the world to Baku. The centre will play an integral role in the redevelopment of the city."
On Hadid's attendance at Aliyev's grave, he said: "Protocol required flowers to be laid."
An RIBA spokeswoman said: "We don't have a clear idea of the political situation in Azerbaijan. We're not in a position to respond."
Life and times of a communist despot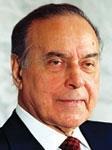 1923 Born in the Caucasus
1939 Begins architectural studies but switches to history
1944 Recruited by the KGB
1967 Becomes chairman of KGB of Azerbaijan
1969 Named first secretary of the Azerbaijan Communist Party
1982 Serves as USSR deputy prime minister
1987 Sacked by Gorbachev
1993 Becomes president of Azerbaijan
2003 Dies and son takes power