Wilkinson Eyre profits flat while turnover falls
Turnover slips 9% in latest accounts of basketball arena architect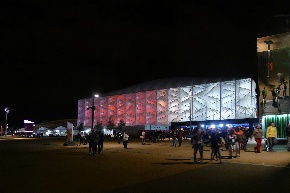 Source: Julia Hansom
Profits at London 2012 basketball arena architect Wilkinson Eyre stayed flat last year despite turnover slipping more than £1 million.
The firm said it was "confident of future success and satisfactory trading results" after accounts filed at Companies House showed pre-tax profits in the year to March 2012 came in at £1.6 million — down just £27,000 on last time.
Revenue suffered a sharper fall, down 9% to £10.3 million, with the bulk of the drop coming from its UK and rest-of-the-world operations. Workloads in North America and China went up.
It added that it had won a number of masterplanning contracts in China and a mixed-use scheme in Wuhan which includes a 360m high office tower.
Closer to home, it won a City scheme for developers Stanhope and Mitsubishi and is understood to have made its debut bid for a nuclear power station at Sizewell, eventually won by Grimshaw.
The firm admitted its London cable car scheme, which opened this summer, had been "designed to an extremely tight schedule in a particularly challenging context".
The salary of the highest paid director, who is not named, was £75,500 compared to £175,000 last time.