Victorian Society warns on conservation zone building 'gone wrong'
Group uses project in Lancaster to highlight concerns
The Victorian Society has said that lessons should be learnt from a student housing scheme in Lancaster which involved combining the existing facade with a new one in a conservation zone.
Liverpool architect Union North Architects was behind the project which incorporated an existing stone structure with a new grid of gold-framed windows.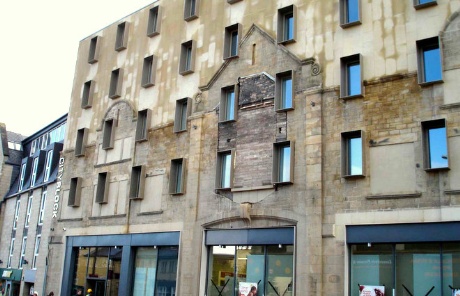 Developer CityBlock was given planning by the city council back in 2010 with the 96-bed block opening in time for the start of the 2012 academic year.
But Victorian Society director Chris Costelloe said it was highlighting the building as part of a campaign about building in conservation areas.
He said: "It wouldn't be realistic to try and get it knocked down. This is about learning lessons for the future and looking at examples of things like this when they go wrong."
At the time it was given planning, the project was backed by north-west architecture centre Places Matter! which described it as "a sophisticated scheme that will provide a strong architectural statement for the historic city of Lancaster".