Use X-Factor contests to judge housing says planning minister
Nick Boles calls for competitions which allow public to vote on developments
X-Factor style competitions should be launched to allow people to judge local housing developments, planning minister Nick Boles has said.
Speaking to BBC Newsnight on Wednesday, Boles said house builders and architects are failing to design and build the type of housing wanted by the public.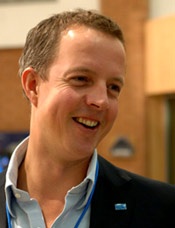 "One of the things I've been trying to encourage newspapers to do is to actually have an X-Factor competition with their readers to vote for the best and the worst development," he said.
"We don't necessarily build, and architects don't necessarily design, houses that people want to live in."
Boles's comments were backed up by designer Wayne Hemingway, who said research conducted by Design Council Cabe showed that the public dislikes a large percentage of new housing.
"Twenty-nine percent of new housing was considered by the public to be ugly," said Hemingway, a trustee of the Design Council. "Fifty-three percent was considered to be average or below average."
Boles's comments followed a widely trailed report in which he blamed "pig-ugly" housing for turning public opinion against new development.
"The reason why people object to us building on open farm and open land is because we build ugly rubbish," he said.
But his claims were disputed by Taylor Wimpey chief executive Pete Redfern. "The comment was made that we are not building houses that people want to live in," he said. "We absolutely are.
"Customers appreciate the houses we are building and actually they are very much delivered to meet that customer demand."