Urban Splash set to save modernist icon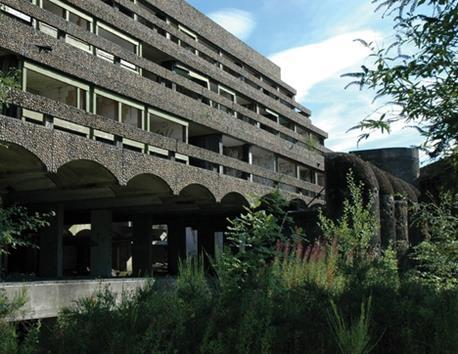 St Peter's Seminary owner presses for firm proposal
Developer Urban Splash is considering a bid to save one of the most important modernist buildings in Scotland, St Peter's Seminary in Cardross.
The firm, which has recently begun work on the redevelopment of grade II* listed Parkhill estate redevelopment in Sheffield, confirmed this week it was "really interested" in acquiring the grade A listed building, which earlier this year was placed on the World Monument Fund's watch list of the planet's 100 most endangered sites (News June 15 ).
The 1960s building by Gillespie, Kidd & Coia — which will feature in an exhibition on the firm at Glasgow's Lighthouse architecture centre next month — has been derelict since the 1980s and is the subject of a conservation study by Avanti Architects. It is expected to recommend the buildings are given a new use.
But the Archdiocese of Glasgow, which owns the building, warned that similar proposals in the past had foundered, and called on the developer to make a firm offer.
Urban Splash founder Tom Bloxham is understood to be keen to buy the site and is considering converting the former priests' residence into a hotel, together with homes. A source close to the developer said Bloxham was prepared to throw "considerable resources" into the bid.
A spokeswoman for Urban Splash refused to confirm this, but added: "We think it's a stunning, wonderful building. We're really interested in it and would love to work with it. One thing we might do is run an architectural competition. Let's hope we get it."
News of Urban Splash's interest was welcomed by Lighthouse director Nick Barley. He called it an "extremely exciting prospect," adding: "I can't think of a better organisation to work with St Peter's. Urban Splash is involved in a couple of other projects in Glasgow and Irvine — developing St Peter's would be a fantastic way to consolidate its presence ."
Twentieth Century Society case worker Eva Branscome, who successfully lobbied for the building to be placed on the WMF watch list, called the news "excellent".
She said: "Urban Splash has a track record of taking on modernist buildings and bringing them back to life".
But Colin Harris, partner with Scottish architect Sutherland Hussey, sounded a cautious note, suggesting a sensitive redevelopment was required.
"It is an amazing opportunity but it depends on the commercial reality of the hotel," he said. "I'd warn against breaking into the primary structure — rather the spaces should be maintained as they were originally designed."
And the Archdiocese's Monsignor Peter Smith said he was sceptical that Urban Splash would deliver.
"We have been down so many roads like this before, yet no one has ever been able to make it stack up," he said. "We have been in contact with Urban Splash for some time, and no solid proposals have been put to us."
St Peter's seminary: key moments
1953 Gillespie Kidd & Coia commissioned by the Catholic Church
1966 Seminary opens to first trainee priests
1971 Listed category B by Historic Scotland
1980 Seminary closes
1992 Listing upgraded to category A
2007 Only second modernist building in UK on the World Monument Fund's list of 100 most endangered sites