Tower Hamlets insists it owns Old Flo
The ownership of Henry Moore's artwork has come under question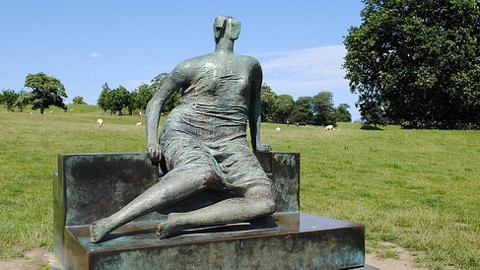 Following a challenge from Bromley Council, Tower Hamlets Council has obtained legal advice that identifies the borough as the owner of Henry Moore's Draped Seated Woman, colloquially known as Old Flo.
This week Bromley Council formally wrote to Tower Hamlets council to assert ownership over the artwork after consulting the Art Fund.
The bronze sculpture was sold by Moore to the London County Council (LCC) for £7,400 in 1962. It was purchased for the residents of the Stifford Estate in Stepney Green, until the LCC was taken over by the GLC and the estate transferred to the London Borough of Tower Hamlets.
Bromley Council claim that the sculpture was not listed in the land and buildings of the Stifford Estate when it was transferred to the Tower Hamlets, therefore it remained the property of the Greater London Council until 1985. Assets then went into the hands of London Residuary Body until 1996 when they were transferred to Bromley Council.
Bromley Council has pledged to put the artwork on public display.
Meanwile, Tower Hamlets Council has insisted that the sculpture belongs to them.
Lutfur Rahman, mayor of Tower Hamlets said of the new development: "The ownership of Old Flo is beyond doubt. If Bromley owned the sculpture why have they stayed silent for 27 years? This move is an insult to the East End as we need the sale proceeds to help alleviate the impact of government cuts by improving housing, preserving local heritage sites and supporting cultural programmes."
Rahman declared his decision to sell the sculpture in October to raise funds following the £100 million budget cuts to the council.