Terry Farrell enters the age of aquariums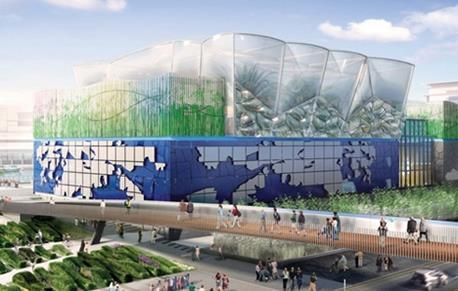 The Biota! aquarium will form the centrepiece of the Silvertown Quays regeneration in east London.
Architect Terry Farrell presented his plans for the landmark building in the same week he was named design champion for the Thames Gateway.
The naturally ventilated aquarium will boast an ETFE roof — as used on Grimshaw's Eden project in Cornwall — and will include a series of biomes arranged around a central atrium, each housing a complete eco-system. Four biomes will recreate water habitats from the Amazon, the British Isles, the Indo-Pacific and the Atlantic Ocean, while the fifth will focus on protecting aquatic species.
The scheme has been submitted for planning to Newham Council, with a new pedestrian bridge by Patel Taylor and Arup. This will link the aquarium with the Thames Barrier Park and the Docklands Light Railway's new Pontoon Dock station. It is part of a £1.5 billion regeneration scheme, creating more than 5,000 homes, 7,800sq m of office space, and 5,500sq m of restaurants and bars over the next 12 years. The project is being masterplanned by Canada's Urban Strategies.