Council forced to remove CGI of Narrow Street scheme
An image produced by Studio Weave for a public realm project has been criticised for being "too white".
The Black and Ethnic Minority Network complained the rendering of Narrow Way in Hackney was offensive because almost everyone in it was white.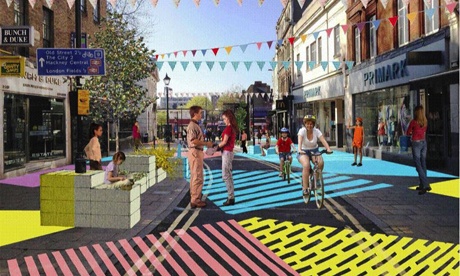 It issued a statement entitled "Future of Hackney won't be whitewashed" in which chief officer Ngoma Bishop said: "The image revealed Hackney's transformation into a borough inhabited almost entirely by young white people.
"The diversity of the borough has almost completely disappeared and the different communities, cultures and people of all ages and abilities have been replaced with white children and cyclists."
Hackney council, which commissioned the full pedestrianisation of Narrow Way, removed the image from its website after the complaints.
Eddie Blake of Studio Weave, which is based in Hackney, said the image was not intended to publicise the project but to show the client how some temporary paint would work.
The street was partially pedestrianised some years ago but has been dominated by buses. These are now being rerouted. The first phase of the scheme will open at the end of this week. If it proves a success after six months it will be extended indefinitely.
"It's a great little project," said Blake. "We're doing something pretty positive for the area so this is a real shame.
"We're creating a new public space, which is fairly rare in London, and our design is accessible and inviting. The last thing we want to do is put people off."