Students hit first by recession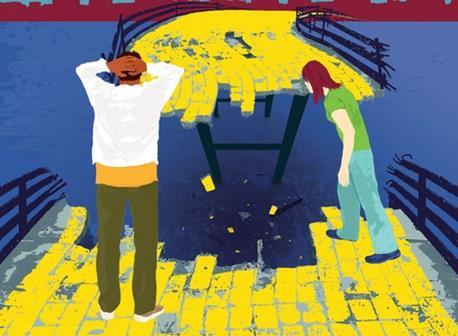 Record numbers of graduates are chasing fast-disappearing jobs in recession-struck practices. Will Henley lends an ear
Graduates are set to be among the first victims of the recession — with architecture students particularly hit this year, according to leading recruiters.
The problem has been exacerbated by the sheer numbers graduating in architecture since the last recession. Latest figures show a fivefold increase in graduates between 1990 and 2007, according to Hecsu, the higher education careers services unit.
The double whammy of more competition and a recession means firms can be much more choosy, and many are opting to recruit older, more experienced staff.
One of the biggest graduate recruiters, BDP, confirms that it will take on a third fewer part I and part II graduates this autumn compared to last, while the number of applicants has gone up by 10%.
BDP HR development director Debra Larkman says graduates need to go the extra mile to be considered. "They should attend architectural events, networking opportunities and do voluntary work if need be. They need to be seen to be active and have an interest in what is going on in the architectural world."
Peter Browne, director of recruitment consultant SIV, says that job cuts across the profession have lead to much greater competition from more experienced architects. Browne estimates job losses during September were up by 30% compared to six months ago in February, and by 80% on February 2007.
At Hunter Dunning, managing director Roger Dunning also confirms it is tougher now. "Part IIs are going to find it really hard. They are more attractive than part Is because they have more experience. But they cost more."
A concern among recruiters and graduates is that the situation may get even worse next year.
"The issue for students is that firms can't afford them," says Ewan Anderson, head of Make's Edinburgh office. "We took one on in July and it's worked out very well, but sadly we're not in a position to take any more.
"It's not catastrophic yet. Most did get jobs this year — but it's whether we can get through to next summer alright. It's only become really bad since the collapse of Lehman Brothers. But if the downturn stretches through to next summer, it would effectively knock out a year of graduates — and that would be really sad."
Pam Cole, head of the Association of Professional Studies Advisors in Architecture, agrees the full impact of the downturn has not been felt.
"I would expect part I students to have a much harder time gaining employment next year," she says. "There are some students still unable to find work, but it is a very small proportion of last year's graduates. I have heard from a few students at all levels — I, II and III — who have been made redundant. About 50% of those have been successful in finding new posts, others are finding it more difficult."
She says the RIBA should encourage practices to keep employing graduates even when times are tough.
Graduates may also need to look at other, "spatially creative" roles outside of pure architecture, according to James Soane, director at London practice Project Orange. He adds that some are still "naïve" about the jobs scene.
"There are still people who will send their CV to Rogers and Foster's, and wonder why they are being rejected. Many are not going to get their first choice. But I am still positive. Lots of practices are looking to work abroad, and graduates can help with that."
But even with the prospect of work abroad in some firms, graduates are still finding it an uphill struggle.
"Firms that would have taken on part IIs are not taking any on," says Lianne Russ, a recent graduate of the Welsh School of Architecture. Russ spent nearly three months firing off applications after finishing her part II exams this summer before she found a job at Camillin Denny in London. "No one is taking anyone on," she says. "The responses were frustrating because they said they were impressed by my CV, but just not employing."
Part II graduate John Weir was made redundant and, despite sending out 50 applications, has been unable to find a new job. "Every company I've applied to says I don't have enough experience. But I can't get any more experience without a job. It's catch-22. Some companies are looking for cheaper staff who can be cad monkeys, others are looking for more experienced staff who don't need training. I'm stuck in the middle."
Luke Butcher, a final year undergraduate at Manchester School of Architecture, adds that even summer work experience was hard to come by. "Out of 20 or 30 students I know, only three or four got summer jobs this year. I've got tutors recommending staying on and doing an extra year at university. They're saying it might be worth doing an MA straightaway because jobs are so hard to find. When people say that, you get a little bit negative."
National architecture student association Archaos remains positive, although it acknowledges that many graduates are worried about their job prospects.
"We are not finding anyone really struggling to find work," co-chair Caine Crawford says.
"Architects are restructuring, but some are still hiring students. A degree is flexible, so it opens up opportunities in graphic design, project management and teaching. If you're struggling to find a job, it's good to look at other fields."
Graduates are already beginning to try to seek out other routes, according to Stephen Leighton, an architect and placement coordinator at Sheffield College of Architecture. "We had four or five enquiries about whether students can go straight through to their diploma without the year in employment," he says. "Everyone just walked into jobs 12 months ago. Now, students are having to be more creative."
But Make's Ewan Anderson says students and graduates should hang in there. "I came out of college of 1991 and my first job lasted two weeks, so I've been through it. My younger colleagues haven't, they're a bit freaked out! I ended up doing freelance model-making for a while. If you're prepared to adapt, you'll be OK."
Advice for Part II graduates
Here are RIBA director of education David Gloster's tips for graduates looking for work:
Graduates need to:
Create a well designed, graphically appealing CV with good visual material (and an emphasis on the practical experience you already have) to distinguish your application.
Write a brief but specific covering letter to the practice you are approaching. Make it clear that you like their work and approach by referring to their projects. Generic letters are swiftly dispatched.
Send many CVs and letters and follow them up as practices will be inundated with job applications.
Target brand name offices by all means, but do not discount a local practice that will minimise your travel time (and costs) and still give you
a decent vehicle for a part III case study.
Consider work overseas but beware of burning too many boats unless you are certain you see yourself as a future global operator.
Find out all you can about the practices you approach through your own networks.
Tips at interview
Edit your folio to A2 size at most as people don't like struggling with big drawings, and space may be limited.
Don't attempt to show too much work at the interview— a five-minute display of work may be enough to make a decision.
Let the interviewer do the talking unless they specifically ask you to offer a commentary on the work.
This is an interview, not a design jury so the theoretical context of your projects may be of less interest to interviewers than other issues.
Demonstrate you can write by including in your folio short, well illustrated written projects. n Show that you are aware of the technological context of architecture by including technology research and submissions from your part II.