Stephen Lawrence Trust scheme to help ethnic minority young people become architects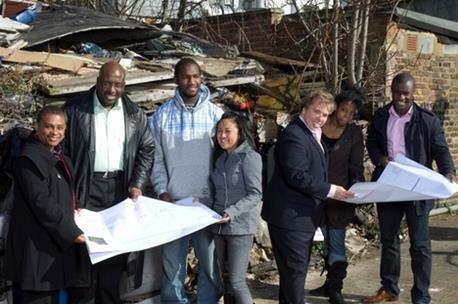 The mother of murdered teenager Stephen Lawrence is backing a new competition to encourage disadvantaged young people from ethnic minorities to become architects.
Doreen Lawrence today helped launch a national online design contest, with the top prize of a scholarship to Harvard University.
The online competition is run by the Stephen Lawrence Charitable Trust, named after Lawrence, who had hoped to become an architect.
It is receiving financial support from RMJM which, as BD revealed in July, has offered the trust £1 million worth of funding over three years for a series of projects.
The contest is the first tranche of the work, and is being run alongside a series of workshops led by RMJM staff, which will be run in cities across the UK, including Glasgow, London, Liverpool and Birmingham, over the next two months.
The young people who attend will be set design tasks, while the online competition will ask people aged 18 to 25 to create design masterplans for derelict sites close to their homes.
The 12 best candidates from the contest and the workshops will be invited to a final in May, where they will face more design tasks and be interviewed by a panel including designer Wayne Hemingway and Design Museum director Deyan Sudjic.
The top six will win places on an architecture taster course at Harvard University.
Doreen Lawrence said the scheme was "fantastic". But she urged more firms to open their doors to trainees from ethnic minority backgrounds.
"People who want to got into architecture have a passion that they want to fulfill but they are daunted by the lack of opportunity," she said. "They are excited by the courses, but it is the placements afterwards that are the concern, and making those connections.
"What practices need to remember is that they were trainees once, so when a young person comes to talk to them they need to open the doors for them."
Peter Morrison, chief executive of RMJM, said the trust would launch a series of projects over the next three years, all aimed at making architecture more inclusive.
The competition is launched almost exactly a decade after publication of the Macpherson Report into the Lawrence case, with its damning verdict of institutional racism.
Morrison admitted little had been done since then to remedy white middle class dominance of the architectural profession.
"It's terrible that it has taken so long, and we are as responsible as anyone for not bringing it to attention sooner," he said.
"It will take time and a lot of effort. [This scheme] is nothing in numbers, but you have got to start somewhere."
The competition was inspired by Stephen Lawrence, who wanted to become an architect.
Postscript:
Visit www.architectureforeveryone.org.uk for more information