Row erupts over 'secret' plan for East End towers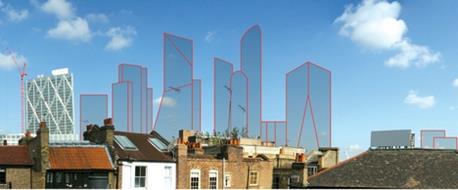 Critics round on 'astonishing secrecy' over proposed cluster of skyscrapers in Shoreditch
Two local authorities stand accused of "astonishing secrecy" over plans for a cluster of skyscrapers by architects Foster & Partners, KPF and Allies & Morrison in London's East End.
Save Britain's Heritage this week revealed artist impressions of four Shoreditch towers more than 50 storeys high, which it claims are being kept from the public.
Joint developers Hammerson and Ballymore are understood to be behind two Allies & Morrison-and one Foster-designed tower on the largely derelict Bishopsgate Goods Yard, while Hammerson is also working on a KPF skyscraper planned for the adjacent Norton Folgate site.
Critics claim that despite pre-application discussions involving many organisations — including local councils Hackney and Tower Hamlets, Cabe and English Heritage — two public drop-in sessions last week on plans for the Goods Yard site made no reference to the towers.
"The level of secrecy is astonishing," said architectural historian and local resident Dan Cruickshank. "These towers will create monumental shadows.
"People want to know what is going on. It will so fundamentally change the experience of living in that area that people's views need to be gathered and responded to."
Save's secretary William Palin described the towers as "tentacles" threatening a historic low-rise residential area.
"These proposals are a monstrous assault on the special character of this district and the skyline of the capital," he said. "We call on the mayor to stop this madness."
The developers and councils' consultation process was blasted as "paranoid, secretive and lacking transparency" by Rebecca Colllings, chair of the Save Shoreditch campaign.
"It is a complete waste of public money to consult over matters that are already decided," she added.
Save Shoreditch, which includes artists Tracey Emin and Rachel Whiteread, has previously battled plans by Hammerson and Foster's for the nearby high-rise Bishop's Place scheme, which could demolish the Light Bar on Shoreditch High Street.
The Bishopsgate Goodsyard site itself is identified within the existing London Plan as a "city fringe opportunity area" for mixed-use development, but may face an uphill struggle given the credit crunch and proposed changes to the capital's overarching planning document, the London Plan.
Due to speak on Wednesday night as BD went to press, mayor Boris Johnson was expected to unveil a strategy document giving support for clusters of tall buildings only "where they are in context with their surroundings".
A spokeswoman from Tower Hamlets confirmed it had not yet received any planning applications for the Goods Yard. "Tower Hamlets Council is not engaged in any formal pre-application discussions," she added.
A Hackney spokeswoman insisted statutory public consultation on the draft masterplan would follow later in the year, adding: "This is an open process."
Robert Allan, assistant director for Hammerson, said: "Hammerson and Ballymore are in the early stages of preparing proposals for the Bishopsgate Goods Yard site. The local authority is preparing and consulting on the draft supplementary planning document, and following its consultation, we will develop our options for the scheme further.
"As with all our projects, we remain committed to ensuring the local community and stakeholders are consulted on our proposals."