Roger Sanchez immortalises Zaha Hadid in 'tech-house' song
US DJ plans series of tracks inspired by his favourite architects
One of the world's most famous DJs has immortalised Zaha Hadid in a tech-house track.
Roger Sanchez, who studied architecture at Brooklyn's Pratt Institute before becoming a full-time musician, is working on a series of songs inspired by his favourite architects including Frank Gehry, Frank Lloyd Wright, IM Pei, Tado Ando and Gaudi.
Each track will evoke Sanchez's "interpretation of their design ethos", and he told BD what particularly impressed him about Hadid is her use of space.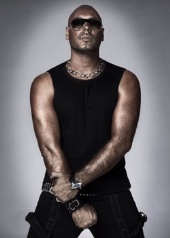 "Everything looks like it's coming from a science fiction film," he said. "The forms [she makes] almost defy gravity.
"The song [Zaha Hadid] – it's tech-house, futuristic, minimal but with lots of varying elements that are opposing but work together beautifully. It has an angular high at the end which conforms to the form of her designs and there's a crescendo in the middle that reminds me of her focal points."
And although Sanchez hasn't visited any of Hadid's buildings, he recently stayed in one of the rooms she designed at Hotel Puerta America in Madrid.
"I was very impressed with the way the interior was designed with the forms that were cast and how well it worked. She challenges space with her design," said Sanchez.
When the full set of songs is completed Sanchez will release an album where each track will have its own art work, put together with an overall concept of architecture.
Hadid has worked with the Pet Shop Boys to design stage sets for their 2000 world tour and has met with US rapper Pharrell Williams a few times to discuss her work. At the opening of the Maxxi museum in Rome she was joined by Kanye West, rapper and boyfriend of Kim Kardashian.