Robin Hood Gardens will not be listed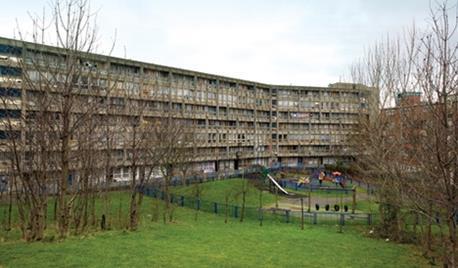 Robin Hood Gardens estate will not be listed, the government announced on Tuesday.
Despite massive support for BD's campaign from leading international architects including Richard Rogers, Zaha Hadid and Norman Foster, architecture minister Margaret Hodge, said the East London estate designed by Alison and Peter Smithson, is "not fit for purpose".
Her full statement reads: "This has been a tough and finely-balanced case which has rightly been considered openly and with great care. I have received expert advice and opinion from a number of sources and was shown round the estate a few days ago to see it for myself, both inside and out.
"The architects' brief was to design a place fit for people to live, of course. But in that respect, I agree with my expert advisors English Heritage, that it simply doesn't work. When functional failures are fundamental, it raises questions about the architectural performance of the building and thus its claims to special interest.
"As well as this, features such as the stairwells and the boundary wall demonstrate the 'bleakness of design' that the experts have highlighted. Although I accept that it was designed by distinguished architects, I do not think that their reputation outweighs the evidence that Robin Hood Gardens was not innovative in terms of the 'streets-in-the-air' concept and it is not fit for purpose."
Earlier this year English Heritage recommended that the 1970s scheme was not worth protecting despite its own advisory committee recommending listing.
Full statement from Lord Bruce-Lockart, chairman of English Heritage
The Department for Culture Media and Sport has agreed with English Heritage's advice and confirmed that the Robin Hood Gardens estate does not meet all the criteria necessary for listed status.
Our advice not to list was made with the utmost careful consideration. The reasons were:
Firstly, in our opinion, as a piece of community architecture, it fails as a place for human beings to live – and did so from the start. Its bleak entrance lobbies, prison-like boundary wall, the too few, narrow, twisting stairwells and the inadequate access to the long decks and people's front doors do not make for a pleasing and comfortable environment.
Secondly, it was neither innovative nor influential. By the time the estate was built, in 1972, it was already out of date and at the tail-end of a movement, rather than the beginning. Park Hill in Sheffield was built a decade earlier, on a much more confident scale and its "streets in the sky" were therefore more innovative as well as being wider and more accessible.
Lastly, the building, in itself, does not compare successfully with other 20th century estates listed at grade ll, such as the Barbican and the Brunswick Centre. There are 13 listed post-war estates in London alone.
We certainly agree that the Smithsons had a strong reputation as major architectural theorists and EH has previously listed three of their finest schemes. The Robin Hood Gardens estate, however, attracted little admiration from critics at the time or in the immediate later years. It is only very recently that it seems to have found favour in some vocal quarters.
Listing decisions must be robust, objective and free from campaign pressure – however passionate and sincere. In our view, love it or loathe it, this one does not make the grade.